Core facilities for research, innovation and technology development
Our technology platforms allow the interrogation of biology and disease from molecular interactions to whole organisms.
The breadth and quality of technical applications available in Manchester is key to our success. They help attract researchers from across the globe.
The scale and power of Manchester's research environment enables us to apply diverse analytical approaches in combination to maximise the insight gained from our discoveries.
Investment and expertise
Our technology platforms contributed significantly to our REF 2021 4* rating for a world-leading environment underpinning outstanding fundamental bioscience research. The competitiveness of our research infrastructure is maintained through continual investment in the equipment base (£42m since 2014), the expertise of our 50 dedicated technology specialists, and the academic oversight of each facility.
End-to-end support
Our staff provide comprehensive support throughout the entire experimental process, from initial consultation on appropriate strategies and planning, through to sample preparation, and data acquisition and analysis. Advanced training is also available for many techniques.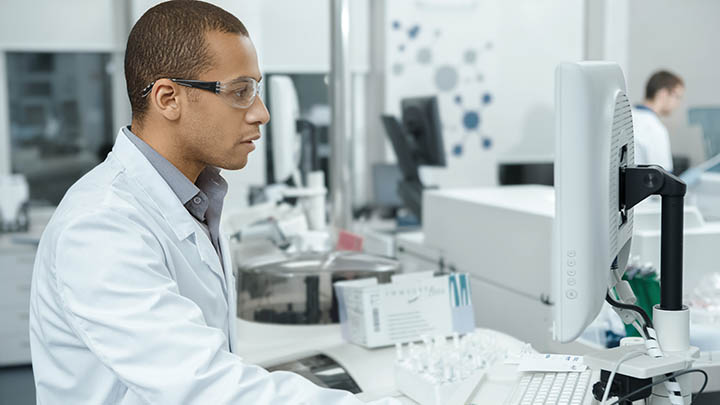 External access and collaboration
We have a proven track record of delivering services to a range of academic and industry partners, and actively welcome the opportunity to collaborate with companies to trial and co-develop new technologies. Please visit specific technology platform pages for details on how to access their facilities.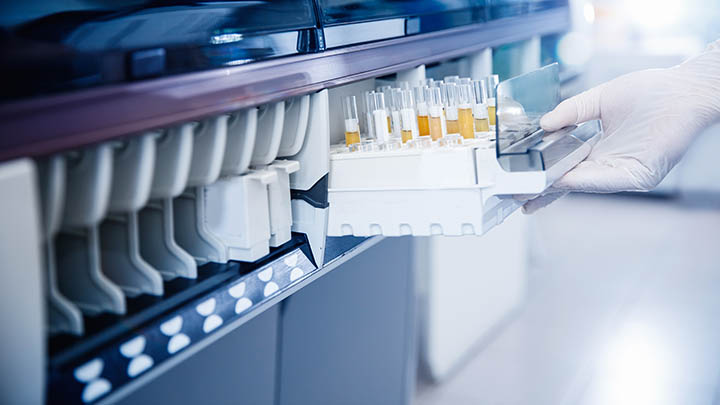 What our researchers say
Professor Rachel Lennon
"My group study the cell-matrix interactions in the glomerulus, and their role in kidney disease. We have benefitted enormously from input into experimental design and access to cutting-edge technologies though our interactions with almost all of the facilities. The opportunity for skills training is superb and this brings high quality and reproducible results.
"Our technology platforms are a huge asset that greatly enhance our activities and outputs. The research in my group would not be possible without them."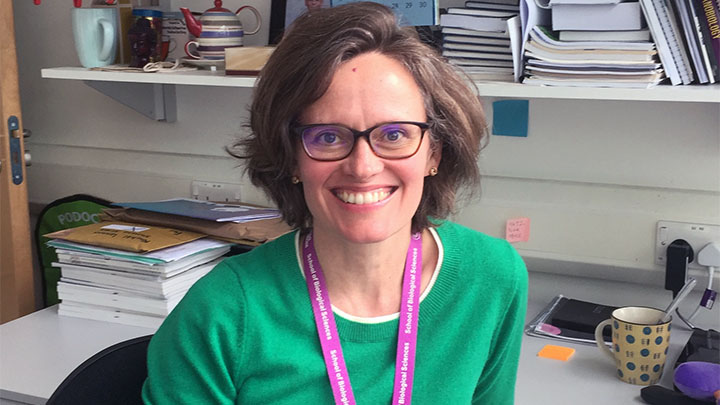 Dr Cerys Manning
"The Bioimaging Core Facility and staff have been instrumental in helping me develop a new method for live imaging of embryonic mouse spinal cord ex-vivo slices. The wide range of microscopes and objective lenses enabled me to optimise the imaging and the staff were inventive in helping me improve the culture set-up.
"This has allowed me to detect gene expression dynamics in single neural progenitor cells undergoing fate decisions in the tissue environment for the first time."
See related publications:
Integrated technologies
Linking research areas
Below is a visualisation of our technology platforms for biomedical research.
The diagram shows the environment and the interconnected nature of our facilities, crossing discipline areas and applications.
Alternatively, you can view a text-based version.
Harnessing multiple platforms
Intra-platform pipelines
Our established intra-platform pipelines allow researchers to seamlessly gain a holistic understanding of their subject. For example, researchers who have utilised flow cytometry facilities to identify the mediators of an inflammatory response have subsequently performed RNAseq experiments to interrogate the molecular pathways involved and imaged the resulting pathology.
Enhancing outputs
Modern bioscience is increasingly dependent on the range of sophisticated tools employed, which are in constant development. Using a multi-technique approach that exploits methodological developments pioneered across our technology platforms provides mechanistic depth to our understanding of biological problems and maximises the impact of our publications.
Journal: Nature Communications
Immunological studies proposed a biological function for p43, with subsequent imaging, structural and biomolecular analysis revealing the mechanism by which it exerts its effect, and highlighting it as a potential therapeutic target.
DOI: 10.1038/s41467-019-09996-z
Contributing facilities:
Journal: Nature Cell Biology
This paper used electron microscopy, transcriptomics and co-immunofluorescence to demonstrate that the rhythmic variation in collagen fibre composition is due to clock-mediated control of the collagen secretory and degradation pathway. The importance of the secretory pathway was further validated by the generation of CRISPR knockouts, and imaging studies confirmed perturbation of the circadian clock resulted in the disruption of collagen homeostasis.
DOI: 10.1038/s41556-019-0441-z
Contributing facilities:
Journal: Nature Communications
A combination of ATACseq, Hi-C, CaptureHi-C and RNAseq data mapped to GWAS studies was used to identify functional enhancers implicated in rheumatoid arthritis, with target genes verified by CRISPRa.
DOI: 10.1038/s41467-020-18180-7
Contributing facilities:
Cooperative publications
Connecting research
See the interaction of our technology platforms in biomedical research publications.
The diagram below shows which of our facilities have been used in combination with each other for published outputs. In most cases these connections represent many papers which feature this combination of facilities.
Alternatively, you can view a text-based version.
Hover over the list of technology platforms below to see the connections for each area individually.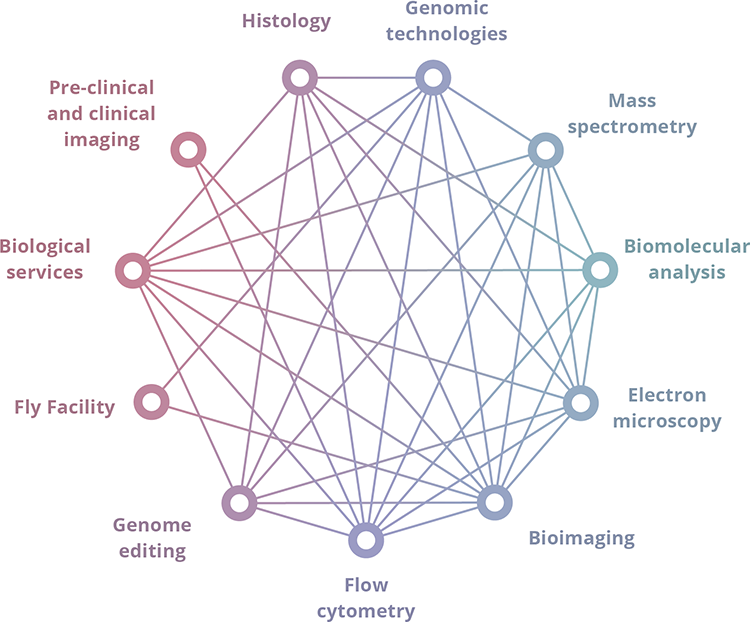 Platforms with cooperative publications
Pre-clinical and clinical imaging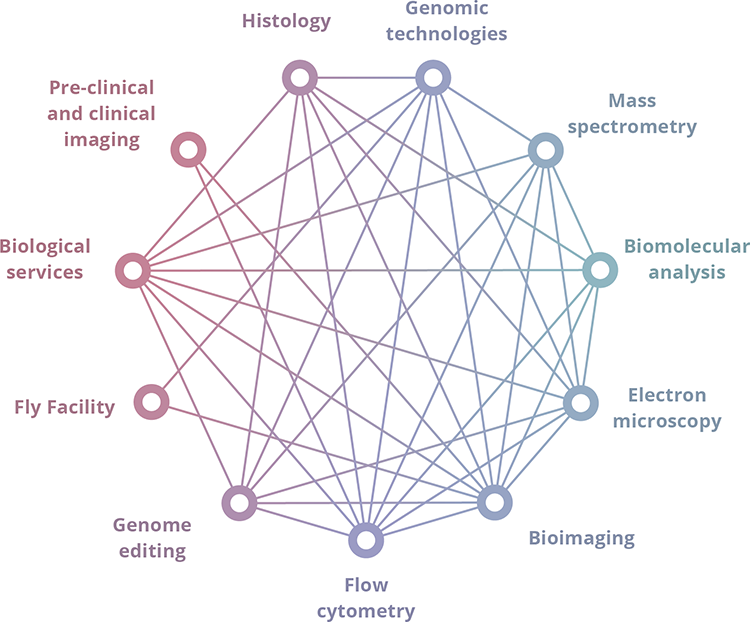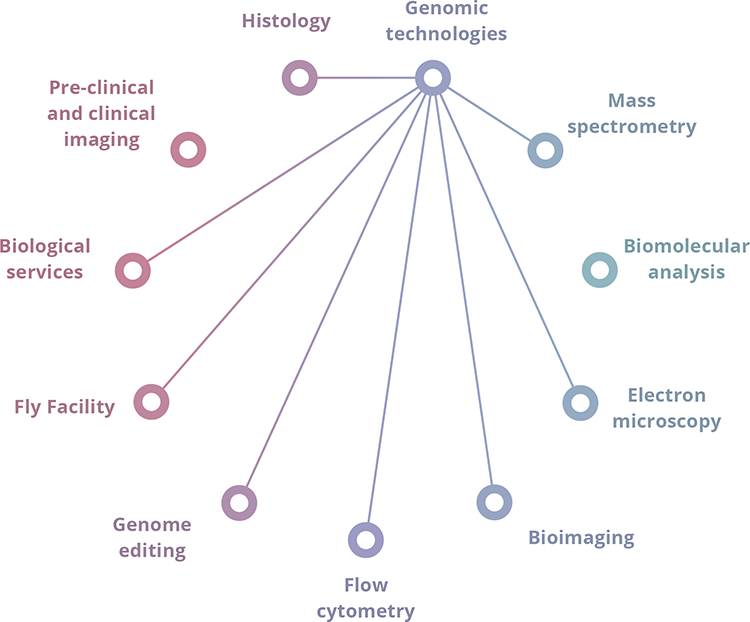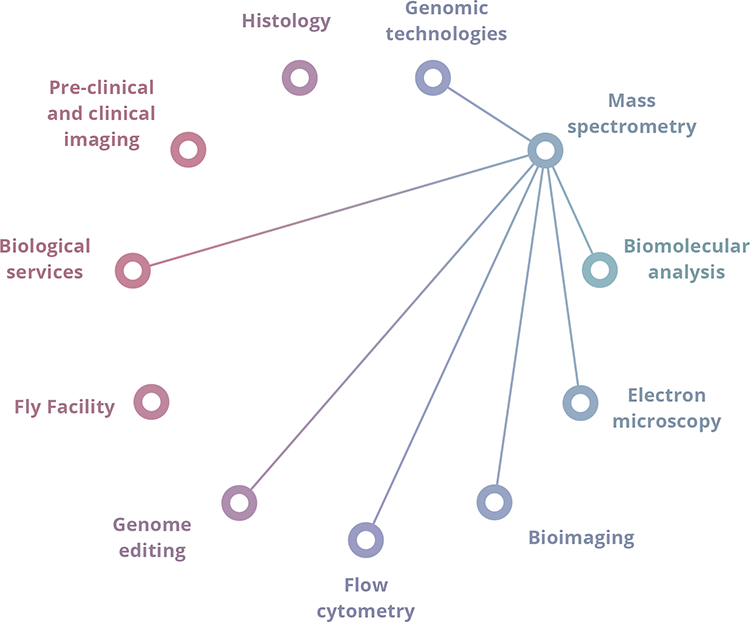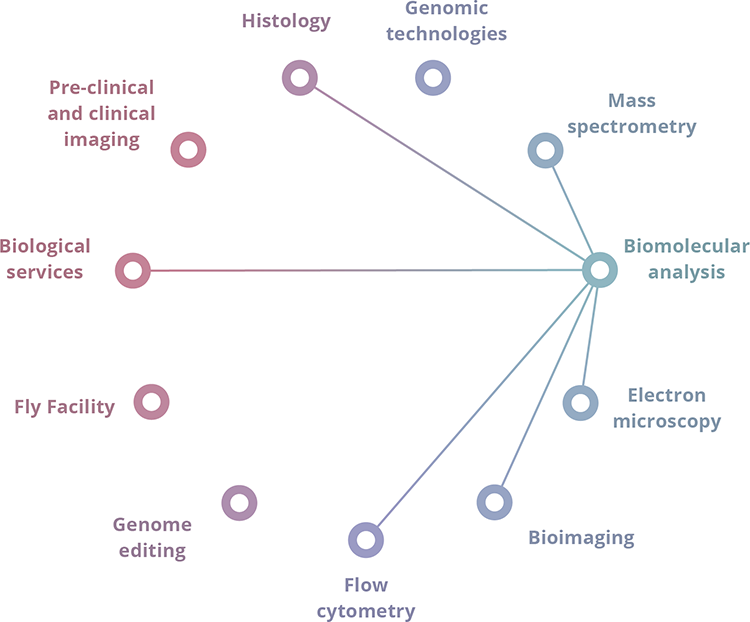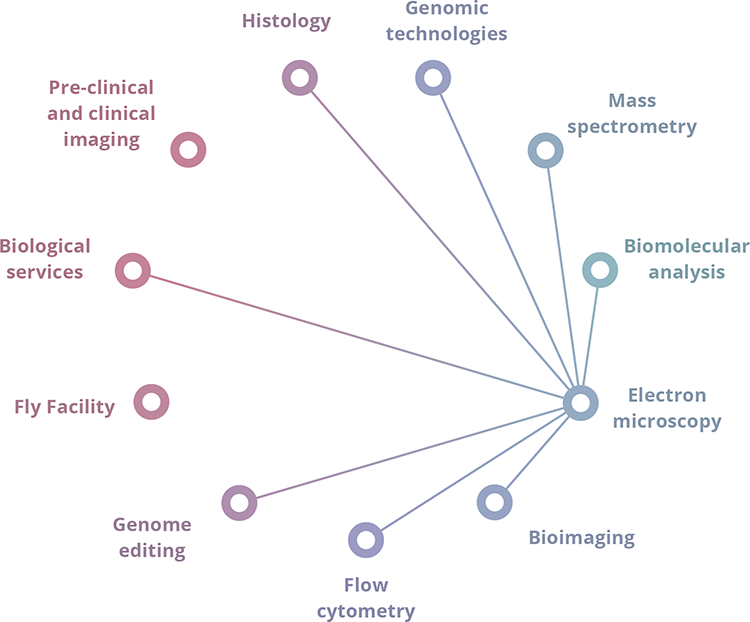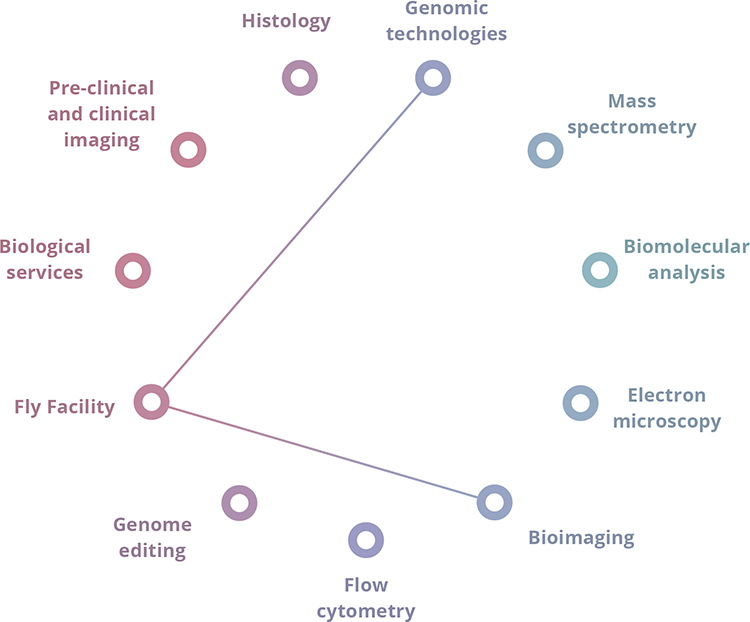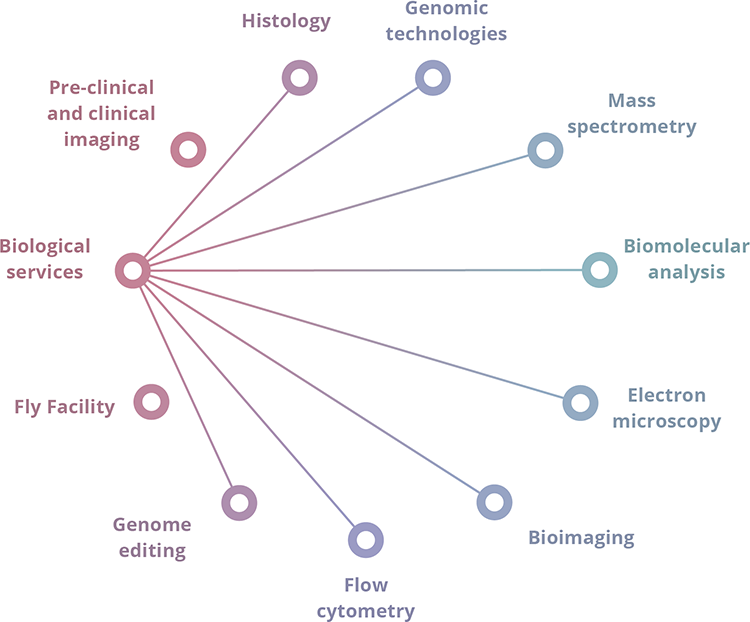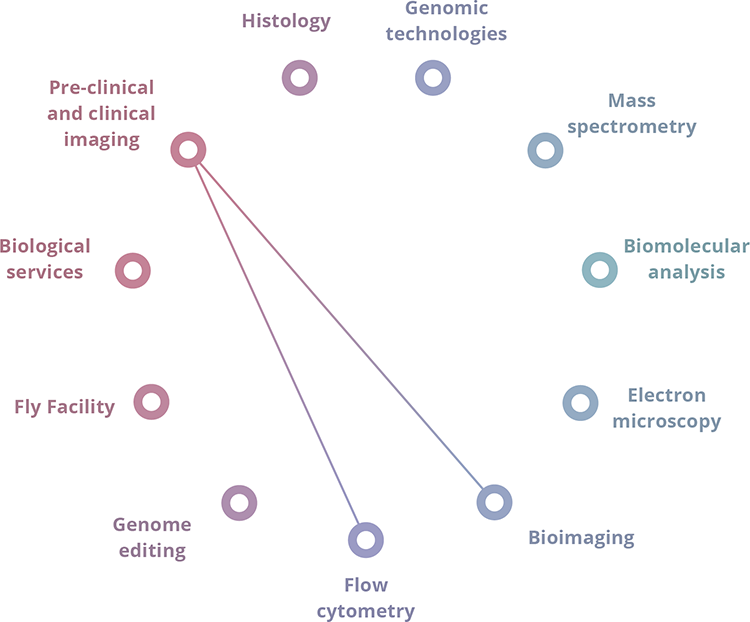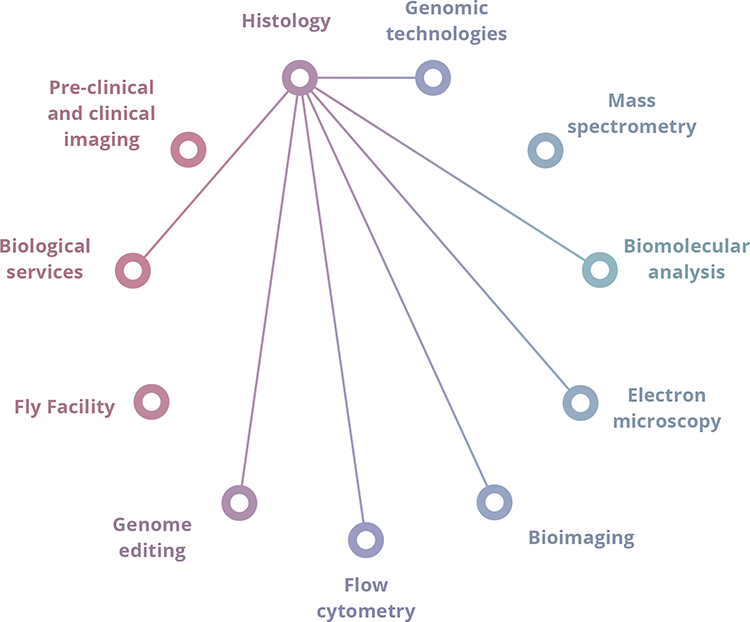 Contact us
How to get in touch
Contact details for each technology platform are available on their individual pages.
You can also contact us about our facilities in general.
Dr Bruce Humphrey
Research Development Manager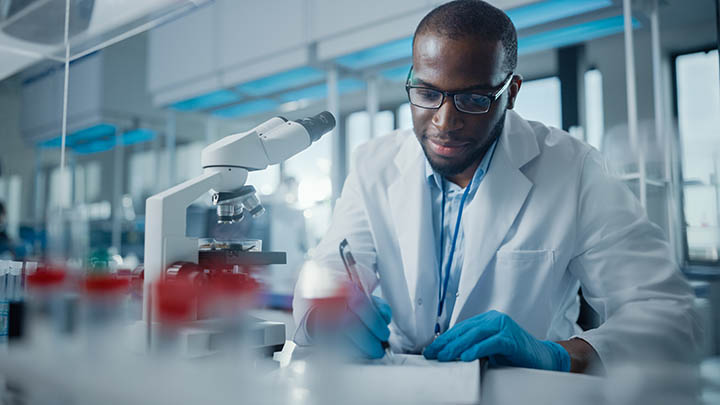 Technology platforms
Technology platforms
We have a pioneering environment and facilities for research, innovation and technology development.
Technology platforms main page