Cutting-edge visualisation from cells to molecules
The Electron Microscopy Core Facility provides both state-of-the-art instrumentation and experienced staff to assist researchers and students to obtain high-resolution microscopy data.
We offer a reliable, high-quality support for electron microscopy studies. In addition, we provide full-scale comprehensive training in any aspects of biological electron microscopy that exist within our facility.
Our services are available to all researchers and students within The University of Manchester. They are also available, by arrangement, to external groups.
How we work
Bespoke support
We offer tailored support, from simple sample analysis to more extensive initial assessments, project design, pilot experiments and comprehensive user training for larger projects.
Dedicated staff
The facility is staffed by two senior experimental officers and two technicians who are actively involved in research and who will also train and assist both staff and students in all aspects of electron microscopy.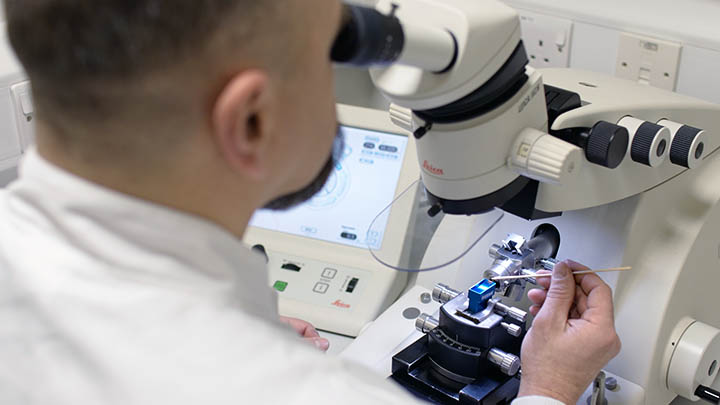 Our approach
We provide expert evaluation of the feasibility and optimal approach to each proposed electron microscopy project because of the specialist nature of the information required.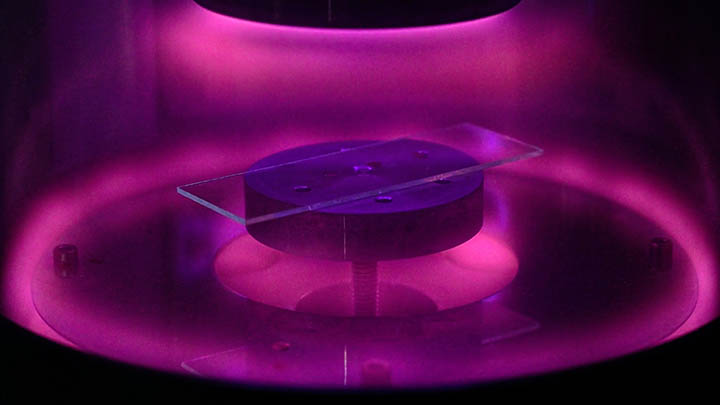 Applications
Available methodologies
The facility is well equipped for a wide range of methodologies for biological electron microscopy.
Typical applications include:
Routine transmission electron microscopy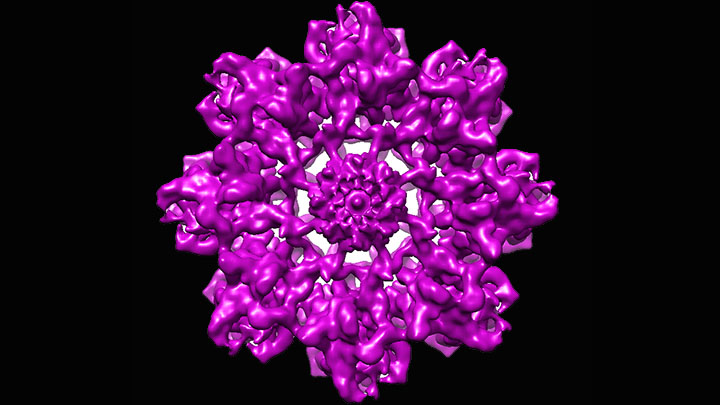 Volume electron microscopy
Correlative light-electron microscopy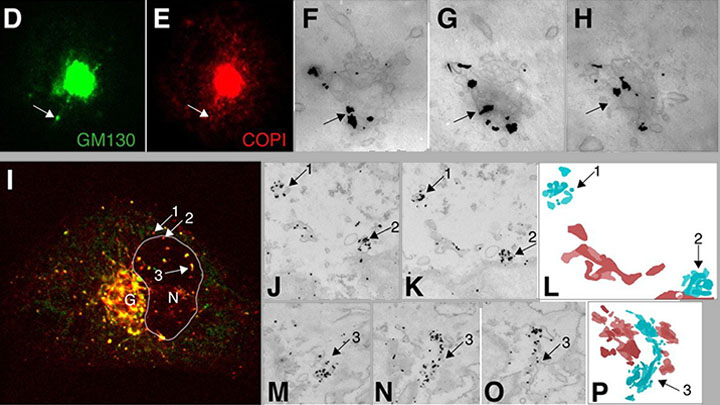 Immuno electron microscopy
Scanning electron microscopy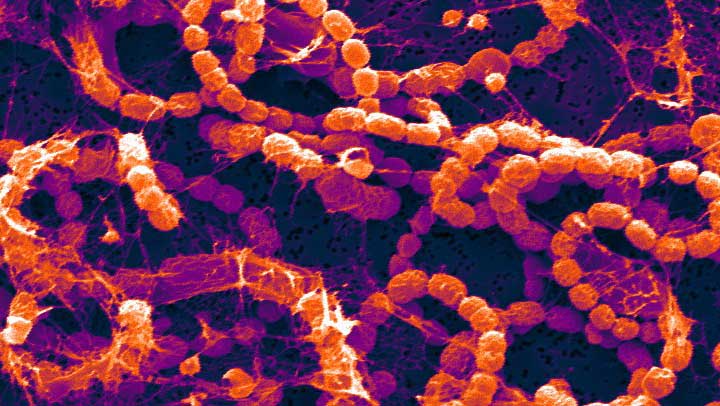 Technologies and equipment
Supporting current techniques
We invest in an extensive range of technology platforms and equipment to provide the most up-to-date techniques.
Cryo electron microscope that has autoloader for EM grids and capable of automatic image acquisition with Falcon 3EC direct electron detector. This instrument can be used for data acquisition or grid screening for further analysis at eBIC (Diamond Light Source), with which we have close connections and regular access.
Backbone transmission electron microscope with fast and reliable CMOS Ceta camera, variety of STEM detectors (BD, DF, HAADF), LaB6 electron source, modern software for tomography, montage, CLEM and automatic image acquisition.
Simple and reliable transmission electron microscope with Gatan Orius SC1000 CCD camera.
Dual purpose instrument capable of delivering serial block face imaging up to 500x500x100um volume and high resolution scanning electron imaging.
Ultramicrotomes, including cryo ultramicrotomes.
Vitrobot Mk IV plunge freezer
Baltec HPM010 high pressure freezer
Carbon and sputter coaters
Glow dischargers
Publications and outputs
Contributing to high impact outputs
The Electron Microscopy core facility has been instrumental in research leading to top-class outputs.
Here is a small selection of key publications we have contributed to.
External access
Working with other academic institutions and industry
Although primarily focused on supporting research at The University of Manchester, we are also able to support work from other academic institutions and industry.
Academic institutions
We are happy to provide access to our systems to users from any academic institution.
We will provide these users with the same level of training and support as we would for our internal users.
Please contact us for further details.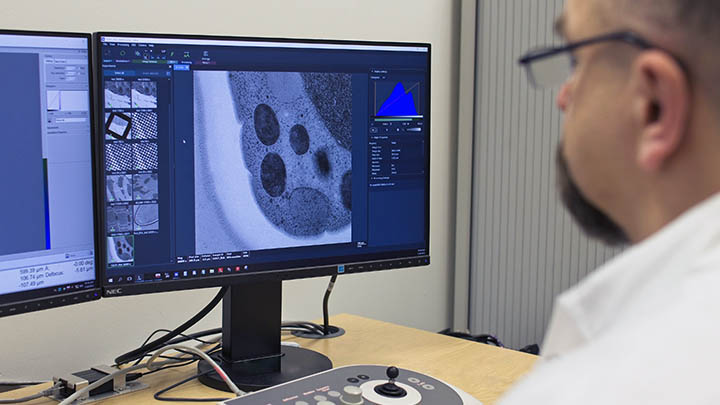 Industry
We have worked for a number of multinational companies, both on an individual basis and as part of packages of work involving multiple facilities. Work may be on a collaborative basis or purely as a service provision.
All work is fully documented and contractual, and non-disclosure compliance is assured.
If you are interested in accessing the facility please contact our Business Development Manager for further details:
Dr Joanne Flannelly
Email: joanne.flannelly@manchester.ac.uk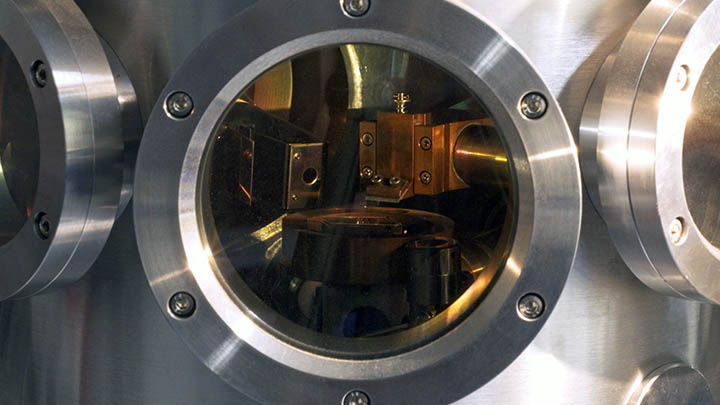 Contact us
Find out more
Get in touch for further information or to inquire about using our facility.
Dr Aleksandr Mironov, Senior Experimental Officer and Facility Manager
Email: aleksandr.mironov@manchester.ac.uk
Tel: +44 (0)161 275 5645
Electron Microscopy Core Facility
Faculty of Biology, Medicine and Health
Michael Smith Building
The University of Manchester
M13 9PT
Maps and travel
The Electron Microscopy Core Facility is located on the ground floor in A/D hub of the Michael Smith Building (Building 71 on the University campus map).
Technology platforms
Technology platforms
We have a pioneering environment and facilities for research, innovation and technology development.
Technology platforms main page