From tissue to image – processing, sectioning, staining and labelling
The Histology Core Facility is more than a service. We are an integral part of your tissue imaging project and can guide you every step of the way.
We work closely with the Bioimaging Core Facility to ensure that your sample is appropriately processed for downstream imaging applications.
Traditional techniques such as paraffin embedding and histological staining are complemented with newer techniques such as cryo-sectioning and automated antibody labelling.
We reduce the need for thin sectioning with the use of tissue vibrotomes and whole tissue clearing.
In addition to The University of Manchester's researchers, we also support external access.
How we work
More than cutting thin tissue sections
Histology is about getting your sample prepared in the best way for imaging.
Working closely with the Bioimaging Core Facility we understand what is needed to produce high-quality, quantitative images on tissue sections and whole tissues.
We offer two ways of creating excellent tissue sections:
User training
We provide full user training on the microtomes and cryostats.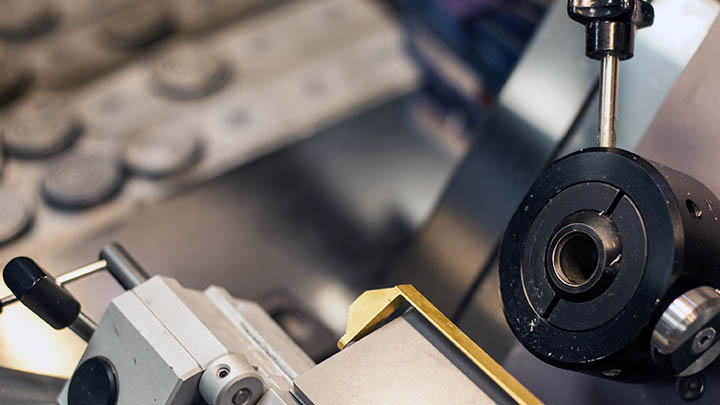 Full service solutions
Our experienced histology technicians will process and section samples as a service to groups that do not have the time or the training.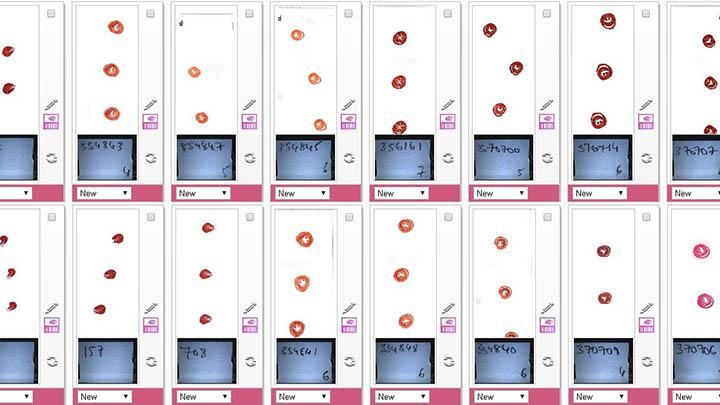 Drop-off services
We also offer a range of drop-off services such as tissue processing, automated histological staining and automated antibody labelling.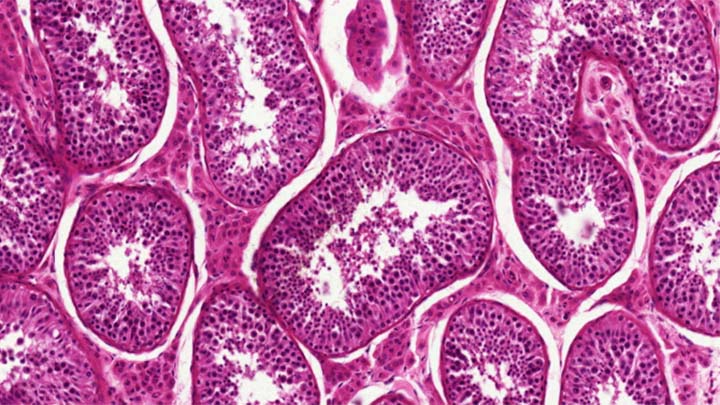 Applications
Access the latest histological techniques
We are constantly investing in the facility to ensure that our users have access to the latest developments in histological techniques.
Advancements in tissue sectioning techniques, labelling technology and optical imaging, mean that we offer many of these new techniques alongside traditional paraffin and resin thin sectioning.
Small tissue samples
Paraffin embedding and sectioning of small tissue samples.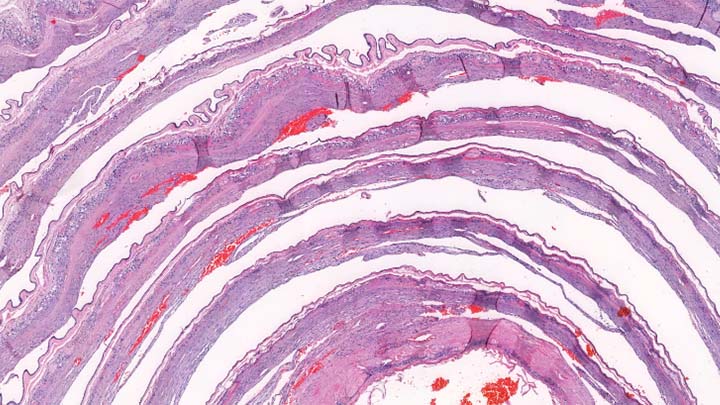 Cryo-sectioning
Cryo-sectioning of fixed frozen tissue samples.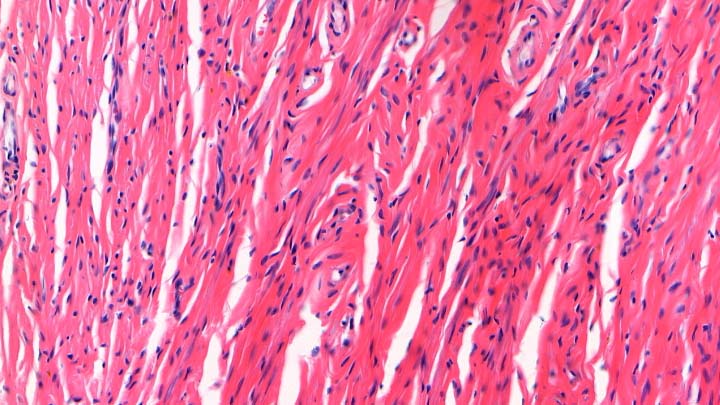 Vibratome thick sectioning
Vibratome thick sectioning of fresh tissue samples.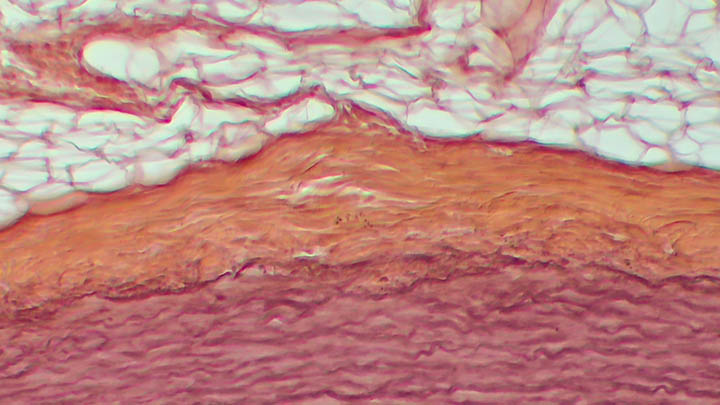 Automated histological staining
Automated histological staining such as H&E, Masson's Trichrome and Picrosirius Red.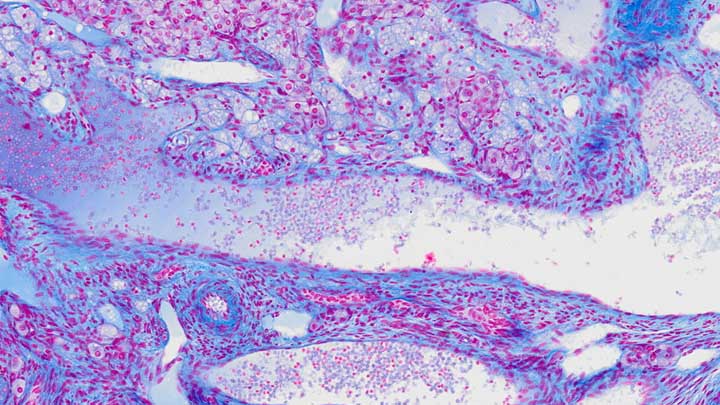 Automated IHC labelling
Automated IHC labelling for a range of cell markers using validated kits.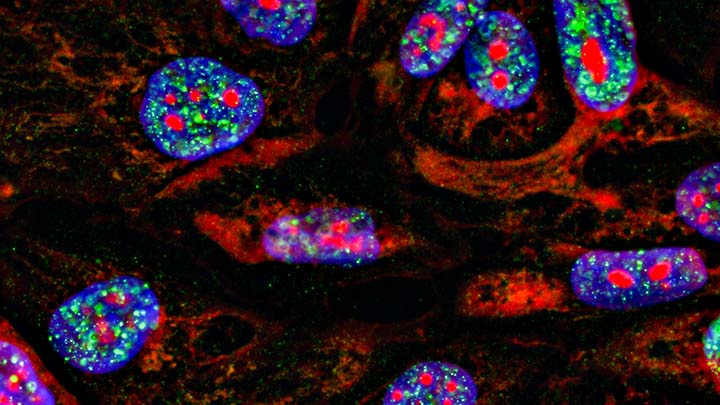 Whole tissue clearing
Whole tissue clearing to remove the need to section the tissue at all.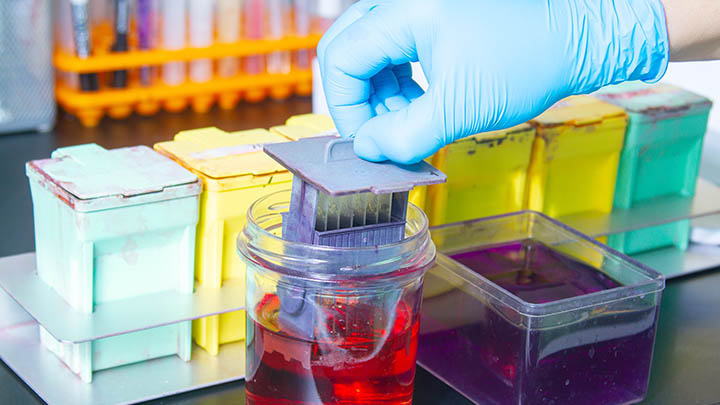 Multiplex imaging
Multiplex imaging through multiple rounds of antibody labelling, imaging and antibody stripping provides the ability to localise multiple protein markers within the tissue section. This multiplex spatial imaging provides a link between histology, bioimaging and the spatial transcriptomics available in the Genomic technology facility and Hyperion imaging system in the Flow cytometry facility.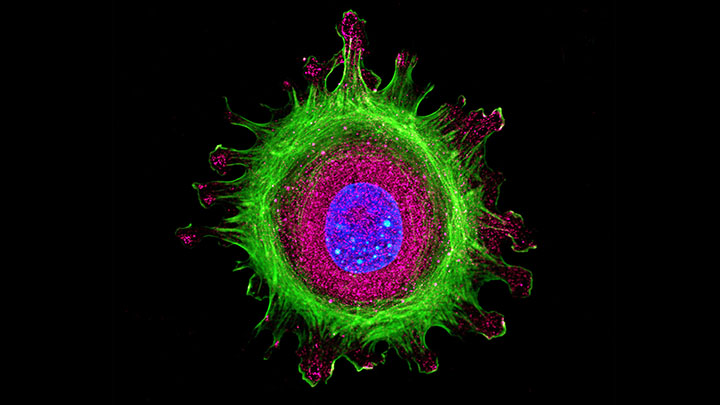 Technologies and equipment
Benefitting from investment
Investing in our equipment ensures that the Histology Core Facility remains at the cutting edge.
We are constantly investing in new equipment and technology to ensure that we can offer our users access to the latest and most appropriate techniques.
Publications and outputs
Supporting high impact publications
High impact publications often rely on access to state-of-the art imaging systems. The Histology Core Facility provides those systems.
We are an essential resource that contributes to numerous high impact publications every year.
Here are some of the recent highlights.
External access
Working with other academic institutions and industry
Although primarily focused on supporting research at The University of Manchester, we are also able to support work from other academic institutions and industry.
Academic institutions
We are happy to provide access to all our histology equipment to users from other institutions.
We are also happy to provide a full histology service from tissue processing through to sectioning and staining.
It is also possible to extend this service through to whole slide scanning through our links with the Bioimaging Core Facility.
Contact us for further details.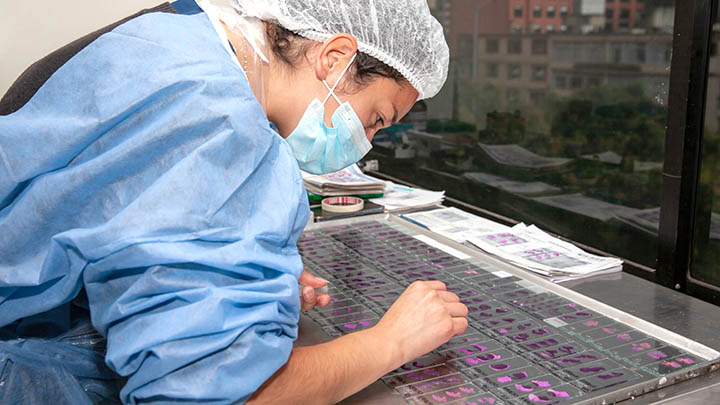 Industry
We have worked for a number of multinational companies, both on an individual basis and as part of packages of work involving multiple facilities.
Work may be on a collaborative basis or purely as a service provision.
All work is fully documented and contractual, and non-disclosure compliance is assured.
Please contact our Business Development Manager for further details if you are interested in accessing the facility:
Dr Joanne Flannelly
Email: joanne.flannelly@manchester.ac.uk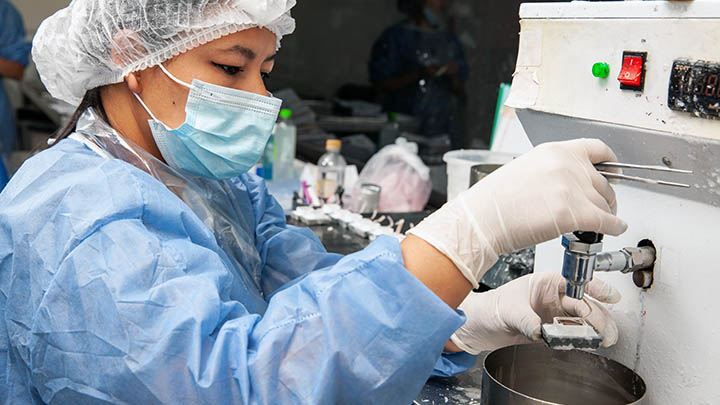 Contact us
Find out more
Get in touch for further information or to inquire about using our facility.
Technology platforms
Technology platforms
We have a pioneering environment and facilities for research, innovation and technology development.
Technology platforms main page