Supporting experimental design and project-specific analyses through to publication
We offer computational support for omics and imaging technologies.
We can provide computational analysis of bioimaging, proteomic, transcriptomics and epigenomics data to help you with your research project.
How we work
Bespoke support
We conduct project-specific data analysis followed by a detailed one-to-one hand-back session.
Bespoke bioinformatics projects can develop in collaboration with research groups. Our experienced bioinformaticians can be seconded to individual research groups, either full- or part-time, for a number of months.
Our process
We provide guidance and suggestions for study design. A discussion with us and any collaborating Technology Platforms is recommended, because experimental design is usually a complex task optimising the technology's capabilities, cost and bioinformatics analysis.
A comprehensive sequencing data assessment is performed for each project. The report generated will serve as a valuable resource for ensuring the reliability and validity of your data analysis and research outcomes.
Following data assessment, a project-specific data analysis is performed, tailored to the experimental design. The general format follows stages of data cleaning and preparation, exploratory data analysis and then statistical analysis.
The researcher who requested the analysis is given a detail report in a digital format. Through this and a one-to-one hand-back/training session, we aim to give them all the necessary information to understand the analysis and its results.
The data and analyses are stored in a secure and accessible manner for future reference, analysis, and sharing on the university's research data storage.
Rigorous analysis is performed to best practice guidelines and meeting the standards required for publication in scientific journals. In addition, complex datasets benefit from custom data-visualisation techniques to convey results to the scientific community.
Our staff scientists are PhD graduates who assist in manuscript preparation and reviewing. In many cases, we are cited as co-authors on scientific papers.
By expertly addressing reviewer comments on bioinformatics aspects of the manuscript, we can increase the chances of your manuscript being accepted for publication.
We offer to submit the annotated data to ArrayExpress or European Nucleotide Archive repositories at the time of publication.
Technologies and equipment
Services we support
We work closely with Research IT Services at the University to deploy scientific software, host interactive analyses and archive data.
We maintain a local Galaxy server for researchers to analyse their data and enable GUI access to software tools.
Ingenuity Pathway Analysis
Ingenuity Pathway Analysis (IPA) is a powerful bioinformatics tool used for the analysis and interpretation of omics data in the context of biological pathways and networks. It is designed to help researchers uncover and understand the underlying biological mechanisms and relationships within complex biological datasets.
We support users in data input, training and management under the University's IPA license.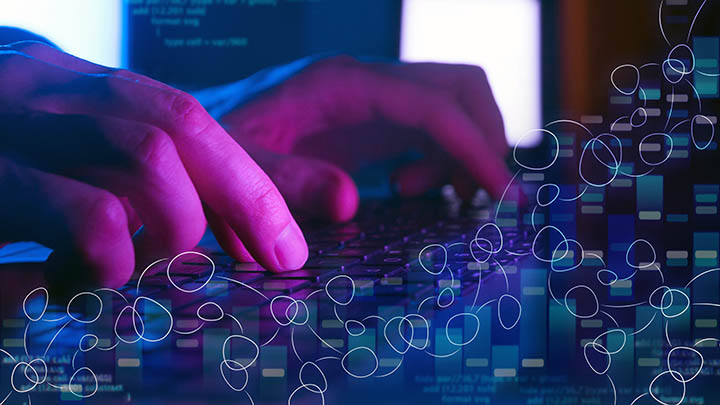 Genome browser tracks
By utilising diverse genome browser tracks, users can navigate and explore the genomic landscape, overlaying multiple data sources to gain insights into gene regulation, genetic variation, evolutionary conservation, and functional elements.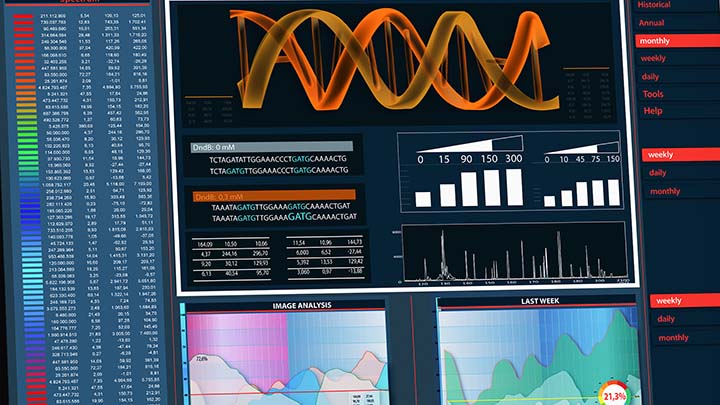 Web hosting apps
Single-cell datasets require integrative environments for researchers to explore their data without learning data wrangling skills.
Together with IT Services, we host Shiny Server and CELxGENE applications to support the interrogation of these complex data.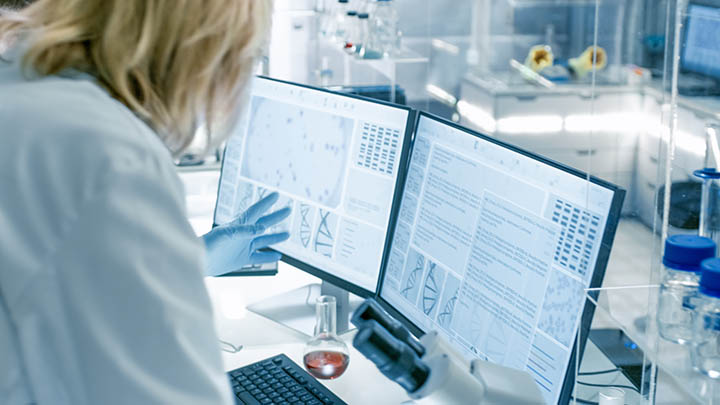 High performance computing (HPC)
We work closely with IT Services to enable data-intensive applications through the Computational Shared Facility (CSF).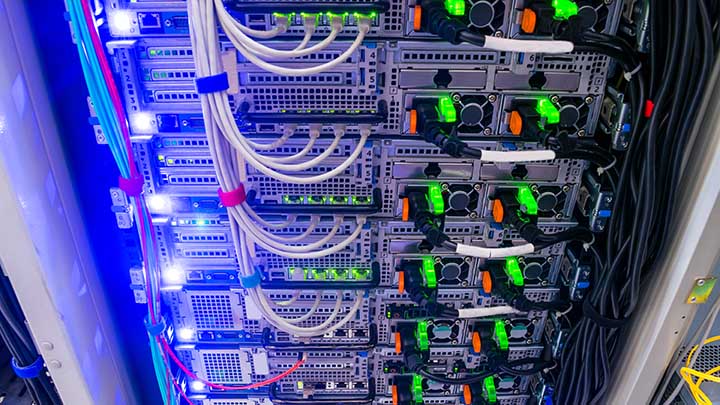 Resilient data storage
User data is stored on a local research data storage system that ensures the availability, integrity, and durability of data, even in the face of failures or disruptions.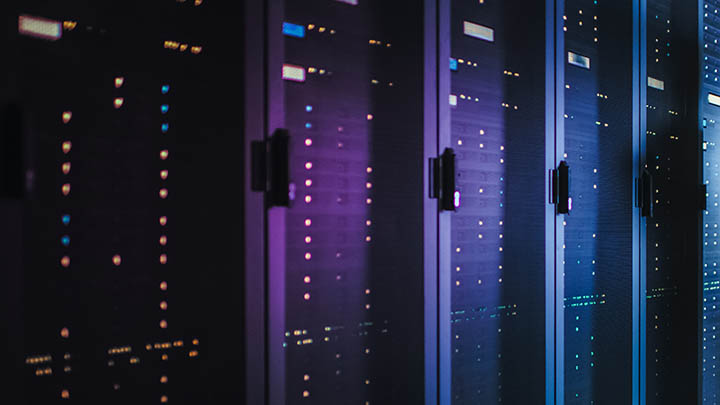 Applications
How we can help
Our bioinformaticians have experience of wide-ranging analysis methods supporting a range of researchers from across the University.
First-time users of the facility are given an appropriately paced introduction, while experienced users are encouraged to use our code and scripts.
Bioimaging analysis can extract quantitative information from images of biological samples. This might require image segmentation and feature extraction, as well as image alignment and quantitative analysis to identify significant differences between groups of samples.


Proteomics using mass spectrometry is used to identify, quantify, and characterize proteins. It can provide a more comprehensive view of the proteome than other methods, such as transcriptomics. In addition to quantification, analysis of post-translational modifications or interactions between proteins is possible.
RNA-seq is a technique to measure the transcriptome of an organism.
It allows researchers to study differential gene expression between treatment groups. This involves aligning the reads to a reference genome or transcriptome to determine the origin of each read.
The number of reads originating from each gene or transcript can be used to determine gene expression levels. Various computational tools and algorithms are used to quantify gene expression and identify differential gene expression between samples.
It is possible to perform other types of analyses, such as splice variant detection and gene fusions, with experimental designs offering suitable sequencing depth and replication.
Single-cell RNA sequencing (scRNA-seq) is a variation of RNA-seq that enables the analysis of gene expression at the individual cell level.
It provides a view of gene expression patterns within heterogeneous cell populations, allowing researchers to uncover cellular diversity, identify rare cell types, and study cellular dynamics and interactions.
scRNA-seq can be combined with scATAC-seq (Single-cell Assay for Transposase-Accessible Chromatin) providing multi-omics data at the single-cell level. It provides insights into the functional elements of the genome and their activity across diverse cell types and conditions.
scATAC-seq has been instrumental in deciphering gene regulatory networks, understanding cell fate determination and differentiation processes.
Spatial gene expression refers to the pattern of gene expression within tissues or organs. It provides understanding of the spatial relationships between different cell types and their functional implications.
Spatial gene expression analysis has broad applications in various fields, including developmental biology, neurobiology, cancer research, and regenerative medicine.
It provides insights into tissue architecture, cell-to-cell communication, cell differentiation, and disease processes.
ChIP-seq (Chromatin Immunoprecipitation followed by sequencing) combines chromatin immunoprecipitation with high-throughput sequencing to investigate the interactions between proteins and DNA on a genome-wide scale.
It provides information about the binding sites of specific proteins, such as transcription factors and histone modifications, and helps in understanding the regulation of gene expression and chromatin structure.
Metagenomics involves the analysis of genetic material obtained directly from environmental samples, such as soil, water, or the human microbiome.
It aims to understand the genetic composition, diversity and functional potential of microbial communities without the need for isolating and culturing individual organisms.
Mass cytometry (CyTOF) uses mass spectrometry to measure many cellular markers simultaneously, providing a comprehensive view of cell populations within heterogeneous samples. The generated datasets can be processed through clustering, dimensionality reduction, and machine learning. This process can identify rare cell subpopulations, complex cellular interactions, and novel biomarkers with clinical significance.


Bespoke data analysis services are also available, tailored to address unique research questions when off-the-shelf analysis methods are not available.
This involves developing customised analysis pipelines, algorithms, and statistical methods to extract meaningful insights from the data at hand.
It is often required for mining single-cell and spatial sequencing data, as well as integration of multi-omics data.
In-house software and workflows are available. For more information, visit the BCF Github page.
Publications and outputs
Contributing to high impact outputs
The Bioinformatics Core Facility has provided core analysis to research leading to top-class outputs. Here is a small selection of key publications we have contributed to.
T helper 2 cells control monocyte to tissue-resident macrophage differentiation during nematode infection of the pleural cavity.
Immunity, 2023.
Finlay, Conor M. , James E Parkinson, Lili Zhang, Brian H K Chan, Jesuthas Ajendra, Alistair Chenery, Anya Morrison, Irem Kaymak, Emma L Houlder, Syed Murtuza Baker, Ben R Dickie, Louis Boon, Joanne E Konkel, Matthew R Hepworth, Andrew S MacDonald, Gwendalyn J Randolph, Dominik Rückerl, Judith E Allen.
Flexible and digestible wood caused by viral-induced alteration of cell wall composition.
Current Biology, 2022.
Allen, Holly, Leo Zeef, Kris Morreel, Geert Goeminne, Manoj Kumar, Leonardo D. Gomez, Andrew P. Dean, et al.
Bi-allelic FRA10AC1 variants in a multisystem human syndrome.
Brain, 2022.
Banka, Siddharth, Stavit Shalev, Soo-Mi Park, Katherine A Wood, Huw B Thomas, Helen L Wright, Mohammed Alyahya, Leo A H Zeef, Raymond T O'Keefe.
Murine AGM single-cell profiling identifies a continuum of hemogenic endothelium differentiation marked by ACE.
Blood, 2022.
Fadlullah, Muhammad Zaki Hidayatullah, Wen Hao Neo, Michael Lie-a-ling, Roshana Thambyrajah, Rahima Patel, Renaud Mevel, Irène Aksoy, Syed Murtuza-Baker, et al.
In vivo labeling reveals continuous trafficking of TCF-1+ T cells between tumor and lymphoid tissue.
The Journal of Experimental Medicine, 2022.
Li, Zhi, Zewen K. Tuong, Isaac Dean, Claire Willis, Fabrina Gaspal, Rémi Fiancette, Suaad Idris, Syed Murtuza-Baker, et al.
Development of human cartilage circadian rhythm in a stem cell-chondrogenesis model.
Theranostics, 2022.
Naven, Mark A, Leo A.H. Zeef, Shiyang Li, Paul A Humphreys, Christopher A Smith, Dharshika Pathiranage, Stuart Cain, et al.
Loss of regulation of protein synthesis and turnover underpins an attenuated stress response in senescent human mesenchymal stem cells
Proceedings of the National Academy of Sciences of the United States of America, 2023.
Llewellyn, Jack, Venkatesh Mallikarjun, Ellen Appleton, Maria Osipova, Hamish T J Gilbert, Stephen M Richardson, Simon J Hubbard, Joe Swift.
Chronic inflammatory arthritis drives systemic changes in circadian energy metabolism
Proceedings of the National Academy of Sciences of the United States of America, 2022.
Downton, Polly, Fabio Sanna, Robert Maidstone, Toryn M. Poolman, Edward A. Hayter, Suzanna H. Dickson, Nick A. Ciccone, et al.
Rhythmicity of intestinal IgA responses confers oscillatory commensal microbiota mutualism
Science Immunology, 2022.
Penny, Hugo A., Rita G. Domingues, Maria Z. Krauss, Felipe Melo-Gonzalez, Melissa A.E. Lawson, Suzanna Dickson, James Parkinson, et al.
MRSD: a quantitative approach for assessing suitability of RNA-Seq in the investigation of mis-splicing in Mendelian disease
American Journal of Human Genetics, 2022.
Rowlands, Charlie F., Algy Taylor, Gillian Rice, Nicola Whiffin, Hildegard Nikki Hall, William G. Newman, Graeme C.M. Black, et al.
Classifying cells with Scasat, a single-cell ATAC-seq analysis tool
Nucleic Acids Research, 2019.
Syed Murtuza Baker, Connor Rogerson, Andrew Hayes, Andrew D Sharrocks, Magnus Rattray.
PEGS: An efficient tool for gene set enrichment within defined sets of genomic intervals
F1000Research, 2021.
Briggs, P., Hunter, A. L., Yang, S., Sharrocks, A. D., & Iqbal, M. (2021).
Contact us
Find out more
Please get in touch if you require any further information or would like to inquire about using our facility.
Dr Leo Zeef, Senior Experimental Officer and Facility Manager
Email: leo.zeef@manchester.ac.uk
Tel (office): +44 (0)161 275 1482
Bioinformatics Core Facility
Faculty of Biology, Medicine and Health
B.1083 Michael Smith Building
The University of Manchester
M13 9PT
Maps and travel
We are based in the Michael Smith Building (Building 71 on the University campus map).
Technology platforms
Technology platforms
We have a pioneering environment and facilities for research, innovation and technology development.
Technology platforms main page