Addressing differential attainment
Differential attainment (DA) is the variation in attainment between groups of students who share a protected characteristic and those who do not share the same characteristic, for example, black and white students, or those with and without disabilities. The variation is often unexplained.
DA is often spoken about in terms of degree awarding gaps, which is the difference in 'top degrees' (a First or Upper Second classification) awarded to different groups of students. The biggest differences are found by ethnic background. For example, Black students are less likely than white students to achieve a top degree.
What is not known is why. We have undertaken research to explore differential attainment and develop interventions to address it.
How are we exploring the causes of, and solutions to, differential attainment?
At The University of Manchester, we are conducting a type of research, known as a realist inquiry, to explore the contexts, mechanisms, and outcomes that lead to differential attainment.
In other words, what is happening to who, when, where, why, and how?
We have interviewed students from a variety of backgrounds and programmes, with a range of protected characteristics, to understand their experiences.
We have also conducted interviews and workshops with academics, professional support services teams, and University leaders, to help develop interventions.
We are aligning our research to the institutional aims to reduce the awarding gaps between:
Black and white students;
Asian and white students;
those with a disability and those without.
Of course, we are mindful that many of our students have intersecting identities. We have been as comprehensive as possible, having conducted over 150 interviews to date.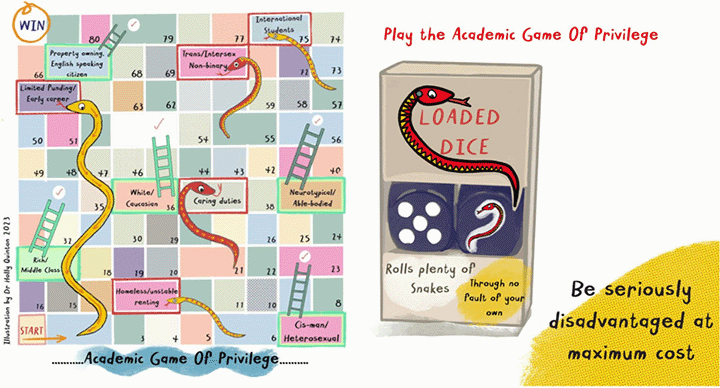 The image depicts a snakes and ladders board as an analogy for the student experiences leading to differential attainment. Ladders represent the advantages faced by students with academic privilege based upon their protected characteristics. The snakes are representative of the disadvantages faced by students within groups where awarding gaps exist. Finally, the loaded dice symbolise the jeopardy some students face due to having multiple intersecting identities.‌
Who is conducting this research?
This research is being lead within the Faculty of Biology, Medicine and Health at The University of Manchester.
The team are:
For further information, please contact:
Professor Gabrielle Finn
Email: gabrielle.finn@manchester.ac.uk.
What have we learned so far?
Through our interviews, we have uncovered a complex picture of what is contributing to differential attainment for our students. Learning and attainment is impacted by more than just teaching and assessment.
It is influenced by the seemingly trivial issues and interactions that students have on a day-to-day basis, by the way people behave towards students, and by the macro issues facing society at large.
While we know from the literature that assessments can be biased and discriminatory, the issue is much deeper. Students are facing multiple hurdles, simultaneously.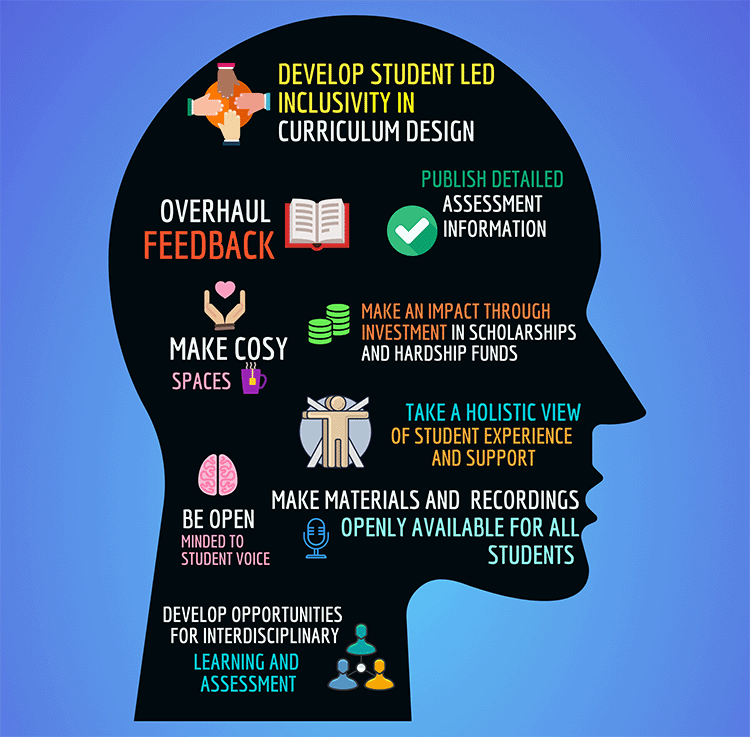 The image depicts a list of interventions developed by staff and students to address some of the issues that students report impacting on their attainment. Examples include the creation of cosy spaces on campus, the co-creation of inclusive curricula, and overhauling the way in which feedback is delivered.
How are we sharing our findings?
Data analysis and dissemination is ongoing. However, we have a number of ways in which you can learn more about the issues uncovered so far.
Follow our twitter account @diffattainment for updates on the project, and snapshots of our data and interventions.
To hear first-hand from our students, you may wish to view these two short videos.
Student perspectives on factors contributing to differential attainment
Interventions suggested by students to help address differential attainment
Note that the narratives are an amalgamation of the stories of multiple students' experiences and are not unique to The University of Manchester.
The full panel discussion, from which the shorter videos are created, can be viewed on YouTube.
This video contains the views of students on disability, sexuality, international status, cost of living, religion, and caring responsibilities, to name but a few issues.
We are presenting aspects of this work at upcoming conferences, the details of which will be on our Twitter account.
What are we doing to address differential attainment?
We have been conducting workshops with staff and students to develop recommendations and interventions to address differential attainment. We are working across the institution to bring the recommendations to fruition.
We have also asked our colleagues to make a pledge as to how they will help us work towards our goals of addressing differential attainment.
Here are examples:
My pledge is to... "work towards greater student satisfaction by creating new opportunities, placements, volunteering, which are open to all students. Access to the opportunities will be based on transparent and fair criteria".

Professor Mahesh Nirmalan /

Vice Dean for Social Responsibility
My pledge is to… "help create an inclusive environment, with initiatives and support that are responsive to student's needs".

Dr Natalie Gardiner /

Associate Dean for Equality, Diversity and Inclusion
How to contribute
Colleagues at The University of Manchester can make a personal pledge.
You can also share your experiences of differential attainment. This is not part of data collection, so any comments will not be used in our research.
For anyone wishing to participate in the research, or wanting further information, please contact:
Professor Gabrielle Finn
Email: gabrielle.finn@manchester.ac.uk