Why choose this programme?
Combine medical training with research
The Cancer Research UK MB-PhD is a fully funded three-year programme aimed at MBChB students wishing to intercalate to train as clinician scientists.
This training route will see you work towards both your MBChB and PhD awards over the course of the programme, combining your medical training with research training in the area of cancer sciences.
Each year, we aim to recruit the best candidates who are seeking to drive new innovations in clinical care and research. Our first cohort of students started their studies in September 2020.
Why cancer sciences?
Cancer sciences is such a broad area that it can be applicable in all aspects of medicine, surgery and general practice.
You will develop invaluable transferable skills and be fully equipped to start a career in clinical research.
Cancer sciences is linked to areas of medicine such as:
clinical oncology
clinical genetics
medical oncology
pathology
radiology
surgery
More about the MB-PhD
Clinician scientists play an essential role in cancer research, bridging the gap between patients and scientific research.
Working across both the clinic and the laboratory, clinician scientists are in a unique position to reflect the needs of people with cancer in the discovery of new treatments and tests.
A PhD is one of the highest-level academic degrees that can be awarded.
Unlike most undergraduate and master's programmes, a PhD is a pure research degree but this doesn't mean that you will only spend three years in a library or lab.
There are many opportunities for professional development including; networking and communication, teaching, presenting at conferences and opportunities to publish work.
Currently, most UK trainee clinician scientists take on a PhD after completing their initial medical training, often when they are in their thirties.
Cancer Research UK launched their nationwide MB-PhD programme after seeing a decline in the number of clinicians on an academic career pathway, particularly female researchers.
Doing a PhD during medical school can accelerate your academic career before you get too embedded in clinical work or have other commitments.
The skills you will acquire can be applied in many areas of medicine and you will learn valuable critical appraisal skills early.
On completion of your MB-PhD you will graduate as a doctor at the forefront of your field.
Programme
A combined approach
You will benefit from a bespoke training and mentorship programme alongside your research project.
You will be part of the Manchester Cancer Research Centre and Cancer Research UK Manchester Centre, which host regular seminars and lectures with speakers; from postgraduate trainees up to world-leading international researchers. They also host career development events.
As a postgraduate researcher in the Faculty of Biology, Medicine and Health, you will also have access to the Doctoral Academy Training programme to develop your transferable skills.
Learn more about our current CRUK MB-PhD students:
Programme structure
Year 1
Programme induction
Project specific training/development
Mentorship
Upskilling in cancer sciences
Completion of literature and continuation review
Year 2
Training activities to support career development
Mentorship
Social responsibility
Second year progress report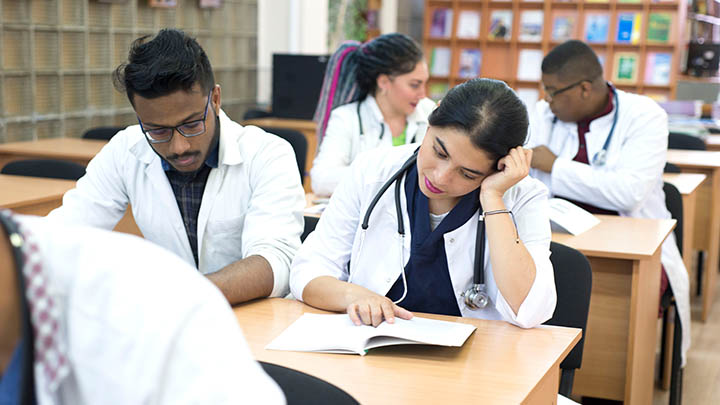 Year 3
Training activities to support career development
Mentorship
Thesis planning and submission
Viva examination
Support for returning to the MBChB core programme
Post-PhD
Continued mentorship
Continued research engagement and opportunities via your supervisory group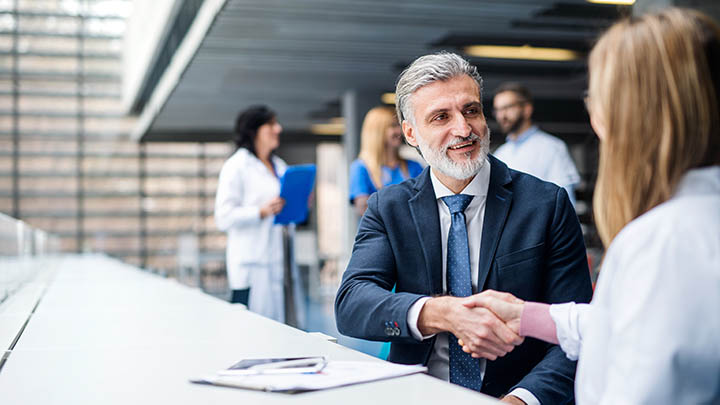 Projects
Helping you choose a project
The list of projects and their details are available on the CRUK Manchester website for the September 2022 intake.
You can watch short videos prepared by each supervisors on YouTube.
Discuss your project
Prospective candidates are strongly encouraged to contact potential supervisors directly to discuss their projects and research. For general queries, contact the postgraduate programme manager.
Funding
What the funding covers
Successful applicants will receive a PhD studentship for the three-year duration of the programme, which includes:
Fees and stipend
full funding for PhD tuition fees (up to the UK rate)
lab costs/running expenses
a stipend of £19,000 per annum for living costs
International candidates
International candidates should contact the postgraduate programme manager to discuss fee scholarships available to the highest-performing international applicants at interview.
Student loan eligibility
An undergraduate Student Loans Company payment up to a maximum of four years of MBChB study (including interest accrued to SLC if appropriate), subject to successful completion of key years of study.
Eligibility criteria
Priority students
Candidates should be MBChB students at The University of Manchester or BSc (Hons) Medicine students at the University of St Andrews.
Exceptionally, we will accept applications from medical students on other UK courses.
External applicants must demonstrate equivalent academic eligibility and institutional support to the above, including evidence of opportunities for integration with their undergraduate course similar to those of internal applicants.
The University of Manchester
University of Manchester MBChB students must be either:
currently studying in Year 3; or
currently studying in Year 2 and already holding a BA/BSc (Hons) degree classification of an Upper Second or above in a relevant subject;
or intercalating after either Year 2 or Year 3 of the MBChB.
University of St Andrews

University of St Andrews Medicine BSc (Hons) students on the Manchester course pathway must be:
currently studying on Year 3 of the Manchester MBChB, having already obtained a BSc classification of an Upper Second (2:1) or above from the University of St Andrews;
predicted to obtain a BSc classification of an Upper Second (2:1) or above from the University of St Andrews.
Making an application
Apply for the programme
Each year, we recruit a number of undergraduate students onto our three-year PhD programme, with the approval of relevant intercalation teams.
We are looking for candidates who are seeking to drive new innovations in clinical care and research.
If you wish to be considered for a studentship and meet our eligibility criteria, you must complete a single online application.
Full details on eligibility and residence criteria are available via the instructions below.
Key dates
Applications open: 1 October 2022
Application deadline: 3 February 2023
Interviews: Week beginning 20 February 2023
Start date: September 2023
Under­graduate summer placements
Try out a research project
We offer research opportunities within the MB-PhD to University of Manchester and St Andrews-Manchester Pathway Medical School students.
The placements will give you a taste of academic research and our MB-PhD programme. If you are eligible to apply, you must submit an expression of interest by Wednesday 6 July 2022.
More information about the Cancer Research UK undergraduate summer placements.