Pioneering treatment
Clinical oncologist Professor Ananya Choudhury is leading one of the world's most innovative radiotherapy treatment machines here in Manchester, one of the first seven of its kind globally. Here she tells us how the MR-linac is transforming patient outcomes since it started treating patients in 2019.
I'm in what I consider to be one of the most enviable positions in the world for anyone working in radiotherapy. I'm fortunate enough to be able to work on a new and pioneering radiotherapy machine in Europe's largest cancer hospital. In terms of what I do, it really doesn't get much better than this.
The MR-linac is a tremendous piece of machinery which will transform treatment for patients undergoing radiotherapy, as it will allow us to treat patients whilst, at the same time, taking magnetic resonance (MR) images. At the moment, lower quality CT images are taken of a patient's tumour before radiotherapy is given, to help us to target the radiation to the cancer. With the addition of MR imaging within the linac itself, we should be able to make treatment delivery more precise. We can pinpoint the location of tumours, tailoring the shape of the x-ray beams in real time and locking onto the tumour outline during treatment to enable us to accurately deliver radiotherapy, even when the tumour tissue moves during treatment. For example, a tumour in the lung will move up and down as a person breathes.
"In the past, we've taken a pragmatic approach and treated all cancers in same way but now we're in an era of personalised medicine."
New era for precision
This technology is ushering in a new era of personalised radiotherapy, as the machine can see if a tumour changes shape, position or size between treatment sessions. We can ensure that the cancer cells are targeted accurately for treatment on every visit, adapting the treatment to a patient's unique anatomical makeup in real time.
My research focuses on personalised radiotherapy treatment in bladder and prostate cancers. I'm looking at how we can combine advanced biology and physics techniques to improve patient selection and minimise side effects. It's here I believe that the MR-linac genuinely heralds a revolution in radiotherapy.
It will make a substantial difference to our patients as it allows us to see the tumours clearly and to treat them with such incredible accuracy that it will minimise some of the risks associated with standard radiotherapy treatment which, although very effective, can accidentally damage healthy tissue due to a lack of detailed precision.
With earlier diagnosis and improved treatments meaning that more people are surviving cancer than ever before, we're making a significant contribution to the health and wellbeing of this increasingly large cohort. This improvement is threefold: reducing the risk of secondary cancers, achieving better clinical outcomes and reducing side effects such as nausea, lethargy and soreness. The value of this – financially, economically and emotionally – to the patients, their families and the NHS cannot be underestimated. And it is achievable all through more precise and targeted treatment.
Professor Ananya Choudhury
Ananya Choudhury is Chair and Honorary Consultant in Clinical Oncology at The Christie and The University of Manchester.
Reflecting research strengths
For me, the MR-linac at The Christie in Manchester signifies the strength of the unique partnership that exists here; the infrastructure, facilities, the people and the collaborative culture, all of which worked together to facilitate us getting this machine.
No one partner could have achieved this without the help of the others and I see the machine as a symbol of this. This genuine collaboration is currently being evidenced in an exciting new project that my research group, the Translational Radiobiology Group, is looking at. We're truly multidisciplinary, comprising of clinicians, oncologists, medical physicists, physicists, biologists, radiotherapists, software engineers, statisticians, bioinformaticians and radiographers, amongst others.
As we're part of one of Europe's largest universities, it means that we're able to collaborate across different disciplines and so we're currently working on projects with the schools of pharmacy, mathematics and physics. One of these projects is where we are applying techniques which are used to map stars and constellations learnt from colleagues in astrophysics, to see if similar methods can be used to process medical images and improve the diagnosis of cancer.
This is an innovative approach as we've never linked to astrophysics before. We also hope it is a potentially ground-breaking project in that it will highlight the opportunities that exist for other cross-discipline collaborations with less obvious research partners. For me, it's here in thinking outside of the traditional box where we will be able to find solutions to some of the challenges we face as a research community; one of the most pressing of these being how can we do more with less, as we face a squeeze on funding for both research and healthcare delivery.
Responsive and agile
We've got to be ready to respond to all the different challenges that will impact on us. We can't possibly begin to know what form these challenges will take, so we need to be in a position where we're already working together and are in the best possible position to come up with creative, innovative solutions to whatever they are; solutions that mean we can continue to develop innovative and patient-focused research which delivers real patient benefit.
It will be difficult at times to know what the best response to these different challenges will be, but my approach, and that of colleagues here, is to be as united as possible. We're working in genuine partnership with colleagues in the clinical and research community and it's this team science approach which I know will bring about the advancements in knowledge that can help to address tomorrow's challenges and which will also provide that essential critical mass of research expertise.
Manchester has a history of innovation in using advanced imagining technologies to improve radiotherapy delivery and the MR-linac is just our latest demonstration of this.
It's incredible to be able to play a small part in the huge global effort to fully understand the transformational potential of MR-linac and to have it in Manchester is a bonus. I enjoy knowing that any research will benefit this region's patients as well as global populations. The lessons learned in Manchester will be shared across the world.
Manchester's pioneering use of new technologies is helping to improve patient outcomes.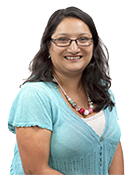 Professor Choudhury features in our COVID Catalysts lecture series which highlights leading cancer experts at the University. The series showcases ideas and innovation in response to the COVID-19 pandemic and the changes needed, and already underway, to achieve better outcomes for patients.
WATCH: The changing face of cancer treatment in our new normal