Timing matters
The University of Manchester is home to the largest biological timing research community in Europe. Led by Professor David Ray, we bring together world-leading researchers with a multidisciplinary approach to cellular timers and circadian clocks.
Our research spans from model organisms and understanding of fundamental cellular events, through to clinical intervention into human diseases, including diabetes and inflammatory arthritis.
We undertake this research across three major areas of activity:
Biological timing is a central feature of all living things. Driven by endogenous biological clocks, the ability to track time allows organisms to adapt their biology and thus optimally respond to the fluctuating environment of our planet.
Critical to this is the role of internal timers in coordinating innumerable cellular and physiological processes, which drive our development and biology, from gene expression to behaviour.
We are now realising the full impact of biological timing events in cell physiology, development and disease.
Our research is unravelling how cells and tissues use oscillatory processes to generate appropriate functional response to dynamic internal and external cues across vast temporal and spatial scales.
Disruption to temporal control mechanisms are linked to many diseases, including cardiovascular and metabolic diseases, inflammatory conditions, neurodegeneration, mental health, and cancer.

World-leading research
We are the largest biological timing community of its kind in Europe with 33 principle investigators and 108 research staff.
Our scale and success is also evidenced by the following:
Prestigious major personal awards are held by 15 of our investigators (7 Wellcome Trust Investigators, 8 Research Council and charity funded Research Fellows)
On-site Wellcome Trust Clinical Research Facilities (WT-CRF) specifically designed for circadian research
Major industry partnership (GSK, Pfizer, Phillips lighting, and many others)
1,312 papers, 54,000 citations and 105 group H-index
We have world-leading facilities for the study of biological timing, with major investment into research infrastructure:
£3m into imaging suite
£1m into in vivo behavioural facilities
£500K in novel transgenics
From investment to impact
We have more than £56million in active research funding. Our work is turning this investment into real world impact.
Setting international standards for architectural lighting
Revealing novel therapies – Pfizer programme in circadian research
Driving forward drug development – GSK drug development in clock acting drugs
Ongoing clinical trial programme in type-2 diabetes, asthma, inflammatory arthritis
Revealing the impact of the circadian system on the UK public through UK BioBank
£56m
Active grant funding
>£5m
Investment in facilities in past five years
15
Major personal awards to our investigators
Major research activities
Our researchers
Meet our director and find out more about how some of our researchers contribute to research in biological timing.
Professor David Ray PhD MB ChB FRCP
Professor of Medicine and Endocrinology; Wellcome Trust Investigator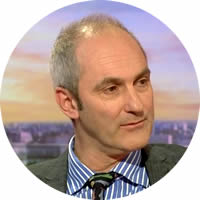 Professor Ray has been a leading figure in nuclear hormone receptor biology and circadian clock function for many years. His pioneering research has revealed the profound impact of the clock in pulmonary and joint inflammation.
33
Principal investigators
41
Postgraduate research students
Featured researchers

Dr Timothy Brown PhD

BBSRC David Phillips Research Fellow

Tim Brown's research is increasing our understanding of how visual signals are communicated and processed within the brain to drive subconscious changes in physiology and behavior. Most notably how such information shapes the rhythms in our physiology through the master circadian clock housed in the SCN.

Professor Qing-Jun Meng, MD, PhD

Professor of Chronobiology

Arthritis Research UK Senior Research Fellow

Qing-Jun Meng is an emerging leader in the field of circadian biology. He has made an important contribution to our understanding of molecular clock function. He was recently recognised for his work on age-related clock dysfunction and its links to osteoarthritis.

Professor Andrew Loudon BA, PhD, FSB, FMedSci

Beyer Professor of Animal Biology, Wellcome Trust Investigator

Andrew Loudon's research has pioneered new understanding of how the molecular circadian clockwork drives rhythmic physiology. Most recently, he has developed novel genetic insights into clock-control of inflammatory mechanisms in tissues and cells and the molecular coupling of the circadian clock to the seasonal photoperiodic control of fertility and metabolism.

Professor Nancy Papalopulu PhD FMS

Professor of Developmental Neuroscience; Wellcome Trust Senior Research Fellow

Nancy Papalopulu's work has been central to our understanding of mechanisms that drive cell fate during differentiation. Her latest work reveals a Hes1 oscillatory process underlying clonal heterogeneity in the timing of differentiation.
Training future scientists and doctors
We are strongly committed to training and education at both postgraduate and undergraduate level.
Many biological timing PIs are members of two flagship Wellcome Trust PhD programmes within the Faculty:
2
Active grant funding flagship Wellcome Trust PhD programmes
120+
PhD/Master's students trained over 10 years
3,000+
Undergraduates taught on our Biological Clocks unit over 19 years