News
There's always something new to read about the Faculty, whether it's a new discovery by one of our academics, an award won by one of our students, or an upcoming event.
Most press releases will specify media contacts, but if in doubt, please get in touch with our Media Relations Officer, Michael Addelman, at michael.addelman@manchester.ac.uk or on +44 (0)161 275 2111.
Latest news
Altered immune signature linked to Long-Covid
(14 April 2021)

University of Manchester scientists have discovered a persistent alteration in the immune system of patients, six months after they have been hospitalised for Covid-19 which could be associated with poorer health outcomes.
Fungal disease diagnosis is life saver for patients with HIV and AIDS
(12 April 2021)

A fungal disease diagnostic and educational programme has had a transformational impact on the mortality of HIV patients in Guatemala, according to new research.
New national study of long-term impacts of debilitating lung damage from COVID-19
(7 April 2021)

A new national study will investigate the long-term effects of lung inflammation and scarring from COVID-19. The study, launched with £2 million of funding from UK Research and Innovation (UKRI), aims to develop treatment strategies and prevent disability.
Surveillance system tracks Covid infection hotspots in hospital
(30 March 2021)

A University of Manchester team has applied new techniques to detect and track the transmission of Covid-19 in hospital.
Early breast cancer care largely safe and effective in pandemic
(29 March 2021)

A UK-wide study involving patients with early breast cancer has shown their care was no less safe and effective than before the pandemic started.
Brain implant firm wins £12m funding with Graphene@Manchester nanotech
(29 March 2021)

A collaboration between two Barcelona institutions and the Nanomedicine Lab at The University of Manchester - aimed at treating brain disorders such as epilepsy and Parkinson's Disease - has secured £12m in funding.
Manchester experts lead new project to develop training for COVID-19 contact tracers
(25 March 2021)

Experts from The University of Manchester are to lead a new project to develop motivational interviewing training for COVID-19 contact tracers, building on knowledge, expertise and best practice from the contact tracers themselves.
Study pinpoints groups less likely to follow COVID-19 restrictions
(23 March 2021)

Men, young adults and people from Black, Asian and minority ethnic backgrounds are less likely to follow the Government's restrictions designed to stop the spread of Covid-19, a representative survey of 2,252 adults has found.
COVID associated with hearing loss, tinnitus and vertigo – new study confirms link
(22 March 2021)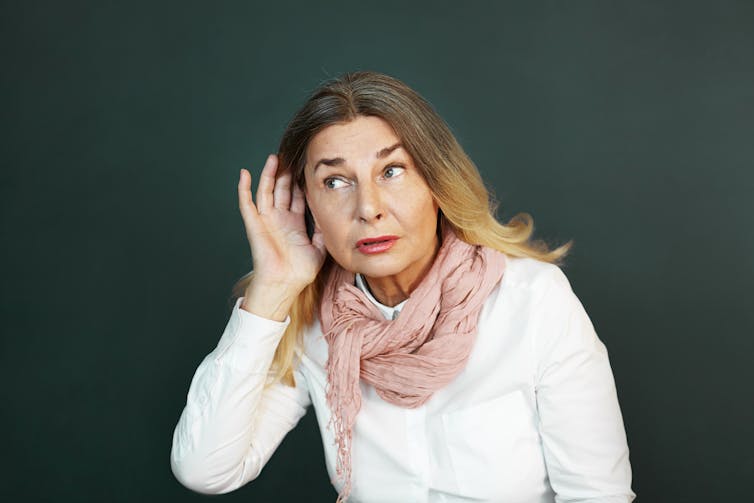 shurkin son/Shutterstock
Some viruses, such as measles, mumps and meningitis, can cause hearing difficulties, but what about SARS-CoV-2, the virus that causes COVID-19?
In the first few months of the pandemic, a rapid systematic review of COVID-19 and hearing difficulties revealed a possible link between COVID-19 and audio-vestibular symptoms (hearing loss, tinnitus and vertigo). However, both the quantity and quality of the early studies were low. Now that the pandemic has been with us for over a year, more studies have been published and researchers have been able to estimate how common these symptoms might be.
My colleagues and I have identified about 60 studies that report audio-vestibular problems in people with confirmed COVID-19. Our analysis of the pooled data, published in the International Journal of Audiology, reveals that 7%-15% of adults diagnosed with COVID-19 report audio-vestibular symptoms. The most common symptom is tinnitus (ringing in the ears) followed by hearing difficulties and vertigo.
Tinnitus
Tinnitus is a common condition, affecting around 17% of all adults. Most people with tinnitus also have hearing loss, suggesting a close link between the two. In fact, tinnitus is often the first warning that, for instance, exposure to loud noise or drugs that are toxic to the ear has damaged the hearing system. Interestingly, there are reports that tinnitus is a common symptom of long COVID, which is where symptoms last weeks or months after the infection has gone.
The hearing organ is clearly extremely sensitive because almost everyone will experience temporary tinnitus if they are in a very quiet environment. There are also strong links between tinnitus and stress. If people lie awake at night, stressed and anxious because of an impending deadline, financial concerns or bereavement, it is not uncommon that they will find themselves attending to noises in their ears.
This usually becomes less bothersome when the source of the stress and anxiety is removed. Surprisingly, there are no clinical tests that can diagnose tinnitus, so hearing specialists rely on self-reports.
Why tinnitus is being reported in people with confirmed COVID-19 is unclear. It is possible the virus attacks and damages the auditory system. On the other hand, the mental and emotional stress of the pandemic may be the trigger. But we need to be careful when interpreting these findings as it's not always clear if studies are reporting existing or new symptoms. What is lacking are good-quality studies that compare tinnitus in people with and without COVID-19.
Hearing loss and vertigo
Hearing difficulties associated with COVID-19 have been reported across a wide age range and COVID-19 severity, ranging from mild (and managed at home) to severe (requiring hospitalisation). There are several case reports of sudden loss of hearing in one ear, often accompanied by tinnitus.
Sudden hearing loss occurs in around 20 per 100,000 people each year. It is treated with steroids to reduce swelling and inflammation in the inner ear. But the treatment only tends to work if it is started soon after the hearing loss occurs.
We know that viruses can cause sudden hearing loss, so SARS-CoV-2 may be responsible for the case reports of hearing loss in COVID patients. Yet the number of COVID-19 cases worldwide is so high that it is difficult to say with any great certainty if the cases of sudden hearing loss are higher than what we would generally expect to see each year.
Another commonly reported symptom of COVID-19 is dizziness. It can be quite difficult to differentiate this from the rotatory vertigo that is characteristic of damage to the balance system in the inner ear. However, the best estimate is that rotatory vertigo occurs in around 7% of COVID-19 cases.
Start of our understanding
Given the importance of providing timely evidence to inform health services, the information from this new systematic review is to be welcomed, but so far, the evidence is based on surveys and case reports. It is important not to diagnose audio-vestibular symptoms where they do not exist or where they are coincidental, given the high rates of COVID-19 in the population. However, the findings of the review might simply reflect the start of our understanding of this emergent health condition.
What is lacking are carefully conducted clinical and diagnostic studies that compare a sample of people who tested positive for COVID-19 and a sample of non-COVID controls. To that end, we are leading a year-long study to investigate the long-term effect of COVID-19 on the audio-vestibular system among people who have been previously in hospital with the virus.

Kevin Munro, Ewing Professor of Audiology, University of Manchester
This article is republished from The Conversation under a Creative Commons license. Read the original article.
Evidence supports Covid hearing loss link, say scientists
(22 March 2021)

Hearing loss and other auditory problems are associated with Covid-19 according to a systematic review of research evidence led by University of Manchester and NIHR Manchester Biomedical Research Centre (BRC) scientists.
Hard of hearing over-70s report memory loss and mental health problems in lockdown
(17 March 2021)

People with hearing difficulties experience heightened self-reported depression, loneliness, and memory problems during the COVID-19 lockdown, according to an online survey of the over 70s.
Nanotechnology could enable test for early Alzheimer's Disease
(17 March 2021)

University of Manchester scientists have discovered previously unseen blood biomarkers which could one day be used to test for Alzheimer's disease, years before its symptoms appear.
Stroke research appeal exceeds £100,000
(16 March 2021)

The University's stroke research appeal has exceeded its £100,000 fundraising target, thanks to generous donors around the world.
Scientists move closer to developing 'game-changing' test to diagnose Parkinson's
(11 March 2021)

Results published today show it is possible to identify Parkinson's Disease based on compounds found on the surface of skin. The findings offer hope that a pioneering new test could be developed to diagnose the degenerative condition through a simple and painless skin swab.
Researchers discover a backup natural pacemaker in the heart
(4 March 2021)

Researchers at The University of Manchester and Manchester University NHS Foundation Trust have discovered a backup natural pacemaker, which is able to generate a pulse and control the heart rate.
Under 55's found lockdown most challenging, finds survey
(2 March 2021)

Of the 95% of adults who followed the rules during the first UK lockdown, women and adults under 55 found it most challenging
Study defines ideal children's bedtime routine
(24 February 2021)

A study by a University of Manchester psychologist has scientifically defined for the first time what constitutes a good bedtime routine for children between the ages of 2 and 8.
Manchester scientist is Alzheimer's research challenge winner
(24 February 2021)

A University of Manchester scientist is one of eight to be recognised for her work hunting for a microbe that causes Alzheimer's Diease.
Scientists make 3D heart scan breakthrough for animals and humans
(18 February 2021)

The University of Manchester scientists have created the most detailed ever 3D scan of a rare form of congenital heart disease.
Simple urine test can detect womb cancer
(11 February 2021)

A simple non-invasive test can accurately detect womb cancer according to a proof of concept study by University of Manchester and Manchester University NHS Foundation Trust (MFT) scientists.
Surge in use of online mental health services during COVID-19 pandemic
(10 February 2021)

There has been a surge in the use of online mental health services during the COVID-19 pandemic, according to new research, as millions of people unable to access traditional services have sought help from digital providers.
Compound isolated from human sperm could treat genetic disorder
(5 February 2021)

A newly discovered genetic condition caused by faulty protein synthesis which causes delayed development and learning difficulties could be treated by a compound originally isolated from human sperm, say scientists.
Recognition for Manchester scientists involved in Lighthouse Labs project
(5 February 2021)

Staff and students at the University of Manchester have been recognised for their role in helping to establish the Alderley Park Lighthouse Laboratory in Cheshire, a key component of the Government's COVID-19 testing programme in the battle against Coronavirus.
Cancer community joins forces with renowned Manchester poet to mark World Cancer Day
(4 February 2021)

Cancer doctors, researchers and patients from across Greater Manchester have joined forces with Manchester poet Tony Walsh this World Cancer Day, to highlight their continued commitment to cancer services, despite the on-going pandemic.
MFT recruits final participant to Phase 3 COVID-19 vaccine study
(3 February 2021)

Manchester University NHS Foundation Trust (MFT), England's largest NHS trust, has recruited its final participant to a leading COVID-19 vaccine trial.
Vaccines safe for majority of immunosuppressed children, find scientists
(2 February 2021)

Both inactivated and live-attenuated vaccines generally produce an adequate immune response and are safe to use in children suffering with autoimmune diseases treated with all but the most potent immunosuppressants, according to a research review.
Shorter radiotherapy course reduces risk of bladder cancer returning
(1 February 2021)

Giving people with bladder cancer fewer but larger doses of radiation reduces the risk of their disease returning and should be adopted as the new standard of care, a new study shows.
Study reveals huge ethnic minority health inequalities
(29 January 2021)

England's most extensive ever study of ethnic minority health in the over-55s ever has revealed huge inequalities across most groups, compared with white British people.
Major study to investigate links between hearing loss and COVID-19 launches
(26 January 2021)

A major UK study to investigate the possible long-term impact of COVID-19 on hearing, led by researchers at NIHR Manchester Biomedical Research Centre (BRC) and funded by RNID, The Dowager Countess Eleanor Peel Trust (DCEPT) and the University of Manchester has been announced today.
New report outlines how government can address COVID-19 ethnic disparity
(19 January 2021)

A new report from The Runnymede Trust and The University of Manchester's Centre on the Dynamics of Ethnicity has addressed the possible causes of - and offers solutions to – the ethnic disparity of the effects of Coronavirus.