News
There's always something new to read about the Faculty, whether it's a new discovery by one of our academics, an award won by one of our students, or an upcoming event.
Most press releases will specify media contacts, but if in doubt, please get in touch with our Media Relations Officer, Michael Addelman, at michael.addelman@manchester.ac.uk or on +44 (0)161 275 2111.
Latest news
Erectile dysfunction drug could treat heart failure – new study
(1 May 2019)

Erectile dysfunction drug could treat heart failure – new study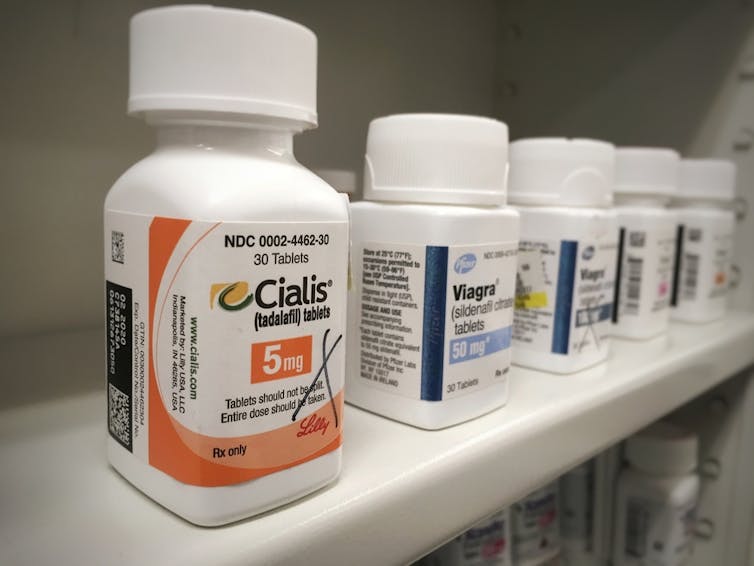 PureRadiancePhoto/Shutterstock
In the 1990s, the US drug firm Pfizer was developing drugs to treat angina. During early trials of these drugs, male participants reported a striking side effect: they were getting erections. This discovery led to the development of drugs to treat erectile dysfunction. Our latest study shows that one of these erectile dysfunction drugs (Cialis) is very effective at treating a particular type of heart failure in sheep.
Heart failure is a devastating condition that occurs when the heart is too weak to pump blood around the body. People with heart failure often cannot complete basic tasks without becoming breathless and developing a cough. It is also a condition where survival is worse than for many of the common forms of cancer. The high rates of heart failure and the fact that survival is poor highlights the need for newer and more effective treatments for this condition.
In a normal healthy person, the heart pumps more blood around the body when we exercise. This increase in the work performed by the heart is brought about by the hormone adrenaline which makes the heart beat more quickly and pump more strongly. In heart failure, the heart no longer responds properly to adrenaline which means it cannot increase the amount of work it does or pump blood effectively when we exercise.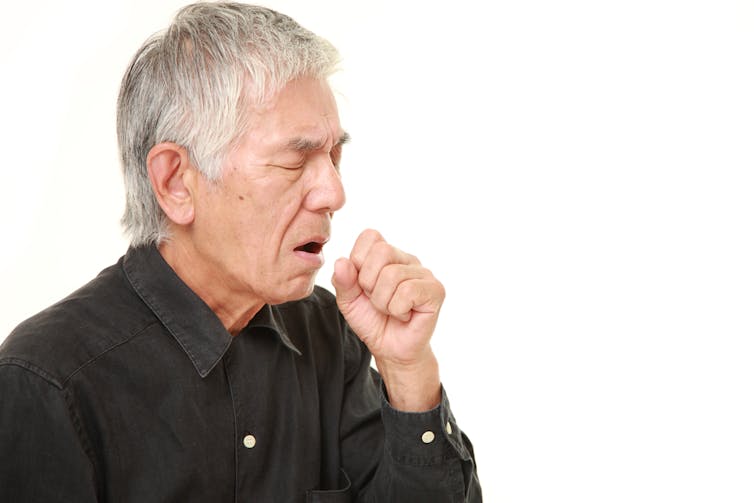 Coughing brought about by even light activity is one of the signs of heart failure. UV70/Shutterstock
We discovered that tadalafil (the generic name for Cialis) was very good at stopping heart failure getting worse. It was also surprisingly effective at reversing some changes that had already occurred in the failing heart before the drug was given. In particular, the heart could again respond properly to adrenaline and contract harder. Also, tadalafil reversed changes that had occurred to the structure of the muscle cells in the heart during the development of heart failure.
The findings from this study, published in Nature, Scientific Reports, may also help explain why people who have been intermittently taking drugs to treat their erectile dysfunction seem to be less likely to have a heart attack or die following a heart attack. Our research adds to the small number of clinical studies that have been performed in patients with heart failure where the related drug sildenafil (Viagra) was reported to improve the patients' ability to exercise, but the mechanisms behind these positive effects remained elusive.
Cautious optimism
Despite the encouraging results from our study and the fact that drugs to treat erectile dysfunction are now available without a prescription, we need to remain cautious. The RELAX trial, which reported results in 2013, showed no improvement in exercise capacity in patients receiving sildenafil.
The reason for these differences is probably because two types of heart failure were being investigated in these clinical trials with the positive trials studying patients with systolic heart failure and the neutral trials studying patients with diastolic heart failure. In systolic heart failure, the heart does not contract (pump) adequately whereas in diastolic heart failure the heart still contracts normally but relaxation between heartbeats is impaired.
Still, the experimental findings in our study using tadalafil and those clinical trials in patients with systolic heart failure offer new hope for an effective treatment for heart failure.
While the work in our study was done using sheep, the strong similarities between the sheep and human hearts in the way they work and respond to disease gives us confidence that these findings will be replicated in humans. Indeed, clinical trials using tadalafil in patients with heart failure are a next step in the process of adding tadalafil to our toolkit to treat patients with heart failure, and we hope to be able to begin these in the near future.

Andrew Trafford, Professor of Cardiac Pathophysiology, University of Manchester
This article is republished from The Conversation under a Creative Commons license. Read the original article.
Sex drug effective as heart failure treatment
(1 May 2019)

A drug used to treat erectile dysfunction has been found by University of Manchester scientists to slow or even reverse the progression of heart failure in sheep.
Urine test could prevent cervical cancer
(29 April 2019)

Urine testing may be as effective as the smear test at preventing cervical cancer, according to new research by University of Manchester scientists.
Researchers discover how eating feeds into the body clock
(25 April 2019)

New research has found it is not just what you eat, but when you eat that is important, knowledge which could improve the health of shift workers and people suffering from jet lag.
Blood cancer's Achilles' heel opens door for new treatments
(25 April 2019)

New findings about a fatal form of blood cancer could aid the development of new drugs with significantly less harmful side effects than existing chemotherapy.
Blood sample to help select the right early phase clinical trials for cancer patients
(22 April 2019)

Scientists could help match cancer patients with no other treatment options to clinical trials with experimental medicines, by analysing the genetic faults in a sample of their blood, according to research published in Nature Medicine.
3D modelling identifies nutrient exchange in the human placenta
(17 April 2019)

New three-dimensional imaging of the human placenta has been developed to help understand the reasons for fetal growth restriction – a condition which affects thousands in the UK alone.
Statins likely to prevent cardiovascular events in Rheumatoid Arthritis patients
(15 April 2019)

Results from a large clinical trial indicate that patients with rheumatoid arthritis are likely to experience the same level of cardiovascular benefits from statins as other individuals, without additional risks. The findings appear in Arthritis & Rheumatology, an official journal of the American College of Rheumatology.
Cardiovascular risk for women developing Type 2 diabetes improving despite gender-bias in prescriptions
(15 April 2019)

A Diabetes UK-funded study led by University of Manchester researchwers has found that women developing Type 2 diabetes no longer experience a greater increase in their risk of cardiovascular disease than men who develop the condition.
Delayed treatment of new-borns with rare condition linked to permanent brain damage
(4 April 2019)

The devastating effects of a rare condition affecting new-born babies will be far worse if diagnosis and treatment are delayed.
University technology set to lead fight against anti-microbial resistance
(3 April 2019)

Professor Douglas Kell and colleagues have developed novel technology that identifies the most effective antibiotic to kill organisms in urinary tract infections
Sugar could be sweet solution to respiratory disease
(1 April 2019)

Restriction or inhalation of common sugar could one day treat a range of respiratory diseases, according to new research led by University of Manchester biologists.
Research may predict outcomes for newborns with rare disease
(29 March 2019)

Babies born with congenital hyperinsulinism (CHI) are at risk of suffering from permanent brain damage and life-long disability.
Common lung conditions linked to heart disease
(27 March 2019)

Patients with some of the most common lung diseases are substantially more likely to suffer a heart attack and develop other major heart problems according to new research.
Parents should monitor their child's weight from the age of two
(27 March 2019)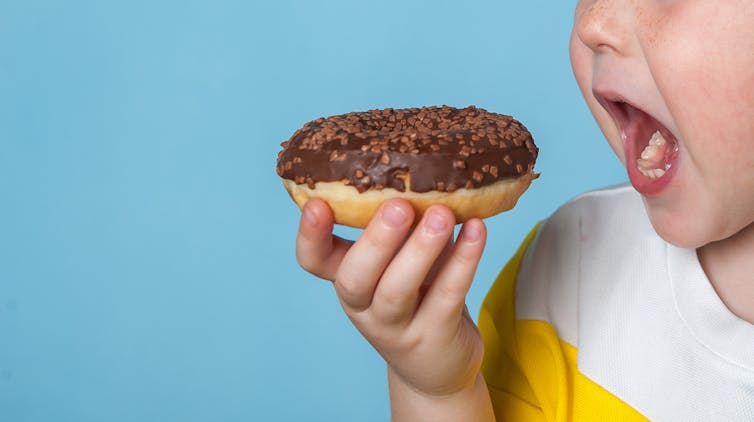 Sharomka/Shutterstock
One in five children in England are overweight by the time they start primary school. Nationally, children are weighed and measured, aged four to five, during their first year of school. But findings from our new study suggest that to prevent obesity parents should keep an eye on their children's weight from as early as age two.
Our team conducted a review of 54 studies internationally that reported child height and weight measurements taken since 2000. Pooling data from over 700,000 children, we plotted typical body mass index (BMI) growth curves for boys and girls between the ages of four and 11 years old, showing the predicted trajectories for subsets of children with higher and lower BMI values.
We also examined the findings of eight studies that followed up the same children over time to identify individual growth patterns and pinpoint when these diverged. We found that most studies agreed on four distinct patterns of growth, including subsets of children with increasing higher than normal BMIs. As some of these studies measured children from before the age of four (some even from birth), certain "early increasing" growth patterns associated with higher risks of obesity in later life were detectable as early as the age of two.
Meanwhile, 5-19% of children fell into a "late increasing" class, which only separated from other groups of children at age five to six years. This means that relying on the current practice of measuring children twice (on entering and leaving primary school) may fail to spot many children who have a normal weight when they start school but develop weight problems in subsequent years.
Part of the problem of measuring infrequently is that the four-to-11 age range encompasses peaks and troughs in growth. The timing of these growth spurts are critical to child development and can predict a later risk of obesity and certain diseases in adulthood, including metabolic syndrome, non–alcoholic fatty liver disease and type 1 diabetes. One-off measures of height and weight may not be enough to identify the shape of these patterns and pick out those children on higher risk trajectories. Based on our findings, we would recommend annual measurements from at least the age of two.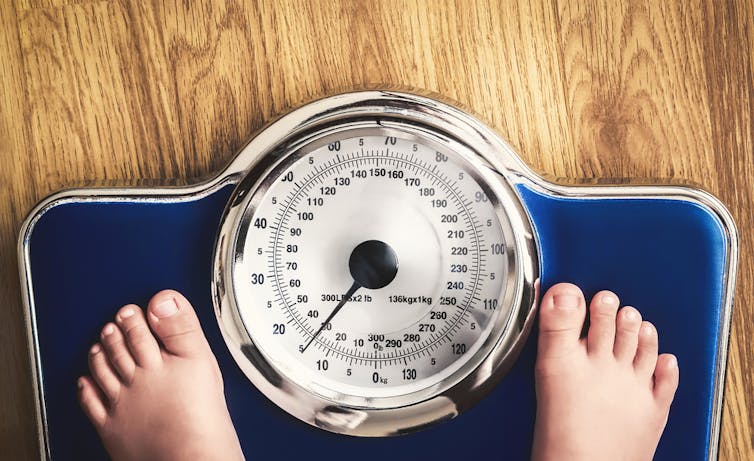 winnond/Shutterstock
What is 'normal'?
You might think it would be easy to spot overweight children by looking at them, but that isn't necessarily the case. Obesity is becoming more commonplace at younger ages, so parents may have trouble spotting the signs in their own children. One UK study found while few parents overestimated the weight of their child, a third believed them to be a healthy weight when they were overweight according to commonly used growth reference standards.
BMI in children is calculated in the same way as for adults (weight in kilograms divided by height in meters squared), but the way thresholds are used to identify underweight, overweight and obese children is more complex. In the UK, this is commonly done by making comparisons to children that were measured during the 1990s, before the obesity epidemic emerged. Globally, there is a lot of debate about which growth reference charts we should use, with the World Health Organisation, International Obesity Task Force and the US Centers for Disease Control and Prevention each having its own chart.
For our review, we focused on BMI as the most widely used measure globally, but we recognise that there is an ongoing debate about the most appropriate ways to measure children and the relevance of the thresholds used. For example, one of the recognised limitations of BMI is that it does not take muscle-to-fat ratio into account.
Also, thresholds may not be equally relevant to different populations around the world. We could not find recent data for many nations with high rates of adult obesity, so we don't have as full a picture of the global situation as we would like. Having said that, we found unprecedentedly high BMI levels in children aged four to 11 years in Kuwait, Pakistan, the US, Spain, Greece and a Pacific Island community in New Zealand.
Stitch in time
If being overweight has become more commonplace, merely watching children grow up won't cut it. Parents and carers need simple, regular feedback about their children's growth from an early age so that they intervene early enough to prevent later health problems. Most times, feedback about BMI alone – while valuable – may not be enough to prompt changes in lifestyles. Policymakers also need to recognise and act on the influence of the wider determinants of health – including access to health services, living and working conditions, and social norms – if we are to find the most effective ways of helping families lead healthier lifestyles.

Lamiece Hassan, Research fellow, University of Manchester
This article is republished from The Conversation under a Creative Commons license. Read the original article.
Regular height and weight checks from early age critical in child obesity fight
(26 March 2019)

Children monitored regularly for height and weight from an early age are less likely to be overweight according to research by University of Manchester and Oxford experts.
Stillbirths more likely if diabetes in pregnancy not diagnosed
(20 March 2019)

Women who develop diabetes in pregnancy but are not diagnosed are much more likely to experience stillbirth than women without the condition, according to new research.
New class of drugs could treat ovarian cancer
(19 March 2019)

A team of researchers across The University of Manchester have shown that a new class of drugs are able to stop ovarian cancer cells growing.
TB discovery could save tens thousands of lives
(19 March 2019)

Around 1 in 15 people affected by tuberculosis are likely get the treatable fungal infection aspergillosis according to new research by experts at The University of Manchester and Gulu Referral Hospital, Uganda.
Pharmacists have wider clinical role in casualty, concludes study
(18 March 2019)

The first evaluation of pharmacists based in accident and emergency departments has concluded that with additional clinical skills, they are able to take on overall clinical responsibility for patients.
IVF birthweights increased over 25 years
(13 March 2019)

A new study led by University of Manchester scientists has revealed that babies born by In Vitro Fertilisation at St Mary's Hospital in Manchester have increased in birthweight by nearly 200g over the past 25 years.
Theories underpinning psychological practice 'wrong'
(27 February 2019)

A computer game devised by University of Manchester psychologists has called into question the theories which have been the basis of psychology for over a century.
Skype hypnotherapy is effective treatment for IBS
(26 February 2019)

Skype hypnotherapy is an effective treatment for people with severe irritable bowel syndrome, a new study has found.
Insomnia genes regions discovered suggesting insomnia could cause heart disease
(26 February 2019)

An international research team led by investigators from Massachusetts General Hospital (MGH), the University of Exeter Medical School, including the Universities of Bristol and Manchester, has identified 57 gene regions associated with symptoms of insomnia. Their report, which also indicates a causal link between insomnia and coronary artery disease, is receiving advance online publication in Nature Genetics.
Patients' own cells could be the key to treating Crohn's disease
(15 February 2019)

A new technique using patients' own modified cells to treat Crohn's disease has been proven to be effective in experiments using human cells, with a clinical trial of the treatment expected to start in the next six months.
Report highlights postcode lottery in strength and balance programmes which help people at risk of falls
(12 February 2019)

Exercise programmes designed to boost the muscle strength and balance of people at risk of falls and injury – such as resistance training, aerobics classes and yoga groups – are not being prioritised by the NHS and local authority commissioners.
Masterswitch discovered in body's immune system
(12 February 2019)

Scientists have discovered a critical part of the body's immune system with potentially major implications for the treatment of some of the most devastating diseases affecting humans.
Annual screening detects breast cancers earlier for women aged 35-39 with a family history
(11 February 2019)

Annual screening for younger women aged 35-39 who have a family history of breast cancer would be highly effective in detecting tumours earlier, a major UK trial has found.
Sun damages people with black skin, finds research
(6 February 2019)

Premature ageing in the skin of white people caused by repeated exposure to the sun also occurs in black skin - though about 50 years later, according to new research.
Healthy diet can ease symptoms of depression
(5 February 2019)

An analysis of data from almost 46,000 people has found that weight loss, nutrient boosting and fat reduction diets can all reduce the symptoms of depression.