News
There's always something new to read about the Faculty, whether it's a new discovery by one of our academics, an award won by one of our students, or an upcoming event.
Most press releases will specify media contacts, but if in doubt, please get in touch with our Media Relations Officer, Michael Addelman, at michael.addelman@manchester.ac.uk or on +44 (0)161 275 2111.
Latest news
£4.4M investment to aid the fight against antibiotic resistance
(19 July 2019)

Manchester University NHS Foundation Trust (MFT) has received a £4.4M investment as part of the Department of Health and Social Care's (DHSC) latest commitment in the fight against antimicrobial (antibiotic) resistance (AMR).
Pioneering group announced to tackle North/South health inequalities
(18 July 2019)

Leading health experts across the North have today joined together to respond to the worsening health inequalities between the North and the rest of England - over half of the North now has a lower life expectancy than the worst area in the South.
Around one in 20 patients are affected by preventable harm
(18 July 2019)

Around one in 20 (6%) of patients are affected by preventable harm in medical care a new led by researchers at The University of Manchester has found.
Changes urged to tackle mental health 'human rights scandal'
(17 July 2019)

A new report has found that people with mental illness have drastic physical health challenges which contribute towards a gap in life expectancy of around 20 years, and has recommended changes to health policy and treatment innovations to tackle what is regarded as a 'human rights scandal'.
New research collaboration will tackle Greater Manchester's biggest health challenges
(11 July 2019)

A major new health research programme, led by researchers from The University of Manchester, has been announced today (11 July 2019) to tackle Greater Manchester's biggest health challenges, as part of a £135m national investment.
Turtle study shows hearts can be programmed to survive without Oxygen
(26 June 2019)

University of Manchester and University of North Texas scientists are the first to show that an embryonic living heart can be programmed to survive the effects of a low oxygen environment in later life.
Discrimination of minorities associated with increased risk of psychosis
(24 June 2019)

Discrimination of minority groups is likely to be associated with an increased risk of psychosis, according to a systematic review by University of Manchester and Lancaster psychologists.
Local medic's new scientific test could improve the health of rheumatoid arthritis sufferers
(20 June 2019)

An Oldham based doctor, James Bluett, has developed a new blood test which could help local rheumatoid arthritis patients to better manage their illness by keeping to their medication regimes.
The real problem with 'ghost patients' is what's actually scary
(18 June 2019)

By Dr Patrick Burch is a GP in Manchester and National Institute for Health Research InPractice Fellow at the Centre for Primary Care, Institute of Population Health, University of Manchester. This article first appeared in Pulse Magazine
It has long been recognised that there are more patients registered with English general practice than appear on the census. The issue of 'ghost patients' is not new. What is new is the suggestion that practices are deliberately claiming for ghost patients in order to drive up their income. The number of 'ghost patients' varies from area to area. Our team at the Universities of Manchester and York looked in detail at the factors associated with ghost patient numbers. Our study, published last year in the Journal of Epidemiology and Community Health , was a cross-sectional analysis of the national GP patient list and census-derived population estimates. We calculated levels of patient registration with English general practice, in relation to census derived data in order to work out the number of 'over-registered' or 'ghost' patients. We conducted this analysis at several different area levels (eg: region, CCG) and used statistical techniques to investigate the relationship between levels of registration and deprivation, urbanicty, ethnicity, age, sex and mean distance to practice.
Our analysis showed that levels of ghost patients did vary considerably throughout the country. However, we picked up on several significant factors associated with higher levels. The most significant driver was an increased proportion of non-white population. Other significant factors were increased levels of deprivation and higher proportions of female or elderly patients.
Patients who remain on a practice list but no longer live in the UK will account for some of the over-registration. There are an estimated 4.5 to 5.5 million Britons living abroad. Unless a person leaving the UK specifically informs their GP or hands in their NHS health card, they would not normally be removed from the GP register. I worked in Australia for a couple of years, but remained registered with a UK GP. Had an analysis of my GPs list taken place whilst I was away, I would have been a ghost patient. Nonwhite populations in the UK tend to be more transient and more likely to move abroad. They are also likely to have larger numbers of foreign residents who would not feature on the census but would be eligible for GP registration. It is also not unusual for practices to treat British ex-patriots temporarily returning home to use NHS GP services. We know that, despite nationwide over-registration, there are people, entitled to NHS care in the UK, who are not registered with a GP. If a group of male and female immigrants move to the UK for the first time, the men of the group may be less likely to register with a GP because of their lesser use of healthcare than the women. This hypothesised under-registration of men, on the background of widespread overregistration, could account for the increased likelihood of over-registration in populations with higher proportions of women. Elderly populations also consult more and this could explain why there are higher rates of over-registration in populations with larger percentages of patients aged 60 or over. In short, there are drivers for 'ghost patients'. They are complex, not fully understood and have nothing to do with fraud.
Patients missing out on arthritis drugs, shows study
(17 June 2019)

A class of drugs which have been successfully treating patients with severe rheumatoid arthritis should be made available for moderate suffers too, University of Manchester scientists say.
Recession saw rise in male patient suicide
(13 June 2019)

Recession-related increases in suicide have previously been reported globally. New research has shown an equivalent rise in suicide by mental health patients, particularly men aged 45-54.
Trial starts for phone app which uses light, sound and brainwaves to treat pain
(12 June 2019)

Scientists at The University of Manchester are developing a smart phone application connected to goggles which flash light at a special frequency to tune patients' brains in a ground-breaking treatment for chronic pain.
One in four UK children have a mother with mental illness
(11 June 2019)

One in four UK children between the ages of 0 and 16 have a mother with a mental illness, according to a team of University of Manchester researchers.
Spending lots of time online may be changing our brains, research reveals
(7 June 2019)

Using the internet, for social media, browsing information and entertainment may affect our brain's structure, function and cognitive development according to an academic review by an international team of researchers.
Manchester History Professor wins Social History Society Book Prize
(6 June 2019)

Professor of British History at the University of Manchester's School of Arts, Languages and Cultures Professor Hannah Barker has scooped the coveted Social History Society's Book Prize for her literary contribution to the history of the Industrial Revolution.
'Family and business during the Industrial Revolution' (Oxford: Oxford University Press 2017) was awarded the accolade in June 2019 by a judging panel who believed the book to be the best original work of historical research published in the preceding calendar year.
'Family and business' explores the often forgotten business and family lives of women and small tradespeople during this period in history, despite their being at the heart of the economic and social transformation that swept Britain in the late 18th and early 19th centuries.
"I'm thrilled to be awarded this prize," said Hannah. "'Family and business during the Industrial Revolution' was a long time in the making and, like the family businesses which the book describes, involved the input and hard work of more than one person."
She thanked the AHRC for the funding boost it gave the project, and her research team including Nathan Booth, Stephen Connolly, Katherine Davies, Marci Freedman, and Lucinda Matthews-Jones, and postdoctoral research associates Jane Hamlett and Mina Ishizu.
The judging panel of Professors Pamela Cox, Patricia Thane, Phillipp Schofield, and Naomi Tadmor commented that the book "revises accepted wisdom in various fields" and described it as "an excellent piece of social history".
Image credit: Wellcome Trust, via Wikimedia Commons
India's childhood leukaemia survival rate leaps to 80%, thanks to Manchester scheme
(3 June 2019)

Work led by Professor Vaskar Saha, a paediatrician from The University of Manchester, means that around 80% of children with the most common childhood cancer are now likely to survive following treatment at major centres across India, thanks to his revolutionary approach.
Rising self-harm rates suggest financial crisis may have hit middle-aged men hardest
(30 May 2019)

Self-harm in middle-aged men increased significantly following the 2008 financial crisis, according to a study led by researchers at The University of Manchester..
Next generation molecular diagnostics business launches at Manchester's health innovation campus
(23 May 2019)

Manchester reinforced its place today as a leader in translating brilliant academic science into new products and services which will transform the future of medicine and maintenance of human health.
Erectile dysfunction drug could treat heart failure – new study
(1 May 2019)

Erectile dysfunction drug could treat heart failure – new study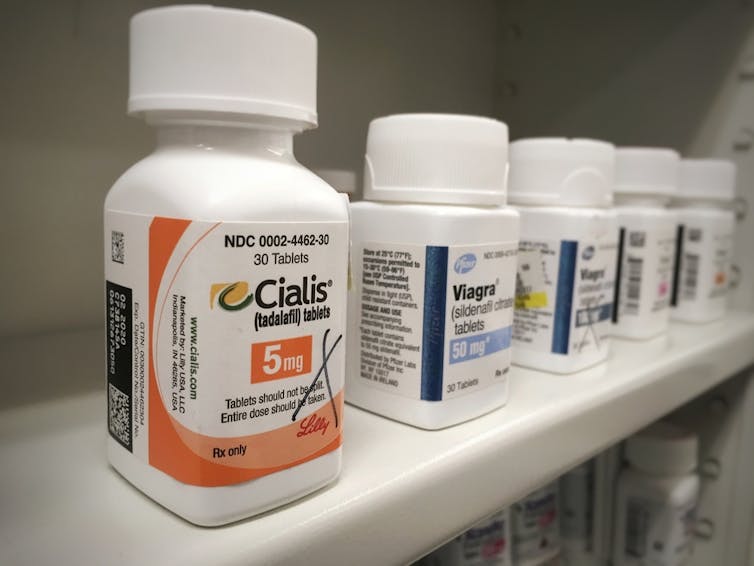 PureRadiancePhoto/Shutterstock
In the 1990s, the US drug firm Pfizer was developing drugs to treat angina. During early trials of these drugs, male participants reported a striking side effect: they were getting erections. This discovery led to the development of drugs to treat erectile dysfunction. Our latest study shows that one of these erectile dysfunction drugs (Cialis) is very effective at treating a particular type of heart failure in sheep.
Heart failure is a devastating condition that occurs when the heart is too weak to pump blood around the body. People with heart failure often cannot complete basic tasks without becoming breathless and developing a cough. It is also a condition where survival is worse than for many of the common forms of cancer. The high rates of heart failure and the fact that survival is poor highlights the need for newer and more effective treatments for this condition.
In a normal healthy person, the heart pumps more blood around the body when we exercise. This increase in the work performed by the heart is brought about by the hormone adrenaline which makes the heart beat more quickly and pump more strongly. In heart failure, the heart no longer responds properly to adrenaline which means it cannot increase the amount of work it does or pump blood effectively when we exercise.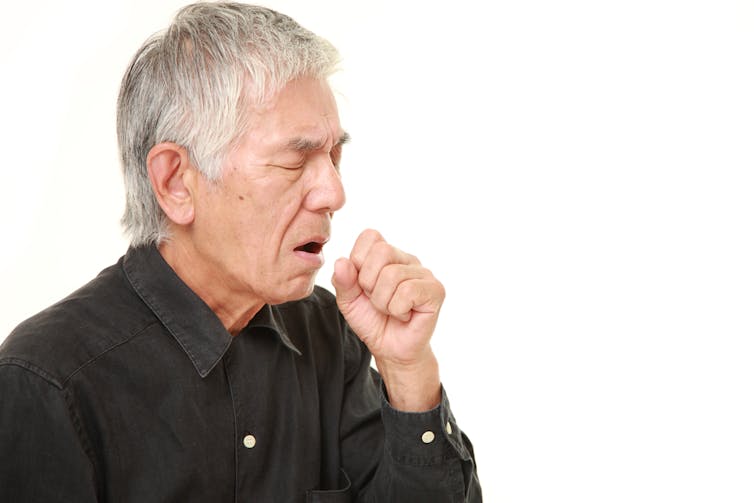 Coughing brought about by even light activity is one of the signs of heart failure. UV70/Shutterstock
We discovered that tadalafil (the generic name for Cialis) was very good at stopping heart failure getting worse. It was also surprisingly effective at reversing some changes that had already occurred in the failing heart before the drug was given. In particular, the heart could again respond properly to adrenaline and contract harder. Also, tadalafil reversed changes that had occurred to the structure of the muscle cells in the heart during the development of heart failure.
The findings from this study, published in Nature, Scientific Reports, may also help explain why people who have been intermittently taking drugs to treat their erectile dysfunction seem to be less likely to have a heart attack or die following a heart attack. Our research adds to the small number of clinical studies that have been performed in patients with heart failure where the related drug sildenafil (Viagra) was reported to improve the patients' ability to exercise, but the mechanisms behind these positive effects remained elusive.
Cautious optimism
Despite the encouraging results from our study and the fact that drugs to treat erectile dysfunction are now available without a prescription, we need to remain cautious. The RELAX trial, which reported results in 2013, showed no improvement in exercise capacity in patients receiving sildenafil.
The reason for these differences is probably because two types of heart failure were being investigated in these clinical trials with the positive trials studying patients with systolic heart failure and the neutral trials studying patients with diastolic heart failure. In systolic heart failure, the heart does not contract (pump) adequately whereas in diastolic heart failure the heart still contracts normally but relaxation between heartbeats is impaired.
Still, the experimental findings in our study using tadalafil and those clinical trials in patients with systolic heart failure offer new hope for an effective treatment for heart failure.
While the work in our study was done using sheep, the strong similarities between the sheep and human hearts in the way they work and respond to disease gives us confidence that these findings will be replicated in humans. Indeed, clinical trials using tadalafil in patients with heart failure are a next step in the process of adding tadalafil to our toolkit to treat patients with heart failure, and we hope to be able to begin these in the near future.

Andrew Trafford, Professor of Cardiac Pathophysiology, University of Manchester
This article is republished from The Conversation under a Creative Commons license. Read the original article.
Sex drug effective as heart failure treatment
(1 May 2019)

A drug used to treat erectile dysfunction has been found by University of Manchester scientists to slow or even reverse the progression of heart failure in sheep.
Urine test could prevent cervical cancer
(29 April 2019)

Urine testing may be as effective as the smear test at preventing cervical cancer, according to new research by University of Manchester scientists.
Researchers discover how eating feeds into the body clock
(25 April 2019)

New research has found it is not just what you eat, but when you eat that is important, knowledge which could improve the health of shift workers and people suffering from jet lag.
Blood cancer's Achilles' heel opens door for new treatments
(25 April 2019)

New findings about a fatal form of blood cancer could aid the development of new drugs with significantly less harmful side effects than existing chemotherapy.
Blood sample to help select the right early phase clinical trials for cancer patients
(22 April 2019)

Scientists could help match cancer patients with no other treatment options to clinical trials with experimental medicines, by analysing the genetic faults in a sample of their blood, according to research published in Nature Medicine.
3D modelling identifies nutrient exchange in the human placenta
(17 April 2019)

New three-dimensional imaging of the human placenta has been developed to help understand the reasons for fetal growth restriction – a condition which affects thousands in the UK alone.
Statins likely to prevent cardiovascular events in Rheumatoid Arthritis patients
(15 April 2019)

Results from a large clinical trial indicate that patients with rheumatoid arthritis are likely to experience the same level of cardiovascular benefits from statins as other individuals, without additional risks. The findings appear in Arthritis & Rheumatology, an official journal of the American College of Rheumatology.
Cardiovascular risk for women developing Type 2 diabetes improving despite gender-bias in prescriptions
(15 April 2019)

A Diabetes UK-funded study led by University of Manchester researchwers has found that women developing Type 2 diabetes no longer experience a greater increase in their risk of cardiovascular disease than men who develop the condition.
Delayed treatment of new-borns with rare condition linked to permanent brain damage
(4 April 2019)

The devastating effects of a rare condition affecting new-born babies will be far worse if diagnosis and treatment are delayed.
University technology set to lead fight against anti-microbial resistance
(3 April 2019)

Professor Douglas Kell and colleagues have developed novel technology that identifies the most effective antibiotic to kill organisms in urinary tract infections
Sugar could be sweet solution to respiratory disease
(1 April 2019)

Restriction or inhalation of common sugar could one day treat a range of respiratory diseases, according to new research led by University of Manchester biologists.