News
There's always something new to read about the Faculty, whether it's a new discovery by one of our academics, an award won by one of our students, or an upcoming event.
Most press releases will specify media contacts, but if in doubt, please get in touch with our Media Relations Officer, Michael Addelman, at michael.addelman@manchester.ac.uk or on +44 (0)161 275 2111.
Latest news
Study paves the way for better treatment of prostate cancer
(11 May 2018)

A new study published today has found a way to identify men with locally advanced prostate cancer who are less likely to respond well to radiotherapy.
Fringe benefits: drug side effects could treat human hair loss
(9 May 2018)

A new drug could ease the distress of men and women who suffer from baldness, according to researchers from The University of Manchester's Centre for Dermatology Research.
Suicidal thoughts follow bad night's sleep in people with depression
(27 April 2018)

A study by University of Manchester researchers has shown for the first time that a bad night's sleep is associated with suicidal thoughts the next day in people with depression.
Step-change needed in support for carers of terminally ill, argue academics
(24 April 2018)

A new report by leading academics has today urged healthcare providers to radically improve the way they support carers of people approaching the end of their life.
Technology used to map Mars now measuring effect of treatment on tumours
(24 April 2018)

A machine learning approach for assessing images of the craters and dunes of Mars, which was developed at The University of Manchester, has now been adapted to help scientists measure the effects of treatments on tumours.
Stories of child patients in early NHS unearthed
(23 April 2018)

A University of Manchester historian is to highlight the untold experiences of children who were admitted to hospital in the early years of the NHS.
Research reveals stronger people have healthier brains
(20 April 2018)

A study of nearly half a million people has revealed that muscular strength, measured by handgrip, is an indication of how healthy our brains are.
Buprenorphine may be safer than methadone if treatment duration is longer, study suggests
(20 April 2018)

The less commonly prescribed opioid substitute buprenorphine may be safer than methadone for problem opioid users, especially if used during the first month of treatment, according to a study which includes University of Manchester researchers.
New method could transform aphasia treatment after stroke
(18 April 2018)

A new treatment has been shown to significantly improve the speech and word production of stroke patients.
University to develop new mental health support for postgrad students
(11 April 2018)

The University of Manchester has been awarded £150,000 to develop new ways of supporting the wellbeing and mental health of postgraduate research students.
Increased risk of unnatural death to people with epilepsy found
(9 April 2018)

A new study has shown that people diagnosed with epilepsy in England and Wales are at increased risk of dying from suicide and accidents.
Gene test for growth hormone deficiency developed
(9 April 2018)

A new test developed by University of Manchester, University of Lyon and NHS scientists could revolutionise the way children with growth hormone deficiency are diagnosed.
Risks to victimised youth in alternative cultures exposed
(4 April 2018)

Young people belonging to alternative subcultures, such as goths, emos or metal fans, are at a greater risk of self-harm and suicide than those who do not, according to a research review.
Research reveals why obese mothers less likely to breastfeed
(27 March 2018)

Obese women are less likely to breastfeed according to a review of 20 research papers by health psychologists and midwives from The University of Manchester.
Give millennials a break
(27 March 2018)
Give millennials a break – young people have fewer opportunities to wealth and it's not their fault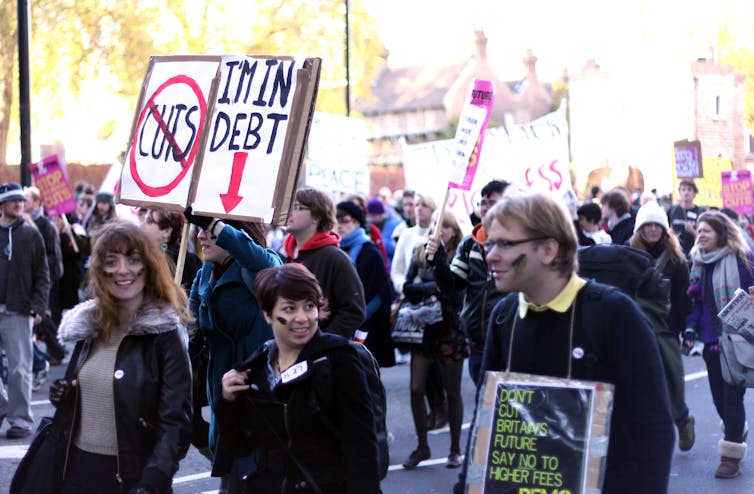 Millennials have been hardest hit by cuts. Antony Bennison, CC BY-NC
Evangelos Kontopantelis, University of Manchester
Young people are poorer than older people. And it's not simply because the old have worked all their lives and are enjoying the fruits of their labours in their sunset years.
The wealth gap between the young and the old is on the rise in England. These were the stark findings of our research into deprivation levels between 2004 and 2015. We measured wealth (or lack thereof) using the the UK government's English Index of Multiple Deprivation data, which pulls together relative deprivation across seven domains: income, employment, education and skills, health and disability, crime, barriers to housing and services, and living environment.
We found that relative deprivation (standard of living below levels enjoyed by the broader society, to a high enough extent to introduce hardship, with little or no access to resources) decreased for those aged 60 or over but increased for all other age groups. The under 30s endured most of the increase, including a worrying trend for infants aged 0-4. Perhaps surprisingly, relative deprivation also increased for those aged 30-59.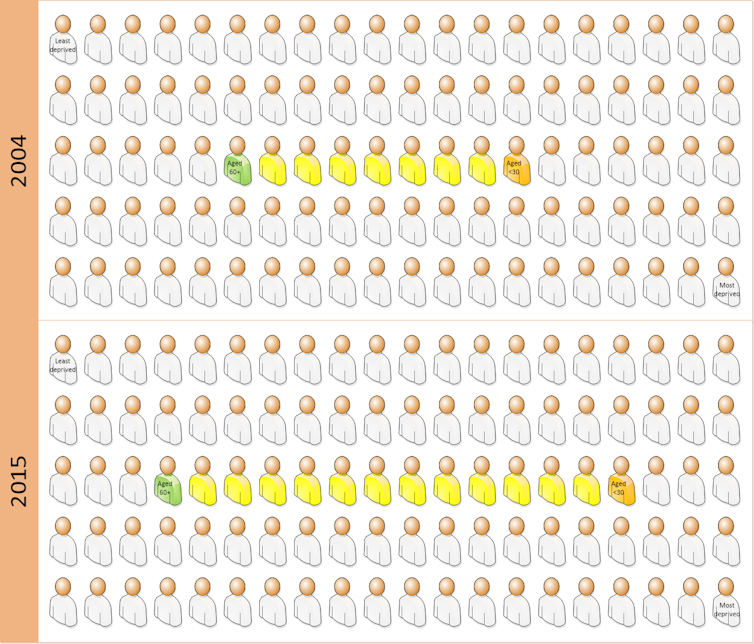 There are six main reasons for this trend.
1. The Great Recession of 2008
The recession that followed the 2007-08 financial crisis is the most well-known reason as to why the young are becoming poorer and poorer. The job market is not what it was before 2008 and austerity policies affected the "have-nots" the most. Because younger people usually fall into this category, they have been affected more than older generations.
2. Housing
The cost of housing has risen immensely in recent years, with the average house in England and Wales costing 7.6 times the average annual salary in 2016 – up from 3.6 times in 1997. Conventional wisdom says this is because there is a shortage of houses.
To some extent this is true, but property speculation is also at play. The housing market has been a self-reinforcing driver of wealth inequality.
Recent policies have aimed to drive down demand by discouraging the buy-to-let market. But large increases in house prices over a relatively short period of time have provided a large advantage to the older generation (for whom it was much cheaper to get on the property ladder, earlier).
3. Mechanisation of jobs
Machines, robots and engineering feats are leading to the disappearance of a large number of mid-level jobs in rich countries, and Britain is no exception. On the bright side, this has also led to an increase in demand for high-skilled jobs (like managers and scientists), but the number of these jobs is smaller to the number of mid-level jobs lost.
So the job market is rapidly becoming more and more imbalanced, with a large number of unskilled jobs available. These are the types of jobs that robots cannot yet perform, such as Amazon warehouse workers.
4. University tuition fees
For younger people to avoid a low-skilled and low-paid job, they need skills to successfully compete for the fewer jobs at the other end. This is where a university degree (or degrees) become essential. But, since 2006-07 in England, students have to pay for access to higher education. And the annual cost was up to £9,250 for EU students, with around 76% of all institutions charging the full amount in 2015-16.
5. Pensions
The black holes in pension schemes are much larger than it was thought. The young have to pay for these indirectly, since employers have to offer them worse employment terms to plug deficits in their ring-fenced pension schemes.
People currently at work not only have their salaries affected, but are also extremely unlikely to enjoy the same retirement benefits as their colleagues retiring before them – even when accounting for an increasing life expectancy.
6. The cost of raising a family
Younger people are more likely to care for young children and the average cost of raising a child to adulthood rose to a staggering £231,843 in 2016, up 65% from 2003.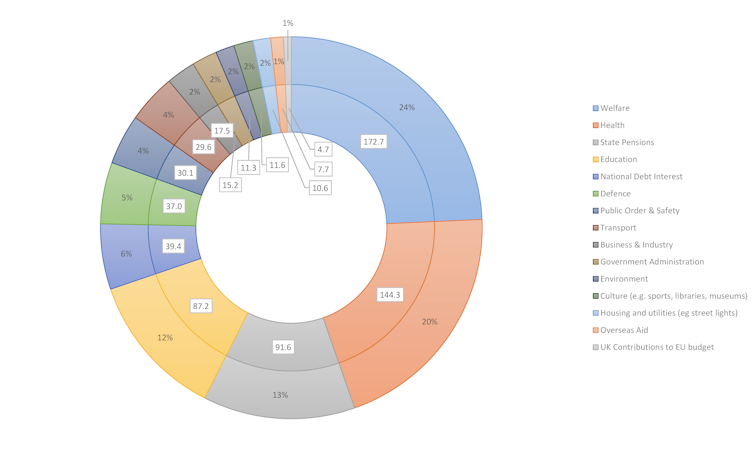 What does the future hold?
Things are likely to get worse with Brexit. Contribution to the EU is less than 1% of the government's total budget (compare that to the cost of pensions, at 20% and rising). Interestingly, the EU is the biggest funder of social housing in Britain, and this of course will come to an end.
Baby boomers in their financial safety (triple locked pensions, properties that are owned outright) can afford to take a financial hit through Brexit. They are gambling with other people's fortunes since they will be largely unaffected by a future economic crisis, unless pensions are slashed (the triple lock ensures that not even inflation can touch them).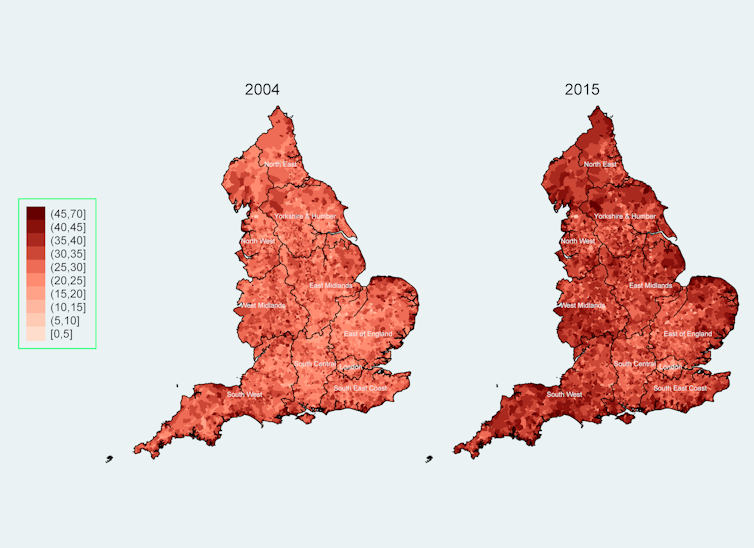 The primary challenge for young people born in Britain is not competing with young immigrants for jobs, but sustaining an older population that is increasing in size much faster than the young. This older population is also living longer and has poorer health, driving up healthcare spending, which is paid for by those in employment. Ironically, this is the generation that is now voting in a Conservative government that is stopping newer generations from enjoying the benefits that they had.

So it's no wonder that young people today are worse off than their parents' generation. Not only should we give millennials a break, we should push for policies that will fix this gap, if we want to build a fairer society.
Evangelos Kontopantelis, Professor in data science and health services research, University of Manchester
This article was originally published on The Conversation. Read the original article.
Street drugs: legalisation is a meaningless word
(27 March 2018)

In the context of drugs, legalisation is a meaningless word. It is also a word which provokes a fearful response that should be reserved for reality. The reality is that we should genuinely be fearful of how far the status quo in drug policy will take us. As we witness record drug deaths and harms, child exploitation, a prison crisis and industrial scale hypocrisy, it's time we feared the current trajectory.
Drug reduces inflammation in stroke patients
(26 March 2018)

An anti-inflammatory drug given to patients in the early stages of a stroke has been shown by researchers at The University of Manchester and Salford Royal NHS Foundation Trust to reduce harmful inflammation.
The 1918 book by Marie Stopes that launched the birth control movement
(26 March 2018)

Marie Stopes was a distinguished academic scientist and became the youngest doctor of science in Britain. But when her book Married Love was published on March 26, 1918, it completely changed her life and arguably those of millions of men and women.

The book offered a detailed description of sexual relations, and its publication allowed this topic – which had long been taboo – to be more readily discussed by both men and women.

As my research has chronicled, the book sold 2,000 copies in the fortnight after publication and within a year, six further editions had been published. Her work struck a chord in the post-World War I era. It was bought by women who had just gained the vote and men demobbed from the services. It was read by aristocratic readers in Chelsea but also by factory workers in Northern towns such as Liverpool and Manchester. Her name even featured in playground rhymes chanted by London's children.

Stopes was not married when she wrote Married Love. She had impetuously married her first husband, the Canadian academic geneticist Reginald Ruggles Gates, but the marriage soon broke down. She explored the possibility of divorce, but on discovering the expense turned to the unusual ground of annulment. In a high-profile court case, revealing intimate sexual details were reported in the press, and annulment was granted on the grounds of non-consummation.
Writing on marriage
At the start of Married Love, Stopes declared:
In my own marriage I paid such a terrible price for sex-ignorance that I feel that knowledge gained at such cost should be placed at the service of humanity.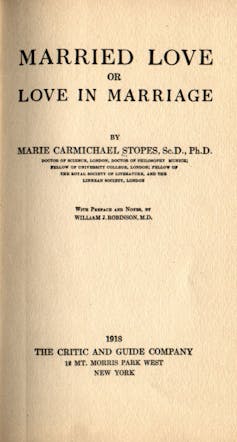 UPEnn Digital Library
Stopes claimed her knowledge was derived from research in the British Library. It would have helped that she had a biological science degree and had lectured medical students.
But there was another experience that Stopes drew upon – her long love affair with Japanese academic Kenjiro Fujii. Although he divorced his wife, he eventually terminated the relationship. Although supposedly fictitious, Stopes's Love Letters of a Japanese was based on their passionate relationship and the draft was written before the publication of Married Love. The heroine confided: "I feel a soft kiss on my neck, and everything vanishes, and I long to put my arms round you and be held close to you."
Up until 1918, Stopes's most popular book had been a study of ancient plant life. Her academic publishers refused to publish Married Love because it was seen as too controversial. Its publication was therefore financed by Manchester businessman Humphrey Roe, a longstanding birth control campaigner. In true romantic style, Roe wooed Stopes, and became her second husband.
The opening sentence of Married Love, sets the book's tone: "Every heart desires a mate." It goes on to set out sexual priorities for both sexes. Controversially for the time, women are portrayed as having sexual needs.
It should be realised that a man does not woo and win a woman once for all when he marries her: he must woo her before every separate act of coitus.
Given the reasons for the annulment of Stopes's first marriage, it's ironic that she chides wives for selfishly taunting their husbands about failures in sexual performance. But the book did enable couples to have meaningful conversations about their sexual needs.
A controversial history
Stopes has fallen out of favour today. Her campaigns for birth control were not as dramatic of those of the suffragettes and did not involve as many participants. But the underlying reason for the controversy was her alleged support for eugenics, the discredited science of racial progress.
The Daily Mail has mounted a long campaign against her for her views and for sending a book of poetry to Adolf Hitler. On her son's death in 2014, the paper called her "a monster of a mother". Jenni Murray, presenter of BBC's Woman's Hour, indicated that she omitted Stopes from her 2016 book on groundbreaking women because of Stopes's supposed support for eugenics.
Stopes certainly used eugenic arguments when it suited her, but she was a maverick eugenicist. Her private correspondence, archived in the British Library, shows how she was shunned by the Eugenic Society. These letters, which I've studied, show how she clashed with them on the issue of compulsory sterilisation for the unfit and did not believe upper class women should have more children "to improve the race".
Marie Stopes International.
Stopes did not mention eugenics in Married Love. After the book's publication, readers, enjoying their new-found sexual freedom, wrote to her, asking how to avoid unwanted pregnancies. There are files of these letters, and Stopes later published a selection in her book Mother England which she described as "self-written by those who have no historian".
Recognising the need for one-to-one contraceptive advice, Stopes and Roe founded the country's first birth control clinic in a poor part of London in 1921 and encouraged the national growth of clinics. The charity which carries her name, continues to provide birth control worldwide today.

In this way, Married Love led Stopes, with the support of leading suffragists such as Lady Constance Lytton, to become the country's leading birth control pioneer in the 1920s. She should now be given her rightful recognition in history.
Marian Clare Debenham, Honorary Research Associate, University of Manchester
This article was originally published on The Conversation. Read the original article.
World renowned cancer researcher comes to Manchester
(23 March 2018)

One of the world's leading experts in genitourinary oncology is to join The University of Manchester and The Christie NHS Foundation Trust.
Antioxidants and amino acids could play role in the treatment of psychosis
(22 March 2018)

A scientific paper has revealed that some nutrients found in food may help reduce the symptoms of psychotic illness, when used in the early stages of treatment.
NHS funding's north-south divide: why the 'sicker' north gets less money
(21 March 2018)

NHS funding's north-south divide: why the 'sicker' north gets less money
Patrick B.M. Burch, University of Manchester
Primary care is in crisis. Funding of general practice has not risen in line with the ever increasing demands being placed upon it. Patients are less satisfied and recruitment and retention of GPs is a big problem. While I strongly advocate for more primary care funding, this needs to be done in an equitable manner, with resources going to the patients and areas that need them the most.
Since 2004, most funding for general practices in England has been calculated using a method known as the Carr-Hill formula. This method of distributing funds opens up a north-south divide and sees more cash going to areas with the least need. Practices in the north of England are deprived of vital resources while practices in areas such as London are comparatively overfunded.
The formula, although based on common sense principles, is now outdated and not fit for purpose. Successive governments have talked about replacing it but no alternative has been introduced. To ease the stress on the NHS and ensure the right resources get to the right people, the method of funding primary care needs to overhauled.
How the formula works
The Carr-Hill formula uses a number of factors to calculate how much money a practice should receive. These include the ages of patients, the number of newly registered patients, how rural a practice is and whether the practice is located in London. It also includes a measure of how healthy the practice population is.
However, the calculation for measuring the health of the practice population is too simplistic and does not reflect reality. Rural practices, and those located in London, receive a higher proportion of funds because their locations are deemed to be more costly to practice from. This is partially due to perceived higher staffing costs in London and remoteness from hospital services in rural areas. But our research has revealed that these factors combine to skew the formula and divert funds away from areas with sicker patients. Our analysis shows that areas with the highest levels of ill health are not always the best funded. This is because of the simplistic measure of illness in the formula and the weighting given to factors such as being in London.
How it could work
We used publicly available data to evaluate if primary care funding in England matched health needs. The team examined data from 7,779 GP practices in England, covering almost 57m people (99% of the population). Unlike the measure of illness in the Carr-Hill formula, we devised a method of measuring illness based on what chronic conditions patients have recorded with their GPs. This method is much more sophisticated than the basic measure of health needs used by the Carr-Hill formula. By linking funding per person with the overall health needs for recorded chronic conditions, our research shows that current arrangements for GP practices are unreliable.
The work illustrates that practices in London and rural areas tend to receive a disproportionately high level of funding in comparison to the health needs of the populations that they serve.
'Ghost patients'
In addition to the London bias intrinsically present in the Carr-Hill formula, a second piece of research by our team demonstrated that the presence of "ghost patients" on the books of GP practices may be exacerbating the north-south funding divide. The census – done every ten years – is taken as the definitive measure of the English population. However, there are roughly 2m more patients registered with GPs in England than there are on the English census. By looking at registration with practices in comparison to the census population we were able to ascertain certain areas and demographic factors that were linked to higher levels of over-registration.
Our analysis showed that London has considerably higher levels of patients registered with GPs, in comparison to citizens recorded on the census, compared to the rest of England. On average, London practices have 6% more patients on their lists than local census data suggests would live in the practice area. This compares with an average over-registration level of 3.9% for the entire English population.
Other factors linked to over-registration levels were higher levels of non-white British population, elderly populations and greater proportion of females. The reasons behind over-registration are not fully clear but our analysis indicated one cause could be patients that have been registered with a GP and have then left the country. Moving areas, and registering with a new GP, would trigger removal from an existing practice list. However, there is no commonly followed procedure for removing a patient from a practice list when they leave the country. London has a highly international, transient population and this could partially explain why it has more "ghost" patients.
Numerous calls have been made over the last decade for the allocation of primary care funding to be changed and it is expected to be reviewed by the government this year.

Our work is evidence that the current arrangements are unjust and need changing. The method that sees extra funding allocated to rural or London based practices needs to be reviewed, as does the way in which the health of populations is measured. If these changes aren't made then the north-south divide will widen and those patients and practices who need the funding most will continue to miss out.
Patrick B.M. Burch, GP and In-Practice Fellow, University of Manchester
This article was originally published on The Conversation. Read the original article.
Phone app has promising signs for mental health patients
(20 March 2018)

A new smartphone app designed by University of Manchester researchers to help people with early psychosis has shown promising results according to results from a proof-of-concept trial.
The Dogtor will see you now: new scheme bowwows students
(19 March 2018)

A canine visitor to The University of Manchester's medical school is no mutt when it comes to making medical students happy.
Queen appoints Senior Lecturer as High Sheriff for Greater Manchester
(15 March 2018)

A Senior Lecturer at The University of Manchester is to be Greater Manchester's next High Sheriff
Parasitic worms have own gut microflora
(15 March 2018)

Scientists at The University of Manchester have cast new light on a little understood group of worm infections, which collectively afflict 1 in 4 people, mainly children - in the developing the world.
Multi-million pound government award to Manchester health consortium
(12 March 2018)

A recently formed Manchester health consortium, led by The Christie, has been awarded nearly £7 million of funding to ensure more patients benefit from a new generation of disease-fighting drugs for cancer and non-cancer illnesses.
Why do people intentionally injure themselves?
(27 February 2018)

For the family and friends of people who self-injure, as well as the doctors and services that try to support them, a key question is often: why do they do it?
More than 200 million medication errors occur in NHS per year, say researchers
(23 February 2018)

A study has revealed an estimated 237 million medication errors occur in the NHS in England every year, and avoidable adverse drug reactions (ADRs) cause hundreds of deaths.
Diabetes monitor is 'game changer'
(22 February 2018)

A new method of measuring blood glucose levels in people with diabetes is a significant advance in the management of the disease, according to an independent assessment by University of Manchester, Manchester University NHS Foundation Trust and Derby Teaching Hospitals experts.
New £4.7m Zika vaccine project launches
(22 February 2018)

A major new collaborative project to develop a Zika virus vaccine that is suitable for use in pregnancy has been launched.