News
There's always something new to read about the Faculty, whether it's a new discovery by one of our academics, an award won by one of our students, or an upcoming event.
Most press releases will specify media contacts, but if in doubt, please get in touch with our Media Relations Officer, Michael Addelman, at michael.addelman@manchester.ac.uk or on +44 (0)161 275 2111.
Latest news
During summer, hazardous mould species more abundant in rooms with windows
(29 November 2021)

Levels of a fungus hazardous to patients with respiratory disease are more abundant in rooms with outside facing windows during the summer months, University of Manchester and Manchester University NHS Foundation Trust (MFT) researchers have found.
Over-60s encouraged to consider being part of research assessing new respiratory virus vaccine – which could prevent hospitalisations and deaths
(25 November 2021)

People taking part in a vaccine study at Manchester University NHS Foundation Trust (MFT) have shared their motivations for taking part – in the hope others might be inspired to do the same.
City and United footballers support young people's mental health and wellbeing through the #BeeWell programme
(22 November 2021)

Greater Manchester's #BeeWell programme has now seen more than 20,000 wellbeing surveys completed by young people across the city region.
Volunteer project wins Heath Service Journal award
(22 November 2021)

An innovative partnership which has led to the creation of a network of volunteers recruited to prevent strokes has won a prestigious national award.
Researchers confirm link between testing positive for COVID-19 and fatigue and sleep problems
(16 November 2021)

Those who tested positive for COVID-19 (confirmed by a PCR test) had an increased risk of mental illness, fatigue and sleep problems, finds a new study which analysed the electronic primary care health care records* of 226,521 people from across the UK between February 2020 and December 2020.
New stroke clot-buster drug shows 'exciting potential' in mice
(15 November 2021)

A novel clot-busting drug formulated and tested by University of Manchester scientists is able to effectively restore blood flow in the brains of mice, opening the door for a safer and more effective stroke treatment.
Leading psychiatrist bags lifetime achievement Award
(11 November 2021)

Professor Louis Appleby has won the prestigious Lifetime Achievement Award from the Royal College of Psychiatrists, presented at the annual ceremony, held virtually for the second time due to Covid-19.
Whole genomic sequencing improves rare disease diagnosis
(10 November 2021)

A world-first scientific study, published today in the New England Journal of Medicine, has shown that whole genome sequencing (WGS) can uncover new diagnoses for people across the broadest range of rare diseases investigated to date and could deliver enormous benefits across the NHS.
Lessons from COVID-19 for the next pandemic: We need better data on workplace transmission
(9 November 2021)

From the beginning of the COVID-19 pandemic, public health agencies around the world failed to collect the information we needed to truly understand the role of work and workplaces in the spread of the virus. We saw this failure in Canada, the United States and the United Kingdom — our respective countries — with consequences for the effectiveness of pandemic responses.
This is surprising given that, from the get-go, public health strategies to reduce the spread of COVID-19 recognized workplaces as potential sites of transmission. Witness the advice and proscriptions that workers work from home if possible and, if not, be protected through masking, shielding, screening, distancing and other protective measures. Yet collecting information about work among those who tested positive for COVID-19 was minimal and inconsistent.
At the start of the pandemic, the collection of work information in many jurisdictions was limited to whether someone was a health-care worker or not. That was largely out of concern about transmission from workers to patients, not worker-to-worker or worker-to-community transmission.
If we had, from the early days of the pandemic, routinely and systematically collected information from COVID-positive people about their work, we would have enhanced our understanding of the role of workplaces in the spread of COVID-19, the relative importance of the potential routes of COVID-19 transmission and the effectiveness — or not — of mitigation strategies.
We would also have been able to identify with much more certainty the non-health-care workplace settings in which COVID-19 spread was and was not occurring, potentially allowing more people to continue working at the workplace with minimal risk.
The three of us came to the realization that our respective countries were similar in their limited collection of workplace-related information during the pandemic when we worked together on a panel presentation for the XXII World Congress on Safety and Health at Work. The congress, which took place virtually Sept. 20-23, was co-hosted in Canada by the Institute for Work and Health.
Here are three things we believe need to happen to mount a more effective public health response to pandemics in the future.
1. Routinely capture information about work in public health databases
Public health databases should collect information on the occupation, the industry in which they work and the name or location of the workplace of infected people. (Unsplash/Jason Goodman)
Health agencies, including hospitals, health units and infectious disease surveillance programs, need to routinely capture relevant information about work when assessing a person's health or treating a health condition. At a minimum, these systems should collect information on if the person is working, their occupation, the industry in which they work and the name or location of the workplace.
During the COVID-19 pandemic this should have been further extended to whether they were at their workplace during the period when they were infected, or if their workplace was closed or they were working from home. This data would help gauge the effectiveness of these protective measures.
This is not simple. Accepted systems of classifying occupations and industries are complex. To get information that can be used at a policy level, the classification of occupation and industry must be done consistently across databases. Training health agencies to do this should start now.
2. Consider workplace exposures within a continuum of exposures
Where people work and what work they do intersect with many other determinants of health. They inform the length of their commute to work, the transportation they take and the type of housing and community they live in. Occupations, and occupational risks of infectious diseases, are not randomly distributed across racial, sex, immigration or age groups.
We've also learned from the pandemic that risk is continuous across different settings, including home, community, transportation and work settings. Almost all settings have some risk. The degree of risk depends on factors such as proximity to others, interactions with the public, masking compliance, adequacy of ventilation, environment (indoor or outdoor), potential viral load, transmissibility of infected persons and more.
A full parking lot at an Amazon fulfilment centre in Mississauga, Ont., during the during the COVID-19 pandemic in April 2021. Infection risk is continuous across settings, including home, transportation and work settings. THE CANADIAN PRESS/Nathan Denette
A consistent challenge throughout the pandemic has been trying to understand the relative contribution of workplaces versus other settings within the continuum of exposure. A study awaiting peer review looked at workplace outbreak estimates in Ontario. It found that in many industry settings, the risk of COVID-19 due to a workplace outbreak was lower than the risk of COVID-19 outside of work.
In the U.K., an investigation of many outbreaks identified that it wasn't necessarily the specific work activities that led to the outbreak, but activities associated with work such as car sharing or eating together in lunchrooms. However, given differences in identifying and defining workplace outbreaks, outbreak estimates are likely conservative in many jurisdictions.
3. Maintain and expand connections between public and occupational health agencies
Work is an important component of many illnesses and diseases. Yet, traditionally, government departments focused on workplace health and those focused on health-care delivery and public health have operated in silos. COVID-19 forced occupational health and safety and public health to work more closely together, and each learned the important contributions the other can make. We need to formalize and continue these collaborations going forward.
The COVID-19 pandemic has shone a spotlight on the importance of work on health outcomes. Without better work data about people who have tested positive, we remain in the dark about where and how to target prevention measures for a potentially important route of transmission.

Peter Smith, Senior Scientist, Institute for Work & Health. Associate professor, Dalla Lana School of Public Health, University of Toronto; Andrew Curran, Chief Scientific Adviser, Honorary Professor, University of Manchester, and Letitia Davis, Research epidemiologist, Instructor, Harvard T.H. Chan School of Public Health
This article is republished from The Conversation under a Creative Commons license. Read the original article.
Dr Bola Owolabi to give this year's Doubleday Lecture
(8 November 2021)

The 2021 Doubleday Lecture, hosted by The Doubleday Centre for Patient Experience, will be delivered online by Dr Bola Owolabi, Director, Health Inequalities at NHS England and NHS Improvement, who is also the recipient of the 2021 Doubleday Award.
Covid-19 has highlighted health inequalities and Dr Owolabi is leading the NHS effort to accelerate progress tackling those identified during and beyond the pandemic.
The widely respected health leader explain why reducing health inequalities is so important in the online lecture which will take place at 2pm on Wednesday, 10 November. Anyone who wants to attend can book here
Bola works as a General Practitioner in the Midlands and is particularly interested in reducing health inequalities through Integrated Care Models, Service Transformation and using data and insights for Quality Improvement.
She has held various leadership roles at local, system and national levels. Until recently Bola was National Specialty Advisor for Older People and Integrated Person Centred-Care at NHS England and Improvement where she led the Anticipatory Care Workstream of the National Ageing Well Programme. She has worked with teams across NHS England/Improvement and the Department of Health and Social Care as part of the COVID-19 Pandemic response.
Bola is an alumnus of Ashridge Executive Education/Hult International Business School and holds a Masters degree with distinction in Leadership (Quality Improvement). She holds an NHS Leadership Academy Award in Executive Healthcare Leadership for Clinicians. Bola is a Generation Q Fellow of the Health Foundation, an independent charity committed to bringing about better health and health care for people in the UK.

The Doubleday Centre for Patient Experience was established by the Edwin Doubleday Fund in 2015 as the first centre of its kind in England. The Fund was set up by the parents of Edwin Doubleday, a former medical student at Manchester who passed away before he could take his final exams.
The annual Doubleday Award and Lecture is granted to an individual of standing who has made a significant contribution to patient care and who, in turn, delivers a lecture at The University of Manchester.
New research aims to make prescribing of medication safer for people in prison
(3 November 2021)

Manchester-based researchers have taken an important step towards making it safer for people in prison who are prescribed medication.
Scientists link genes to condition which causes hearing loss and infertility
(29 October 2021)

New research led by Manchester University NHS Foundation Trust and The University of Manchester could revolutionise the diagnosis and treatment for people with Perrault syndrome, a rare genetic condition resulting in hearing loss in men and women, and early menopause or infertility in women.
Action needed on high mortality in children with adrenal insufficiency
(26 October 2021)

Children with adrenal insufficiency have a higher risk of dying than those with other lifelong conditions, according to research by The University of Manchester and Manchester University NHS Foundation Trust scientists.
Emotional impact of pandemic could lead to exodus of NHS staff
(22 October 2021)

New research has discovered that there is a high risk that the emotional and psychological impact of the pandemic on nurses and other healthcare professionals will lead to an exodus of staff.
The key to understanding asthma may lie in our body clock
(20 October 2021)

Our body clock allows bodily processes to occur at certain times of the day, like eating, sleeping and body temperature.
Research on detecting cancer in primary care wins RCGP Research Paper of the Year award
(14 October 2021)

Dr Garth Funston and colleagues including professor Emma Crosbie from The University of Manchester have won the 2020 Research Paper of the Year for Clinical Research, awarded by the Royal College of General Practitioners, for their paper on detecting cancers in primary care.
Type 2 diabetes health checks down by 7.4 million due to UK's covid restrictions in 2020
(13 October 2021)

Manchester-based researchers estimate that between March and December 2020, 7.4 million fewer NICE recommended health care checks took place in UK general practices in people with type 2 diabetes, when compared to 10-year historical trends.
Ground-breaking trial prevents loneliness among older people during COVID
(12 October 2021)

A simple form of talking therapy, delivered by trained support workers over the telephone, reduced loneliness in older people left isolated during the pandemic, the initial results of a new study has revealed.
People were contacted weekly and were encouraged to maintain their social contacts and to stick to a daily schedule, which included both routine and enjoyable activities.
The intervention developed in the BASIL-C19 (Behavioural Activation in Social Isolation) study lasted for eight weeks and was designed in partnership with older people who had direct experience of social isolation, loneliness and depression during the pandemic.
The pandemic, and the restrictions that were imposed, has highlighted the importance of good mental health and social connection. Research conducted before the pandemic struck identified 1.4million older adults in England as experiencing significant loneliness with impacts on their mental health. Research since the pandemic shows that rates of loneliness and depression have increased, particularly for those who were self-isolating.
A team of leading researchers and clinicians anticipated the impacts of the pandemic on mental health and re-focussed their research expertise to examine the psychological impact of enforced isolation, disruption to daily routines, loss of social contact and loneliness.
The team included academics from the universities of York, including Hull York Medical School, Leeds, Keele and Manchester, and Tees, Esk and Wear Valleys (TEWV) NHS Foundation Trust, in partnership with leading charity, AgeUK.
They designed a very brief telephone delivered intervention to combat depression and loneliness. Older people appreciated the offer of telephone contact and they found the intervention to be helpful in maintaining daily routines and social contact.
The preliminary results have now been published in the leading journal PLOS Medicine. The research team found that there was evidence of improved mental health, and a strong indication that rates of loneliness are reduced substantially in the first three months. Building on these exciting early results, a much larger trial follow-on trial is currently recruiting at over 12 sites across England and Wales. The study will include over 600 older people and is the largest study ever undertaken to tackle loneliness and depression in this way.
The study was led from York by Professor Simon Gilbody, Director of the Mental Health & Addictions Research Group (MHARG) at the University of York and Hull York Medical School, and Professor David Ekers, Clinical Director for research and development at TEWV NHS Foundation Trust and Honorary Professor at the University of York.
Professor Gilbody said: "Our University-NHS partnership was ideally placed to respond to societal challenges of COVID-19.
"Older people and those with long term conditions entered enforced isolation, and this was very disruptive to people's lives.
"We predicted increased rates of loneliness and depression for this vulnerable population, and we knew what might work to prevent this. Care in the NHS must be informed by the highest quality of evidence and we did not waste any time in deciding to set up a clinical trial to test this out.
"The research undertaken in the NHS is acknowledged to be world-leading in terms of its scale, rigour and impact. The NHS has led the way in understanding how best to respond to the pandemic.
"The first results of the pilot trial are now available, and there is now emerging evidence that it is possible to prevent loneliness and potentially improve mental health."
Professor Carolyn Chew-Graham, a GP and leading researcher in the mental health of older people, based at Keele University added: "COVID-19 has unfortunately impacted on the mental health of older people. We know that social isolation can cause people to suffer from loneliness, low mood and anxiety. In this study, we tested how we can maintain older people's mental health during this difficult time."
Professor David Ekers added: "We have been researching in this area for the past 10 years, and we are ideally placed to help establish 'what works' in maintaining good mental health during the lockdown.
"This represents a great alliance between the Universities and the NHS to address the major challenges posed by COVID. Even as restrictions are lifted, many people remain socially isolated. The results of our research programme will be useful in the future in tacking the epidemic of loneliness.''
The research was funded by a £2.6M grant from the National Institute for Health Research. The BASIL-C19 trial was the first trial of its kind to test the effectiveness of a psychological intervention to maintain population mental health during the pandemic.
Implantable tech could be a game-changer for heart patients
(6 October 2021)

Implantable heart technology is being used in Manchester to assess when a patient is at high risk of dying, thanks to University of Manchester and Manchester University NHS Foundation Trust-led research .
Life expectancy falls as a result of COVID-19
(6 October 2021)

A new report published today by a panel including an expert from The University of Manchester has highlighted that life expectancy at birth fell by 1.3 years for men and 0.9 years for women in 2020, linked to the excess mortality caused by the coronavirus pandemic.
Campaign could reduce risk of UK opioid 'epidemic'
(5 October 2021)

A campaign that urged GPs to 'think-twice' before putting a patient on opioid medicines is effective in reducing opioid prescribing in primary care, according to the findings of a major study.
Pandemic affects pregnancy health whether mums catch Covid or not
(4 October 2021)

UK leading pregnancy charity Tommy's warns that pandemic pressures can take a physical toll on mums-to-be – even if they don't personally catch Covid-19, following new research, published in the medical journal Placenta co-authored by University of Manchester scientists
Therapy for babies showing early signs of autism reduces the chance of clinical diagnosis at age 3
(21 September 2021)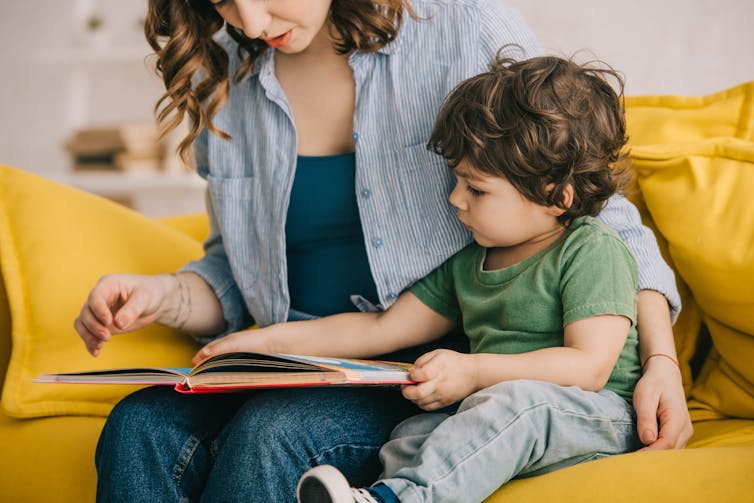 Shutterstock
Andrew Whitehouse, The University of Western Australia;
Jonathan Green, University of Manchester,
Kristelle Hudry, La Trobe University
A therapy for infants showing early signs of autism reduces the chance of the child meeting diagnostic criteria for autism at three years of age. That's according to our new research, published today in the journal JAMA Pediatrics.
Therapy for children with autism often begins after receiving a diagnosis, which usually doesn't occur until after the child turns two.
Our findings suggest starting therapy during the first year of life, when the brain and mind are developing rapidly, may provide even greater benefits.
Infants who received the therapy at 12 months of age were re-assessed at age three. They had fewer behaviours of autism, such as social communication difficulties and repetitive behaviours, compared to infants who didn't receive the therapy.
Infants who received the therapy were also less likely to meet criteria for an overall diagnosis of autism when they were three.
Autism diagnosis
Like all neurodevelopmental conditions, autism is diagnosed using "deficit-focused" diagnostic criteria. In other words, children are assessed on what they can't do.
The Diagnostics and Statistical Manual is the authoritative guide describing the behaviours we use to diagnose neurodevelopmental and psychiatric conditions. It specifies individuals must have "persistent deficits" in social communication and behavioural interaction to receive a diagnosis of autism spectrum.
Significantly more children are now recognised as having difficulties learning social communication skills than previously. This has led to an increase in the numbers of children being diagnosed with autism – now estimated to be 2% of the population.
These social and communication difficulties, restricted behavioural repertoire and sensory issues, can present significant barriers to relationships, education and employment as they mature. So reducing these challenges can be important to helping individuals thrive into adulthood.
The aim of the therapy we trialled in our study was to help support social communication skills early in life, with the aim of reducing these long-term barriers.
The therapy
The therapy, called iBASIS-VIPP, was based on the Video Interaction for Positive Parenting (VIPP) program. This program was adapted by our colleagues in the United Kingdom to specifically support social communication development.
The therapy is parent-led, which means parents and caregivers, who are the most prominent and important people in their babies' lives, are trained to deliver it.
iBASIS-VIPP uses video-feedback to help parents recognise their baby's communication cues so they can respond in a way that builds their social communication development.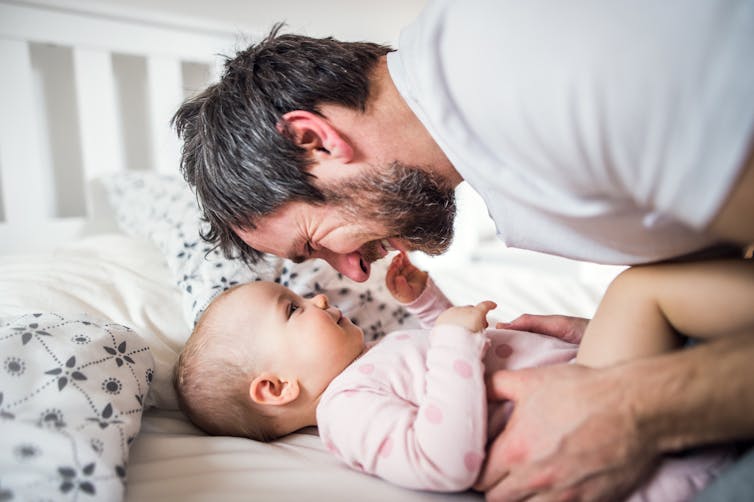 Parents are taught to recognise their baby's communication cues. Shutterstock
Parents are videoed interacting with their baby in everyday situations, such as feeding and playing. The trained therapist then provides guidance to the parent about how their baby is communicating with them, and they can communicate back to have back-and-forth conversations.
We know these back-and-forth conversations are crucial to support early social communication development, and are a precursor to more complex skills, such as verbal language.
Importantly, parent-infant interactions are in no way the "cause" of autism. Infants are born with developmental vulnerabilities, which other studies tell us are likely of genetic origin.
This therapy focuses on supporting parent-child interactions as a way of enriching their social environment, creating learning opportunities for the child. And this is tailored to the child's unique abilities.
The therapy takes the approach that children who develop differently experience the world and learn skills in different ways. By understanding unique abilities and interests of each baby, we can use these strengths as a foundation for future development.
What we found
In our study, we identified 103 infants in Perth and Melbourne who were showing early behavioural signs of autism, such as reduced eye contact, imitation or social smiling.
Fifty of the infants were randomised to receive the iBASIS-VIPP therapy for five months. The other 53 infants received the usual services they would receive in their local community, such as allied health therapy, working with psychologists, speech pathologists and occupational therapists.
The babies then received developmental assessments at around 18 months of age, two years, and three years.
When the babies were aged three, independent clinicians who did not know which therapies the children had received, reviewed all of the developmental information collected. And they determined whether the children met diagnostic criteria for autism.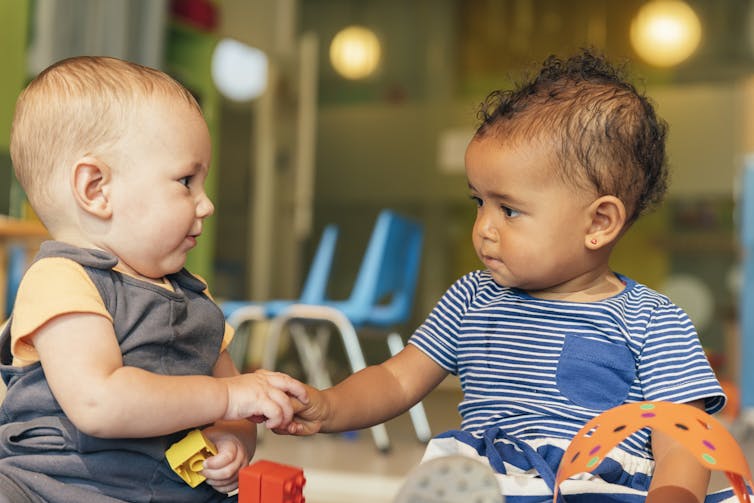 Half the babies in the study received the therapy, with the other half treated as usual. Shutterstock
The iBASIS-VIPP therapy was so effective in supporting children to learn social communication skills that only 6.7% of the children met diagnostic criteria for autism at age three years, compared to 20.5% of children who did not receive the therapy. That's a reduction of two-thirds.
While most children in the study still had some level of developmental difficulties, the therapy supported the development of social communication skills. This meant they no longer met the criteria for a diagnosis.
The iBASIS-VIPP therapy led to increased parental responsiveness to their child's unique communication. It also improved parent-reported language development, compared to the control group.
This is the first time a "pre-emptive" therapy – that is, a therapy provided before diagnosis – has shown an effect on autism diagnostic outcomes.
What do the findings mean?
This therapy represents a new way of providing support to infants showing early developmental difficulties.
Many therapies for autism try to improve development by working with children directly to shape more "typical" behaviours.
By contrast, this therapy does not work with the child directly but with the social environment around the child. It adapts to each child's unique differences, and helps them learn in a way that is best for them.
By doing so, this therapy was able to support social communication skills and behavioural expression to the point that infants were less likely to meet the "deficit-focused" diagnostic criteria for autism.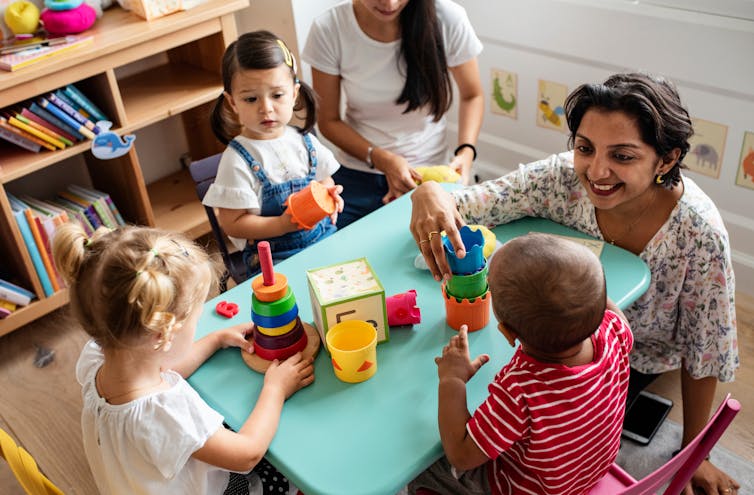 Each child is different and treatment needs to be tailored to them. Shutterstock
This finding provides strong evidence for a new model of how we provide clinical support to children with developmental differences.
Rather than waiting until a diagnosis to start therapy – typically at two years of age at the earliest – we need to identify developmental differences as early as possible. Then we need to provide developmental supports that nurture each child's strengths.
At its most basic, this is a change of clinical support from "wait and see" to "identify and act".
The finding also emphasises the importance of providing supports to children based on functional difficulties, rather than the presence or absence of a diagnosis. This approach is consistent with Australia's National Disability Insurance Scheme.
By understanding who a child is (their strengths and challenges) rather than what they are (a diagnostic label), we can provide individualised therapy supports that will help them towards their full potential.
Andrew Whitehouse, Bennett Chair of Autism, Telethon Kids Institute, The University of Western Australia; Jonathan Green, Professor of Child/Adolescent Psychiatry, University of Manchester, and Kristelle Hudry, Associate Professor of Developmental Psychology, La Trobe University
This article is republished from The Conversation under a Creative Commons license. Read the original article.
Self-harm may be increasing more quickly among young people from ethnic minorities
(21 September 2021)

Rates of self-harm could be rising more quickly in children and adolescents from ethnic minority groups than in those from white groups, according to a study led by University of Manchester researchers.
Therapy with babies boosts social development, reducing clinical autism diagnosis by two-thirds
(20 September 2021)

A parent-led intervention that supports the social development of babies displaying early signs of autism has significantly reduced the likelihood of an autism diagnosis being made in early childhood, according University of Manchester scientists, part of an international research team led by CliniKids at the Telethon Kids Institute in Australia.
Early trial of multivariant COVID-19 vaccine booster begins in Manchester
(20 September 2021)

A phase one trial of one of the world's first multivariant COVID-19 Vaccine has been launched by US pharmaceutical company Gritstone in collaboration with The University of Manchester and Manchester University NHS Foundation Trust.
Researcher bags second global award for suicide prevention
(20 September 2021)

Professor Nav Kapur is the 2021 recipient of the Stengel Research Award, one of the International Association of Suicide Prevention's most important honours.
Mental health patients leaving hospital in first lockdown felt lonely and isolated
(16 September 2021)

Mental health patients who were discharged from or admitted to acute mental health services during the first Covid-19 lockdown experienced loneliness and social isolation, according to a new study.
Study links childhood exposure to air pollution and self-harm in later life
(16 September 2021)

A study of over 1.4 million Danes has revealed a link between higher levels of exposure to two common pollutants during childhood and an increased risk of self-harm in later life.
Potential new drug for incurable vascular dementia
(15 September 2021)

A drug already used to treat high blood pressure could be re-purposed as the first treatment to tackle a type of vascular dementia caused by damaged and 'leaky' small blood vessels in the brain, according to research part-funded by the British Heart Foundation and published today in the Journal of Clinical Investigation.