News
There's always something new to read about the Faculty, whether it's a new discovery by one of our academics, an award won by one of our students, or an upcoming event.
Most press releases will specify media contacts, but if in doubt, please get in touch with our Media Relations Officer, Michael Addelman, at michael.addelman@manchester.ac.uk or on +44 (0)161 275 2111.
Latest news
New study highlights Alzheimer's herpes link, experts say
(12 July 2018)

A new commentary by scientists at the Universities of Manchester and Edinburgh on a study by Taiwanese epidemiologists supports the viability of a potential way to reduce the risk of Alzheimer's disease.
Manchester showcases its ageing credentials
(11 July 2018)

The region is holding a Festival of Ageing - and The University of Manchester has just had a week of major activities which highlighted its enormous strength and depth of ageing research.
New world-leading precision medicine campus set to open in Manchester
(11 July 2018)

Proposals have been announced to create a world-leading precision medicine campus in the Corridor Manchester Enterprise Zone, located on the UK's largest clinical academic campus - Manchester University NHS Foundation Trust.
Survey asks public for insights into ethnic inequalities in mental health care
(11 July 2018)

The first national online survey to give members of the public the opportunity to set the research priorities in the field of ethnic inequalities and severe mental illness has been launched today.
Director of major research centre to head up Manchester faculty
(9 July 2018)

Professor Graham Lord, a leading clinical academic and the Director of one of the country's major biomedical research centres is to join The University of Manchester as Vice-President and Dean of the Faculty of Biology, Medicine and Health.
New therapy could treat children with Hunter disease
(6 July 2018)

A team at The University of Manchester have developed a novel stem cell gene therapy approach to treat children with a devastating genetic disease. The approach is currently being developed for clinical trial in patients with the disease.
University secures lottery funding to record the NHS's 70-year history
(5 July 2018)

The University of Manchester has secured a National Lottery grant of £785,000 for 'NHS at 70: The Story of Our Lives'. The project will create the first shared social history of the National Health Service.
Policy units to help set health agenda for ageing population and health commissioning
(2 July 2018)

The University of Manchester has been awarded funding for two Policy Research Units to explore how the health needs of the ageing population are to be met and to investigate how health and care systems and commissioning will look in the future.
Largest ever primary care multimorbidity trial challenges current thinking
(29 June 2018)

In the largest ever trial of an intervention to treat people with multiple long-term conditions (multimorbidity) in primary care, researchers at the Universities of Bristol, Manchester, Dundee and Glasgow found that the patient-centred approach taken improved patients' experience of their care but did not improve their health-related quality of life. This is a challenge to current thinking on which UK and international guidelines are based.
Agreement takes new therapy for rare brain disease to next stage
(28 June 2018)

University of Manchester scientists have developed a new gene therapy they hope will treat children with a rare but devastating brain disease, and plan to take it to clinical trial in the near future.
Drug treatment has profound effect on cerebral malaria in mice
(25 June 2018)

A potential new way of treating cerebral malaria has been discovered by scientists at the Universities of Manchester and Glasgow, in a study using mice.
Phone insomniac? Sleepy smart screen could be the answer
(21 June 2018)

The light produced by mobile phones which may stop us from feeling sleepy, can be modified to give us all a well-earned rest, say scientists from the Universities of Manchester and Basel.
Test could help avoid antibiotic related deafness in newborn babies
(21 June 2018)

A new genetic test that could identify the risk of, and therefore help to avoid permanent antibiotic-related hearing loss in newborn babies is being developed in Manchester
Nurses attitudes are key to better compliance with infection control practices
(20 June 2018)

A study in the United States has shown that attitudes among community nurses are important for their compliance with infection control practices.
Study unmasks scale of patient doctor divide
(14 June 2018)

A survey has estimated that around three million Britons - or 7.6 % of the country - believe they have experienced a harmful or potentially harmful but preventable problem in primary healthcare.
University community recognised in Queen's Birthday Honours
(11 June 2018)

The University of Manchester's Professor of New Writing, Jeanette Winterson has been made a CBE in the Queen's Birthday Honours, announced over the weekend.
Mayor of Greater Manchester opens new training hub for surgeons
(6 June 2018)

The Mayor of Greater Manchester, Andy Burnham, will officially open the Royal College of Surgeons' new Outreach hub at The University of Manchester Innovation Centre today (6 June). The new hub will give the RCS a full-time, staffed presence in the North and Midlands.
Patient tells how tiny Welsh society was inspiration for NHS
(5 June 2018)

A little-known medical aid society in South Wales inspired Aneurin Bevan to create the NHS, according to unique audio on a digital archive launched today, one month before the service's seventieth anniversary.
Copying movements could help manage Parkinson's
(1 June 2018)

New research by University of Manchester psychologists has revealed that imitation of movement can help people with Parkinson's.
Numbers of GPs who want out within 5 years at all-time high, finds survey
(31 May 2018)

The number of GPs who say they are likely to quit direct patient care within five years rose to 39% in 2017 from 35% in 2015, according to a new survey carried out by University of Manchester researchers.
War zone trauma surgeon to deliver University lecture
(30 May 2018)

A conflict surgeon who has risked his life in some of the world's most dangerous conflicts is to deliver this year's Cockcroft Rutherford Lecture at The University of Manchester on 31 May.
University entrepreneurs scoop prizes at Innovator of the Year Awards
(24 May 2018)

Two initiatives developed by University of Manchester-based entrepreneurs have won £10,000 each from the Biotechnology and Biological Sciences Research Council (BBSRC) at a national awards ceremony.
Voucher scheme shown to improve diets of low income families
(23 May 2018)

A scheme providing fruit and veg vouchers to low-income families with young children has brought about significant nutritional improvements in families' diets, new research has shown.
There's a crisis in psychology – here's how technology could provide a solution
(21 May 2018)

There's a crisis in psychology – here's how technology could provide a solution
Technology involving virtual reality could teach us a lot about the human psyche. (U.S. Air Force photo by Airman 1st Class Keith Holcomb), CC BY-SA
Warren Mansell, University of Manchester and Vyv Huddy, UCL
Psychologists obediently follow the same rules as other scientists. But their efforts haven't yielded equivalent progress. In fact, in the last decade, psychologists have realised that some of their most intriguing findings are not reliable – when other researchers try to repeat the same study, they don't find the same results.
Many people refer to this as a replication crisis in the field. But what is to blame for this problem and what can we do about it? In a new review, published in the General Review of Psychology, we describe a promising technological solution.
Most psychologists are convinced that the widespread misuse of statistics and poor research integrity – a euphemism for cheating – are ultimately to blame for the crisis. So, removing bad practices should solve the problem. Yet this often doesn't work – seriously undermining confidence in the reliability of psychology.
We are convinced that tightening the regulation of research won't fix the crisis. Instead, we need to go back over the past century to a crucial wrong turn in psychology that happened because of a limit in the technology of the time.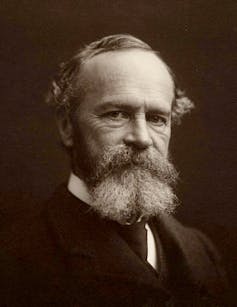 William James. Notman Studios
In the late 19th century, the American philosopher William James argued that the essence of psychology is hidden purpose. He famously described the purposeful behaviour of a frog held under water in an inverted glass. Despite attempts by the experimenter to stop it, the frog eventually found its way up to the air in surprising ways. James argued that the frog's purpose was to get to the surface and it did this in different ways each time.
But it isn't easy to test hidden purpose reliably in humans. Most research in psychology relies on getting large numbers of participants to provide data. The researchers then measure correlations, or the effects of experimental manipulations, in these groups. This research began before the time of the modern computer, when the researcher could simply present a "stimulus" to a participant and measure the response. And this approach persists today, making up the vast majority of studies in psychology.
Unfortunately, it's not reliable. One recent series of "stimulus-response" studies were set up so that participants could respond to an image on a screen by either pushing or pulling a joystick. They were presented with either "negative" or "positive" images or words (stimuli). The researchers proposed that viewing a negative stimulus (such as an angry face) unconsciously activates the muscles that extend the arm. This is because that's how we push something away if we are faced with it in real life. The initial studies supported this account – participants were quicker to respond to negative stimuli when the response was to push the lever away from them than when it was to pull it.
However, a huge review of over 68 attempts to test for this effect in more than 3,000 participants showed that this effect was not consistently repeated. Importantly, in tasks that were designed so that pushing the lever actually made the stimulus get closer, the opposite effect was found – negative stimuli were now associated with the response of pulling the lever.
The authors concluded that participants were actually controlling their perceived distance from the negative image through whatever action they could (just like James's frog). But the traditional experimental design was simply not set up to test this.
Embracing VR
In our recent article, we bring together the advances that researchers have made using an approach known as perceptual control theory. It continues where James left off, assuming the hidden purposes of living things, but it tests for them using a sophisticated approach. It typically relies on computing capacity to measure people's activities in virtual environments, and to build a computer model of the psychological processes within the individual.
The technique is based on creating a situation where the participant can pursue a goal, for example controlling the distance from a negative image on a screen using a joystick. It then measures every change that goes on in the situation continuously (for example by making real-time videos) – including disturbances that get in the way of the person's goal, such as changes in the experimental set up or physical obstacles. All this data is then used to build a computer model of how each participant is pursuing their goal.
You can then repeat the situation, using the computer model to predict what the individual will do, and constantly compare with what they are doing. If the model fails, you improve it until you've got a good match – creating a "personal profile" for each individual. This can then be tested for replication over repeated sessions. You can also combine data for many individuals to look at mean effects to work out what goals are generally relevant to a given situation.
Replication … at last?
The result of this approach is typically a robust model of the psychological processes involved in an activity – such as tracking a target on a screen. These models have been shown to repeat a high level of accuracy over and over again, typically showing correlations over 0.98 – a perfect correlation is 1.0. A correlation shows the association between two different variables (for example stimuli and response). This is currently virtually unheard of in traditional psychology research, where correlations of as low as 0.3 are regarded as "statistically significant".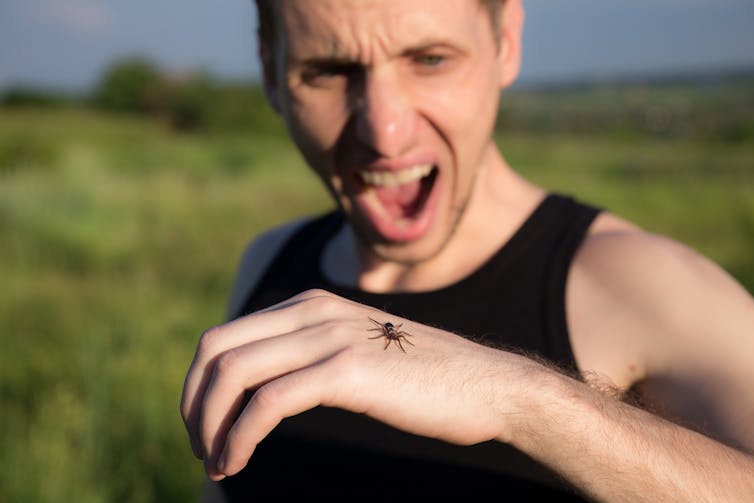 Don't worry, there's hope. Goncharov_Artem/Shutterstock
You might think that modelling of this kind is only suitable for simple tasks, but a similar approach has been applied to many areas, including food competition in animals. This used frame-by-frame video analysis to show that a rat holding food in its mouth continually reorients its body to maximise the distance between its food and a competing animal's mouth.
The same assumptions have informed treatments of spider phobia, helping to build tasks in which the participant can control their distance from a spider in a virtual corridor. Facing fears in this way is a treatment known as exposure therapy. However, it was previously unknown what level of control over the exposure works best. The study using this technique showed for the first time that people who have a higher degree of control over the exposure actually ended up avoiding spiders less after the experiment than those who had little control.
There are areas where it will be more challenging to use this technique – such as complex tasks involving memory and reasoning. Nevertheless, it could be easily applied in many areas.

The replication crisis has been the wake up call psychological science needed to think differently – now it is time to embrace the advances in technology that allow us to improve the field.
Warren Mansell, Reader of Clinical Psychology, University of Manchester and Vyv Huddy, Lecturer in Clinical Psychology, UCL
This article was originally published on The Conversation. Read the original article.
Study paves the way for better treatment of prostate cancer
(11 May 2018)

A new study published today has found a way to identify men with locally advanced prostate cancer who are less likely to respond well to radiotherapy.
Fringe benefits: drug side effects could treat human hair loss
(9 May 2018)

A new drug could ease the distress of men and women who suffer from baldness, according to researchers from The University of Manchester's Centre for Dermatology Research.
Suicidal thoughts follow bad night's sleep in people with depression
(27 April 2018)

A study by University of Manchester researchers has shown for the first time that a bad night's sleep is associated with suicidal thoughts the next day in people with depression.
Step-change needed in support for carers of terminally ill, argue academics
(24 April 2018)

A new report by leading academics has today urged healthcare providers to radically improve the way they support carers of people approaching the end of their life.
Technology used to map Mars now measuring effect of treatment on tumours
(24 April 2018)

A machine learning approach for assessing images of the craters and dunes of Mars, which was developed at The University of Manchester, has now been adapted to help scientists measure the effects of treatments on tumours.
Stories of child patients in early NHS unearthed
(23 April 2018)

A University of Manchester historian is to highlight the untold experiences of children who were admitted to hospital in the early years of the NHS.