News
There's always something new to read about the Faculty, whether it's a new discovery by one of our academics, an award won by one of our students, or an upcoming event.
Most press releases will specify media contacts, but if in doubt, please get in touch with our Media Relations Officer, Michael Addelman, at michael.addelman@manchester.ac.uk or on +44 (0)161 275 2111.
Latest news
Data and health scientists combine to create COVID-19 "heat map"
(1 April 2020)

Users of a new health and wellbeing app are contributing to a publicly-available heat map of people with COVID-19 symptoms, providing a national picture of the outbreak and its spread over time.
Manchester responds to COVID-19 crisis
(30 March 2020)

In an unprecedented move, scientists and clinicians across Greater Manchester have formed a rapid response research group to find ways to beat COVID-19 and save lives.
Integrating Cancer Imaging Biomarker Clinical Research Across the UK
(26 March 2020)

Researchers and medical experts from nine world-leading medical imaging centres across the UK come together to form an integrated infrastructure for standardising and validating cancer imaging biomarkers for clinical use.
Robots on the march to walking like humans
(4 March 2020)

A psychological theory could kickstart improvements in the way robots are able to walk, thanks to a University of Manchester study.
Repeat antibiotic prescribing linked to higher risk of hospital admissions
(3 March 2020)

Epidemiologists at The University of Manchester have discovered an association between the number of prescriptions for antibiotics and a higher risk of hospital admissions.
Trials show new drug can ease symptoms of chronic cough
(26 February 2020)

Two trials of a new drug have shown that at low doses, it can ease the often distressing symptoms of chronic cough with minimal side effects.
Study identifies risk factors for endometrial cancer
(17 February 2020)

An analysis of 149 scientific studies has identified 24 genetic variants which predispose women to endometrial cancer.
Still my Valentine: campaigners fight prejudice against sexual activity in later life
(14 February 2020)

A partnership of Manchester campaigners and researchers are urging health professionals change their attitudes about sexual activity in older people.
Scientists stop breast cancer cells from spreading in the lab
(13 February 2020)

Biologists have discovered a way to stop cells from one of the most aggressive types of breast cancer spreading in the lab.
Protein closely linked to commonest cause of blindness
(7 February 2020)

An international team of scientists has identified a protein which is strongly linked to the commonest cause of blindness in developed countries when its levels are raised in the blood.
University joins national scheme to engage citizens in science
(7 February 2020)

UK citizens are set to contribute to world-leading research on air quality, plastic pollution, period poverty, farming methods and many other issues that directly affect their lives.
Professor Chris Phillipson collaborates on risk in later life publication
(6 February 2020)

Professor Chris Phillipson of the Manchester Institute for Collaborative Research on Ageing (MICRA) has collaborated on a new book on understanding insecurities in later life.
Professor Phillipson, together with Amanda Grenier (University of Toronto) and Richard Settersten (Oregon State University), has published Precarity and Ageing: Understanding insecurity and risk in later life with Policy Press, as part of their Ageing in a Global Context series published in association with the British Society of Gerontology.
The book provides a critical review of the concept of precarity, highlighting the experiences that occur within the context of societal changes tied to declining social protection. The various chapters review a range of issues driving increased insecurity affecting groups of older people, including issues such as homelessness, changes to employment, informal care, and the impact of privatization of health and social care services. The final chapter presents an assessment of likely changes in the experience of ageing over the course of the 21st century, drawing on the various examples and ideas discussed in the book.
The book is available to buy via the Policy Press website.
Study sheds light on why people self-injure
(5 February 2020)

A study by a team of psychologists has revealed that people who self-injure often feel positively- as well as negatively - about their behaviour.
Professor's grandmother one of world's first to have Insulin for Diabetes
(3 February 2020)

A Professor of Infectious Diseases at The University of Manchester has taken part in an event in Cardif to honour his grandmother who was one of the first children in the world to be treated with Insulin. Elizabeth's grandfather (David Charles Hughes) emigrated from Wales to the USA in 1855.
Unique new antiviral treatment made using sugar
(29 January 2020)

New antiviral materials made from sugar have been developed to destroy viruses on contact and may help in the fight against viral outbreaks.
Researchers bid to slow down heart failure
(28 January 2020)

A new research project funded by the British Heart Foundation (BHF) at the University of Manchester aims to find a way to slow down the progression of heart failure.
We need to re-think health data sharing and public trust, says publication
(28 January 2020)

NHS, government, universities and companies must do more to avoid misusing health data and damaging public trust in health research, say experts from the University of Manchester.
Multicentre study to research why cancer survival differs between patients
(25 January 2020)

A new multidisciplinary study involving six universities is to investigate why some patients who have had advanced cancer remain well after treatment.
2019's top news from the Faculty of Biology, Medicine and Health
(21 January 2020)

Welcome to the top ten most popular news stories on our website from the Faculty of Biology, Medicine and Health in 2019. A brilliant collection of interesting and important research, we think. Enjoy!
Researchers discover when it's good to get the blues
Contrary to common belief, blue light may not be as disruptive to our sleep patterns as originally thought - according to University of Manchester scientists. According to the team, using dim, cooler, lights in the evening and bright warmer lights in the day may be more beneficial to our health.
Cheers! Scientists take big step towards making the perfect head of beer
Drinkers will soon be cheering all the way to the bar thanks to a team of scientists who have taken a big step forward in solving the puzzle of how to make the perfect head of beer.Lead researcher Dr Richard Campbell from The University of Manchester says his findings solve a long-standing mystery related to the lifetime of foams.
Working mothers up to 40% more stressed, study finds
Biomarkers for chronic stress are 40% higher in women bringing up two children while working full-time, new research has found. Working from home and flexitime have no effect on their level of chronic stress – only putting in fewer hours at work helps, says an article in the journal Sociology.
Cloudy with a Chance of Pain? Smartphone study shows pain more likely on humid, windy days
People with long-term health conditions are 20 per cent more likely to suffer from pain on days that are humid and windy with low atmospheric pressure according to new research from University of Manchester scientists. The study, funded by Versus Arthritis, was based on the experience of people with conditions such as arthritis, fibromyalgia, migraine and neuropathic pain from across the UK.
Drugs commonly used to treat arthritis may help to prevent breast cancer spreading to the bone, where it is incurable, new research suggests.
In a major new study published in Nature Communications, scientists propose that NHS arthritis drugs anakinra, canakinumab and sulfasalazine could in future be repurposed to help treat breast cancer, following the discovery of the role of bone marrow in the spread of the disease to the bone.Arthritis drugs could be repurposed to help prevent breast cancer spreading to the bone, study suggests
Borderline Personality Disorder has strongest link to childhood trauma
People with Borderline Personality Disorder are 13 times more likely to report childhood trauma than people without any mental health problems, according to University of Manchester research. The analysis of data from 42 international studies of over 5,000 people showed that 71.1% of people who were diagnosed with the serious health condition reported at least one traumatic childhood experience.
Healthy diet can ease symptoms of depression
An analysis of data from almost 46,000 people has found that weight loss, nutrient boosting and fat reduction diets can all reduce the symptoms of depression. Dr Joseph Firth, an Honorary Research fellow at The University of Manchester and Research Fellow at NICM Health Research Institute at Western Sydney University, says existing research has been unable to definitively establish if dietary improvement could benefit mental health.
Biggest ever map of human Alzheimer's brain published
A study of the differences between healthy brains and those with Alzheimer's Disease has produced largest dataset of its type ever. And the data, developed by a team of researchers led by Dr Richard Unwin at The University of Manchester, is now freely available online for any scientist to use.
Recession saw rise in male patient suicide
Recession-related increases in suicide have previously been reported globally. New research has shown an equivalent rise in suicide by mental health patients, particularly men aged 45-54. The study, published in the British Journal of Psychiatry, comes from the National Confidential Inquiry into Suicide and Safety in Mental Health (NCISH) based at The University of Manchester.
One in four UK children have a mother with mental illness
One in four UK children between the ages of 0 and 16 have a mother with a mental illness, according to a team of University of Manchester researchers. Also according to the study published in the Lancet Public Health, just over a half of UK children will have had a mother who has experienced mental illness by the age of 16.
Long term risks cast further doubt on the use of Viagra for foetal therapy
(17 January 2020)

University of Manchester scientists investigating a possible treatment for foetal growth restriction (FGR), a condition in which babies grow poorly in the womb, have urged further caution on the use of Viagra.
Pulling the plug on calcium pumps - potential new treatment strategy for pancreatic cancer
(16 January 2020)

UK scientists have identified a new way to kill pancreatic cancer cells by 'pulling the plug' on the energy generator that fuels calcium pumps on their cell surface. The study, published in the British Journal of Cancer, reports how switching off the cancer's energy supply causes the pancreatic cancer cells to become 'poisoned' by an irreversible build-up of calcium.
Re-Write cancer: £5m boost for new world-class cancer centre in Manchester
(13 January 2020)

The University of Manchester has been awarded a major £5million funding boost by The Wolfson Foundation that will help build a new world-class cancer research facility in Manchester.
Body clock affects how the immune system works – new findings
(8 January 2020)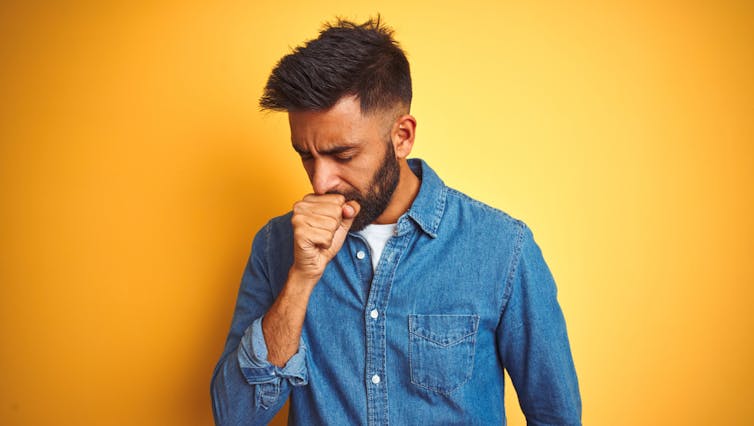 By David Ray, University of Oxford and Gareth Kitchen, University of Manchester
All life on Earth has evolved to cope with a rotating planet which results in the predictable transition between day and night. The details differ between plants, fungi, bacteria and animals, but the consistent feature is a biological "clock" that allows the organism to anticipate the change and prepare for it.
In animals, the central clock that keeps track of night and day is in the brain where it receives light from the retina to keep synchronised with the light or dark. But all cells in the body have their own clocks. Because these biological clocks have a cycle that is close to 24 hours they are termed circadian (circa means "about" and dies means "day").
We now live with cheap, bright, artificial light, shift-work, sleep-deprivation and jet-lag – all major challenges to the ancient circadian control mechanisms in our bodies. All these circadian and sleep challenges are associated with disease. But in our latest study, using mice, we discovered that infections at different times of the day cause different severity of disease.
Surprisingly, we found that the clock ticking in the cells of the immune system was responsible for the change in response to bacterial infection. In particular, specialised cells called macrophages, which are big cells that engulf and kill bacteria.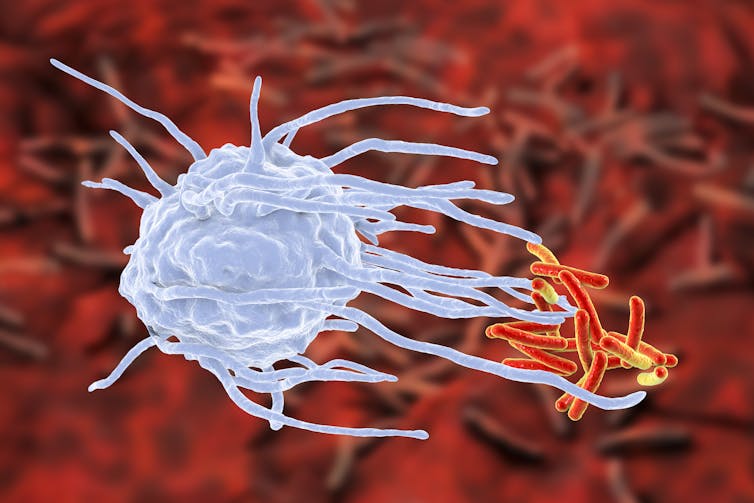 An artist's impression of a macrophage (blue) engulfing tuberculosis bacteria (red). Kateryna Kon/Shutterstock
Macrophages, either growing in a dish or in a mouse, responded differently at different times of the day. And disabling the clock in these cells resulted in super macrophages, which moved faster and ate more bacteria than the normal macrophages.
We found that "clockless" macrophages protected mice from bacterial infection with many types of bacteria. A closer look at the macrophages revealed that the cells looked different, with a major change in the structural proteins that maintain the cell shape and are needed for cell movement and for eating bacteria. The change in the cell's internal architecture, or cytoskeleton, became a focus of our studies.
We discovered that the macrophage circadian clock directly controlled the components of the cytoskeleton. We saw changes in the amount of cytoskeletal protein building blocks, and also in the activity of a master regulator of cytoskeletal change. This master regulator is a protein called RhoA.
RhoA is activated by bacterial contact and drives the macrophage to move and consume bacteria. We found that RhoA was active in the clockless macrophages even when no bacteria were present. When bacteria contacted the normal macrophages RhoA became active, but there was no further change in the clockless macrophages, as the RhoA was already active. So the clockless macrophages were always switched on, and so able to respond to bacterial attack more rapidly.
To find out how the clock was changing the behaviour of macrophages, we turned to the core clock mechanism. This comprises a small group of proteins that change in abundance through time, so allowing the cells to tell the time. We found that one of these clock factors, called BMAL1, was the essential link between the clock and the macrophage behaviour.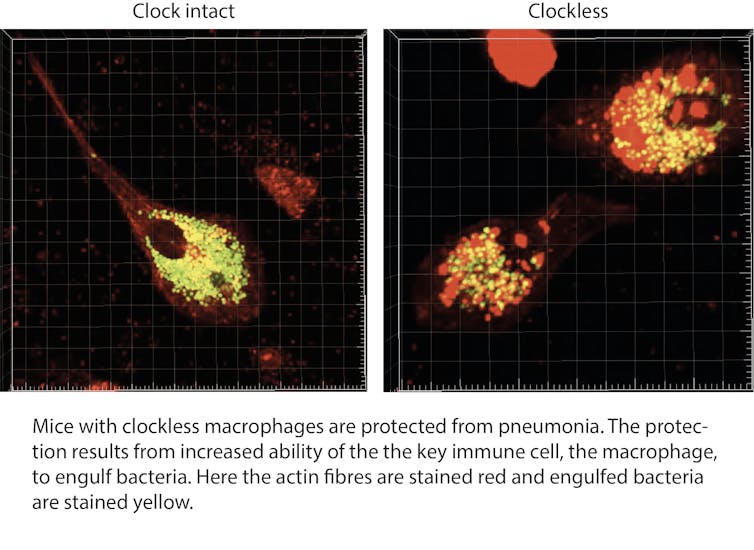 Reducing reliance on antibiotics
One of the major issues facing the modern world is the growing resistance of bacteria to antibiotics. There have been no new classes of antibiotics for 30 years. Bacterial resistance to antibiotics means that we have untreatable infections and face a future where surgery will become riskier.
Finding new ways to enhance defence against bacteria is a high priority. Discovery of a circuit linking the clock to bacterial defence opens up a new route to reduce our reliance of the limited range of existing antibiotics. It may be possible to enhance natural defences to bacterial infection by targeting the clock.
The operation of the circadian clock can be altered by light exposure, by changing meal times, by genetic variability within human populations and by new drugs capable of regulating this system. One problem with targeting the clock with drugs is that the impact on other systems will be broad and the consequences hard to predict. But short-term intervention to boost immunity to infection may offer benefits, at low cost.
Similarly, reinforcing the circadian rhythm of high-risk people, in hospitals for example, by controlling lighting and meal times may boost immunity and prevent hospital-acquired infections.

David Ray, Professor of Endocrinology, University of Oxford and Gareth Kitchen, Academic Clinical Lecturer and Anaesthetist, University of Manchester
This article is republished from The Conversation under a Creative Commons license. Read the original article.
Removing body clock gene protects mice against pneumonia
(6 January 2020)

Removing the clock gene BMAL1 makes bacteria-engulfing defence cells in the body more effective, a University of Manchester and University of Oxford study published in the journal PNAS has found.
Short or long sleep associated with Pulmonary Fibrosis
(31 December 2019)

Scientists have discovered that people who regularly sleep for more than 11 hours or less than 4 hours are 2-3 times more likely to have the incurable disease, pulmonary fibrosis, compared to those that sleep for 7 hours in a day. They attribute this association to the body clock.
Cheers! Scientists take big step towards making the perfect head of beer
(21 December 2019)

Drinkers will soon be cheering all the way to the bar thanks to a team of scientists who have taken a big step forward in solving the puzzle of how to make the perfect head of beer.
The 2019 review of the year
(20 December 2019)

We do say this every December but this year really was a momentous one for The University of Manchester. We've peered into the depths of space, developed technologies which will change our future, and championed cancer research across the region.
Your top ten stories of 2019
(20 December 2019)

Each year, stories from the University reach hundreds of thousands of people, and we're always fascinated by what draws the most attention. From medicine to graphene, and astronomy to the ever-popular university rankings, here's ten of our most-read stories from 2019.
Breakthrough research offers new hope to lupus patients
(19 December 2019)

A 'life-changing' potential new drug could be available to lupus patients in the future thanks to 'breakthrough' research.
Researchers discover when it's good to get the blues
(16 December 2019)

Contrary to common belief, blue light may not be as disruptive to our sleep patterns as originally thought - according to University of Manchester scientists.