News
There's always something new to read about the Faculty, whether it's a new discovery by one of our academics, an award won by one of our students, or an upcoming event.
Most press releases will specify media contacts, but if in doubt, please get in touch with our Media Relations Officer, Michael Addelman, at michael.addelman@manchester.ac.uk or on +44 (0)161 275 2111.
Latest news
Lockdown has been hard on teenagers, but they have shown remarkable adaptation
(24 November 2020)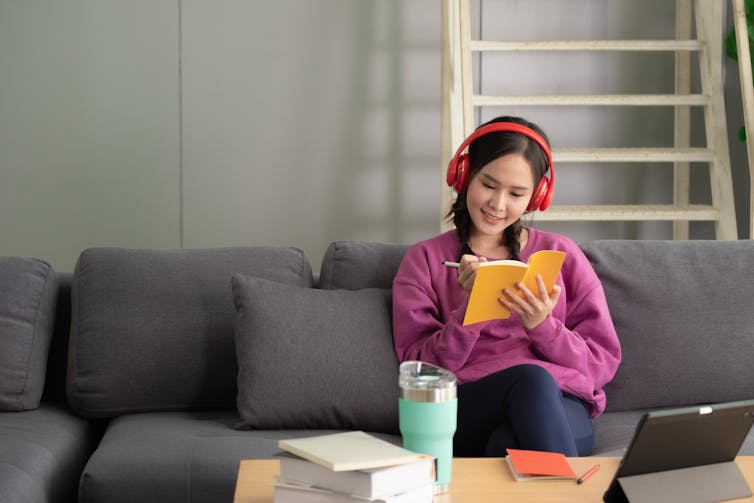 GroovyPanda/Shutterstock
The COVID-19 lockdown upturned the lives of teenagers at a time when they are usually becoming more independent and taking steps toward their future. Instead, they were confined to their homes, exams were cancelled, and their next steps looked suddenly less certain.
Our research on the TELL Study – Teenagers' Experiences of Life in Lockdown – explored how 109 UK-based 16 to 19-year-olds coped under coronavirus restrictions, with an emphasis on their wellbeing.
Our findings show that lockdown was an intense, challenging experience, raising feelings of loss and fear about the future. However, participants also described considerable effort to adapt, actively working to counter the negative personal impact of the lockdown and trying to think positively.
Coping with stress
Our participants described feeling overwhelmed and trapped, fearful about COVID-19, missing people that they couldn't see face to face, and feeling uncertain about the future. Many teenagers found that milestones they had worked towards for years, such as exams, were suddenly gone. "When it was announced that GCSEs were cancelled, I was distraught," one participant told us.
For some, being confined in family homes was distressing:
I've already got a history of mental health issues, being shoved into a house with none of my friends and any sense of normality shredded has certainly not helped.
They also expressed some mistrust and frustration with the government and media in lockdown. Some felt that the government was being vague about restrictions and easing the lockdown too soon, and this was making them feel anxious generally but also worried about the return to education:
I am unsure if I want to go back in September because I'm unsure that the government has the best supervisions.
Participants in the study reported often assessing the impact that the lockdown was having on them, and then proactively finding self-care and coping strategies to specifically counteract these negatives.
This included finding ways to distract themselves and escape, in order to avoid negative thoughts, and finding ways to relax, to counter difficult feelings and stress – such as engaging in hobbies, exercising, and spending time with (or virtually with) loved ones.
Our participants generally described working to ensure their coping strategies were in line with restrictions, although this sometimes caused conflict when household members disagreed about what was allowed and what was not.
For instance, one participant explained: "[Some days I'll] go for a walk with a friend. However, [I] come back to face confrontation with my brother as he believes that to be unsafe."
Staying positive
Teenagers told us they were attempting to stay optimistic. Many identified positive opportunities in lockdown, such as time to learn new skills and deepen relationships with their families. Some used lockdown to evaluate their lives, identifying things they appreciated and things they'd like to change.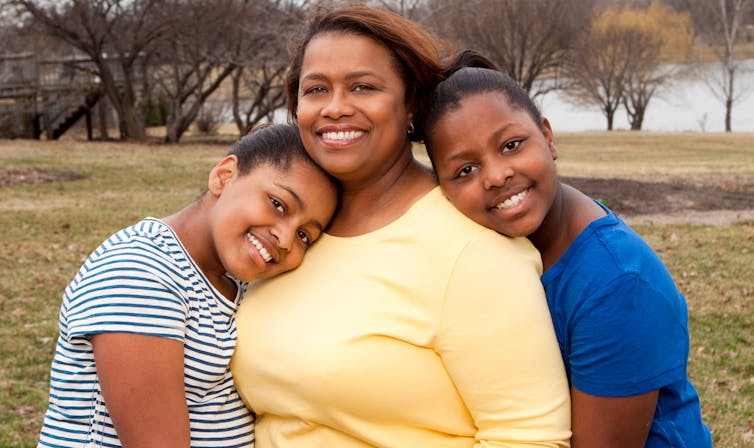 Teenagers reported that spending time with family was a positive aspect of lockdown. pixelheadphoto digitalskillet/Shutterstock
They also worked on creating routine and goals, as their days had lost structure and purpose, and being kind to themselves – with recognition that the situation was inherently stressful.
One teenager told us:
If I didn't keep myself busy with the baby [brother], films or sketching I would allow the loneliness to consume me.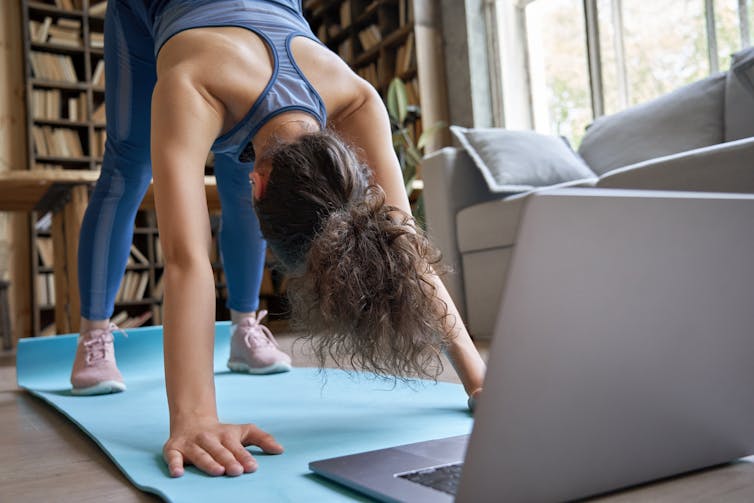 Teenagers reported taking up exercise at home. insta_photos/Shutterstock
Of course, self-care isn't always easy. Some participants felt less able to look after themselves, and others described strategies they thought were problematic, like smoking or suppressing their feelings.
Participants often expressed gratitude for their circumstances, noting they were lucky to have resources such as access to outdoor spaces or positive relationships in their household:
I am very grateful for the position I am in, I generally get along well with my family and, with mum and dad working from home, we have been able to stay safe.
Hope for the future seemed important. Participants focused on what life would be like after lockdown and the things they would do. However, some were growing less hopeful about the pandemic ending soon, and felt disheartened:
I know it can be hard during such worrying times to be optimistic or hopeful but I think that it is really important that we remind each other that this is only temporary and that the best thing to do is just keep going forward.
Supporting teenagers
Our findings highlight the capacity for adaptation among our teenagers, offering a clear demonstration of resilience in the face of the pandemic.
On the one hand, this adaptation shows we must not underestimate the resourcefulness of teenagers. Supporting their emotional wellbeing at this time should include recognising and celebrating this, encouraging teenagers to reflect and feel empowered by their adaptation to the pandemic.
However, we cannot shift ultimate responsibility for their wellbeing onto teenagers themselves. Resilience depends on wider systems, such as family life, education, recreation, and healthcare. COVID-19 has brought disruption in many ways to many of these systems.
Teenagers need to be given the tools they need to actively cope and should be supported when they are struggling. This can include having opportunities to reflect on and discuss how they are feeling, seeing those around them make use of healthy coping responses, and having time and space to relax and care for their own needs.
It will be extremely important to provide hope for the future for teenagers as the pandemic continues to unfold. Without a sense of promise for a future they can look forward to, adaptation and optimism may well become increasingly difficult.

Ola Demkowicz, Lecturer in Psychology of Education, University of Manchester; Alisha O'Neill, PhD researcher in Education and Mental Health, University of Manchester; Emma Ashworth, Lecturer in Psychology, Liverpool John Moores University; Kirsty Pert, Research assistant in Psychology and Education, University of Manchester, and Terry Hanley, Reader in Counselling Psychology, University of Manchester
This article is republished from The Conversation under a Creative Commons license. Read the original article.
New Greater Manchester health accelerator programme invites innovative companies to collaborate with NHS and research organisations
(24 November 2020)

A new accelerator programme is inviting SMEs to collaborate with Greater Manchester's research and innovation institutions to support the development of innovative health and care products.
Well-managed type 2 diabetes patients have 21% higher risk of cardiovascular disease
(23 November 2020)

Well managed adults with type 2 diabetes have a 21% higher risk of developing cardiovascular disease (CVD) compared to the general population, according to new research.
Energy drinks can raise stillbirth risk and caffeine guidance confuses mums-to-be, new research warns
(18 November 2020)

Stillbirth experts warn that expectant parents need to know more about caffeine, as a new study from Tommy's Maternal and Fetal Health Research Centre at the University of Manchester shows 1 in 20 women increased their intake during pregnancy, despite evidence that some caffeinated drinks can endanger babies' lives*.
Survey reveals impact of suicide on family and friends
(18 November 2020)

A study published today reveals over a third of those bereaved by suicide considered taking their own life, highlighting their acute need for more support.
Shift workers at increased risk of asthma, research shows
(16 November 2020)

An international team of scientists led by The University of Manchester and Manchester University NHS Foundation Trust has found that shift workers, especially those working permanent night shifts, showed increased risks of asthma, especially moderate or severe asthma.
Excess death toll in care homes from Covid-19 'hugely underestimated'
(16 November 2020)

An early draft of a study by University of Manchester health economists and data scientists calculates that up to 10,000 more people may have died in care homes from Covid-19 than previously realised.
COVID-19 pandemic report reveals massive hit to the North of England's health and economy
(11 November 2020)

The North of England's economy has been hit harder than the rest of the country during the COVID-19 pandemic with inequalities between the North and the rest of the country exacerbated according to a report coauthored by University of Manchester experts and launched today.
'Revolutionary' algorithms underestimate risk to patients
(10 November 2020)

Machine learning algorithms hailed as game changers in healthcare can significantly underestimate the level of risk to patients, according to University of Manchester researchers.
First Covid lockdown had major impact on type 2 diabetes diagnosis and monitoring
(9 November 2020)

New diagnoses for type 2 diabetes within a UK cohort of 13 million people were 70% down in the month of April 2020, compared to expected rates based on 10-year trends in 23 million people, according to new research.
Donations to fund research into long-term impact of Covid-19 on hearing
(3 November 2020)

Following the first peak of the Covid-19 pandemic, experts have turned their attention to the long-term health consequences of the novel coronavirus.
Lack of understanding of common heart condition leads to missed treatment opportunities, study suggests
(3 November 2020)

Poor awareness of a condition known as Heart Failure with preserved Ejection Fraction (HFpEF) – the cause of a half of all cases of heart failure in England – could be hindering opportunities to improve care for patients, say researchers from the Universities of Cambridge, Manchester, and Keele.
Research to examine antibiotic treatment for sepsis in Covid-19
(2 November 2020)

An internationally important research study is looking to improve the use of antibiotics for patients with Covid-19 at risk of sepsis.
Higher stillbirth risk for mothers experiencing deprivation, unemployment, stress and domestic abuse in pregnancy
(29 October 2020)

Mothers who experience psychological stress and domestic abuse are more likely to have stillborn babies – but attending more antenatal care appointments than UK guidelines currently dictate can reduce that risk, according to a new study from Tommy's Manchester Research Centre at The University of Manchester.
AVATAR project gets £3.37m to evaluate therapy for auditory hallucinations
(29 October 2020)

A team of researchers led by King's College London (KCL) which includes The University of Manchester will be extending the evaluation of the unique AVATAR therapy and assessing the feasibility of making it available in the NHS across the UK, thanks to funding from Wellcome.
A new study suggests coronavirus antibodies fade over time – but how concerned should we be?
(29 October 2020)

Newly released research suggests that levels of antibodies against the coronavirus have declined across the UK population since testing began. Having randomly sampled 365,000 people across the country, the React2 study – which is yet to be peer reviewed – estimates that 6% of the UK population had antibodies against the virus in late June, but that this had fallen to 4.4% by September.
If antibodies fade over time, how worried should we be? Does this mean we cannot be immune to COVID-19? To answer this question, we need first to consider what antibodies are and what they can tell us about immunity.
When we are infected, our immune system quickly responds to try and contain the threat and minimise the damage infection causes. This initial stage of immune reactivity is covered by immune cells known as innate cells that are resident in our tissues, which use a range of fairly generic strategies to both recognise and kill off the infection. But to truly deal with an infectious challenge, we need another part of our immune system – our lymphocytes.
Lymphocytes are more flexible cells that are "educated" to recognise and target a specific infectious agent. They come in two main varieties – B lymphocytes, which make antibodies, and T lymphocytes, which can help the B cell response or directly kill the germs. Crucially, T and B lymphocytes work together to eradicate an infection.
Once a threat has been managed, a pool of these educated lymphocytes that know how to deal with that specific germ survive. These are known as memory cells. Memory cells are remarkably long-lived, patrolling our body ready for when they might again be needed. This whole system of lymphocyte responses is known as our adaptive immune response, and antibodies are only a portion of it.
So to properly understand and measure immunity after an infection, you would ideally assess both T and B lymphocytes and then see what happens when people face the same infection. But while testing for these cells is possible, it is expensive and impractical in large numbers of people, requiring costly reagents and detailed testing protocols.
As antibodies can be readily measured in blood samples, they are often used instead as an indication of whether there has been a good adaptive immune response. Over time, though, the levels of antibodies in our blood naturally fall – but this doesn't necessarily mean protection is lost. Some of those educated memory cells should remain, including memory B cells that can quickly make more antibodies if needed. So the findings from React2 don't necessarily mean that people are losing immunity to COVID-19.
For instance, some studies have also looked at T cells and found evidence of T cell memory responses in patients who have recovered from mild and severe COVID-19. We can therefore be somewhat optimistic that we could have some lasting protection against this disease.
We can also look at other viruses for clues. COVID-19 is caused by a beta coronavirus. There are several beta coronaviruses common in the human population – those that are most familiar cause the common cold. Long-lasting immunity to these cold-causing viruses does not seem to be that robust, but immunity to more serious conditions caused by other beta coronaviruses – Mers and Sars – is more durable. We do not yet know if immunity to the virus causing COVID-19 will be more akin to Sars or the cold-causing viruses, but the potential for longer lasting immunity to Sars and Mers offers some hope.
Finally, the React2 study looks at what happens after natural infections, but we should keep in mind that immunity generated by a vaccine might not be the same. Lymphocytes recognise germs by selecting some of their unique features to remember and react to and this matching process can be influenced by many factors, such as how the features are presented to lymphocytes or the available lymphocytes that recognise that feature. Although this allows for massive flexibility in the germs that can be recognised, it might not always result in the best viral killing in the future.
But with a vaccine, you can instead select the best bits of the pathogen to target in order to provoke the most effective T and B lymphocyte responses, which could in turn provoke bigger and better memory responses. This is being factored into the design of some vaccines, with several vaccine candidates already being shown to promote good and effective T and B lymphocyte responses.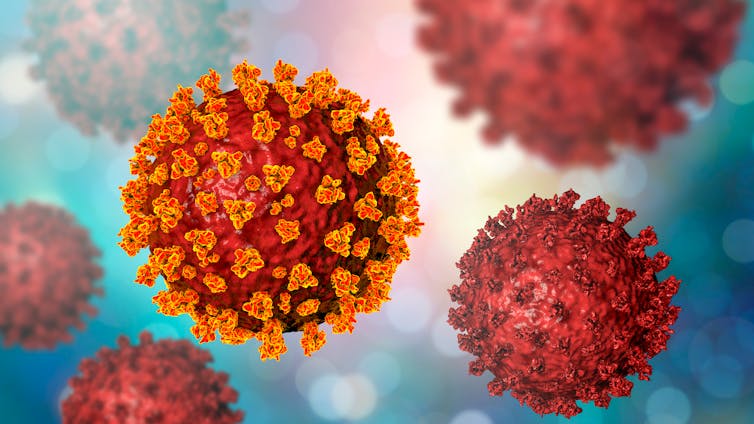 Some vaccines are focusing the immune system on targeting the coronavirus's spike proteins, shown here in orange. Kateryna Kon/Shutterstock
However, if there is longer lasting immunity, it may not be present across all groups of people. Some, such as the elderly, are disproportionately affected by COVID-19, and the React2 study showed that older people had a larger decrease in antibodies over time. These results may be explained by the fact that many older people have fewer lymphocytes – including the B lymphocytes needed for antibody protection.
Such findings emphasise the need to look at diverse groups of people to fully understand if immunity to COVID-19 is possible, particularly when developing vaccines. This is exactly what is being assessed in the phase 3 vaccine trials happening now. Right now, we shouldn't be overly worried. COVID-19 is a giant puzzle we are gradually unlocking. Every piece of the puzzle we master contributes to our growing knowledge and ability to beat this infection.

Sheena Cruickshank, Professor in Biomedical Sciences, University of Manchester
This article is republished from The Conversation under a Creative Commons license. Read the original article.
High blood pressure and its drug treatment unlikely to increase entry of COVID-19 virus into cells
(27 October 2020)

Fears that people with high blood pressure are more at risk from severe Covid-19 because it is easier for the virus to enter their cells and tissues have been laid to rest, thanks to research by an international team of scientists.
Mum's heartfelt reason for backing children's brain tumour research
(23 October 2020)

A mum from Ashton-under-Lyne – whose six-year-old son was diagnosed with a brain tumour after the school nurse spotted a squint in his eye – is backing a million-dollar research project into childhood cancer research, which is being co-led by a team of scientists from Manchester.
University researchers helping to limit the spread of coronavirus in Kenya
(22 October 2020)

Researchers from Manchester are helping to limit the spread of coronavirus in Kenya, where the spread of the virus in informal settlements causes huge challenges for the authorities.
Ineffective regulation on discharge from English hospitals leaving patients at risk
(22 October 2020)

Regulators have failed to properly address patient safety on discharge from hospital in England, leaving the physical wellbeing and dignity of patients continuously at risk at a time when they should be returning safely home, new research has found.
Scientists to study how lung cancer radiotherapy is affected by COVID-19
(22 October 2020)

A new national project investigating changes in radiotherapy services during COVID-19 has been launched by a team of Manchester cancer clinicians.
Fungal eye infection blinds over half a million in one eye a year
(22 October 2020)

Between 1 and 1.4 million fungal eye infections occur in the developing world per year, leaving over 600,000 people blind in one eye, find researchers from Manchester, London and Nairobi.
Manchester cancer professor receives honour from Royal College of Obstetricians and Gynaecologists
(21 October 2020)

Manchester cancer researcher Professor Gareth Evans was recently recognised for his work in advancing women's health, after receiving a prestigious honorary fellowship by the Royal College of Obstetricians and Gynaecologists (RCOG).
Frailty, old age and comorbidity main predictors of death from Covid-19
(20 October 2020)

The study of an acute hospital ward at Fairfield General Hospital in Greater Manchester has shown how risk of death from COVID-19 increases with age, frailty and comorbidity.
Protein by which common skin bacteria trigger eczema identified
(19 October 2020)

A decade-long study has identified the factor produced by a common species of skin bacteria that triggers eczema, in a breakthrough of our understanding of the condition.
Coronavirus reinfection cases: what we know so far – and the vital missing clues
(16 October 2020)

As President Trump claims that he is immune to COVID-19 and isolated reports emerge of reinfection, what is the truth about immunity to COVID-19?
To date, there have been six published cases of COVID-19 reinfection, with various other unverified accounts from around the world. Although this is a comparably small fraction of the millions of people known to have been infected, should we be concerned? To unpick this puzzle, we must first consider what we mean by immunity.
How immunity works
When we are infected with any pathogen, our immune system quickly responds to try to contain the threat and minimise any damage. Our first line of defence is from immune cells, known as innate cells. These cells are not usually enough to eliminate a threat, which is where having a more flexible "adaptive" immune response comes into play – our lymphocytes.
Lymphocytes come in two main varieties: B lymphocytes, which make antibodies, and T lymphocytes, which include cells that directly kill the germy invaders.
As antibodies are readily measured in blood, they are often used to indicate a good adaptive immune response. However, over time, antibodies levels in our blood wane, but this doesn't necessarily mean protection is lost. We retain some lymphocytes that know how to deal with the threat – our memory cells. Memory cells are remarkably long-lived, patrolling our body, ready to spring into action when needed.
Vaccines work by creating memory cells without the risk of a potentially fatal infection. In an ideal world, it would be relatively easy to create immunity, but it's not always that straightforward.
Although our immune system has evolved to deal with a huge variety of pathogens, these germs have also evolved to hide from the immune system. This arms race means that some pathogens such as malaria or HIV are very tricky to deal with.
Infections that have spilled over from animals -– zoonotic diseases –- are also challenging for our immune system because they can be completely novel. The virus that causes COVID-19 is such a zoonotic disease, originating in bats.
COVID-19 is caused by a betacoronavirus. Several betacoronaviruses are already common in the human population – most familiar as a cause of the common cold. Immunity to these cold-causing viruses isn't that robust but immunity to the more serious conditions, Mers and Sars, is more durable.
Data to date on COVID-19 shows that antibodies can be detected three months after infection, although, as with Sars and Mers, antibodies gradually decrease over time.
Of course, antibody levels are not the only indication of immunity and don't tell us about T lymphocytes or our memory cells. The virus causing COVID-19 is structurally similar to Sars, so perhaps we can be more optimistic about a more durable protective response – time will tell. So how worried then should we be about reports of reinfection with COVID-19?
How worried should we be?
The handful of case reports on reinfection with COVID-19 don't necessarily mean that immunity is not occurring. Issues with testing could account for some reports because "virus" can be detected after infection and recovery. The tests look for viral RNA (the virus's genetic material), and viral RNA that cannot cause infection can be shed from the body even after the person has recovered.
Conversely, false-negative results happen when the sample used in testing contains insufficient viral material to be detected – for example, because the virus is at a very low level in the body. Such apparent negative results may account for cases in which the interval between the first and second infection is short. It is hugely important, therefore, to use additional measures, such as viral sequencing and immune indicators.
Reinfection, even in immunity, can happen, but usually this would be mild or asymptomatic because the immune response protects against the worst effects. Consistent with this is that most verified cases of reinfection reported either no or mild symptoms. However, one of the latest verified cases of reinfection – which happened just 48 days after the initial infection – actually had a more severe response to reinfection.
What might account for the worse symptoms the second time round? One possibility is the patient did not mount a robust adaptive immune response first time round and that their initial infection was largely contained by the innate immune response (the first line of defence). One way to monitor this would be to assess the antibody response as the type of antibody detected can tell us something about the timing of infection. But unfortunately, antibody results were not analysed in the recent patient's first infection.
Another explanation is that different viral strains caused the infections with a subsequent impact on immunity. Genetic sequencing did show differences in viral strains, but it isn't known if this equated to altered immune recognition. Many viruses share structural features, enabling immune responses to one virus to protect against a similar virus. This has been suggested to account for the lack of symptoms in young children who frequently get colds caused by betacoronaviruses.
However, a recent study, yet to be peer-reviewed, found that protection against cold-causing coronaviruses did not protect against COVID-19. In fact, antibodies recognising similar viruses can be dangerous – accounting for the rare phenomenon of antibody-dependent enhancement of disease (ADE). ADE occurs when antibodies enhance viral infection of cells with potentially life-threatening consequences.
It should be emphasised, though, that antibodies are only one indicator of immunity and we have no data on either T lymphocytes or memory cells in these cases. What these cases emphasise is a need to standardised approaches in order to capture the critical information for robust evaluation of the threat of reinfection.
We are still learning about the immune response to COVID-19, and every piece of new data is helping us unpick the puzzle of this challenging virus. Our immune system is a powerful ally in the fight against infection, and only by unlocking it can we ultimately hope to defeat COVID-19.

Sheena Cruickshank, Professor in Biomedical Sciences, University of Manchester
This article is republished from The Conversation under a Creative Commons license. Read the original article.
Dramatic escalation in opioid use over a decade revealed
(15 October 2020)

Prescriptions for the addictive drug codeine jumped by a factor of five between 2006 and 2017, a University of Manchester study of 2 million opioid users has shown.
Foundation Day 2020 marked by tribute to our University community
(14 October 2020)

The huge efforts of the University's staff and students in responding to the global pandemic, and a celebration of the past year's successes, are the themes for this year's Foundation Day.
Cure found for rare form of inflammatory bowel disease
(13 October 2020)

A rare genetic condition which causes inflammatory bowel disease can be successfully treated by bone marrow transplant, according to University of Manchester and Manchester University NHS Foundation Trust researchers.
Prevalence of lung condition more than double WHO figures, find students
(13 October 2020)

Around 550 million people have chronic obstructive pulmonary disease (COPD), according to two University of Manchester medical students working with senior researchers supported by the NIHR Manchester Biomedical Research Centre (BRC).