News
There's always something new to read about the Faculty, whether it's a new discovery by one of our academics, an award won by one of our students, or an upcoming event.
Most press releases will specify media contacts, but if in doubt, please get in touch with our Media Relations Officer, Michael Addelman, at michael.addelman@manchester.ac.uk or on +44 (0)161 275 2111.
Latest news
New report outlines how government can address COVID-19 ethnic disparity
(19 January 2021)

A new report from The Runnymede Trust and The University of Manchester's Centre on the Dynamics of Ethnicity has addressed the possible causes of - and offers solutions to – the ethnic disparity of the effects of Coronavirus.
New research could lead to more treatment options for diabetes patients
(18 January 2021)

For the first time, scientists have come up with a precise atomic level explanation for why glulisine- a commonly used medication to treat diabetes- is faster acting than insulin.
Role of systemic racism in exacerbating Covid-19 health inequalities examined
(15 January 2021)

Researchers from leading UK and US institutions have published an analysis outlining the disproportionate effect of Covid-19 on ethnic minority groups, and the role of racism, in particular systemic racism, as a fundamental cause and driver of adverse health outcomes. Recommendations include the addition of ethnic minority groups to those defined as clinically extremely vulnerable to Covid-19, with guidelines devised to consider which patients may be at greatest risk.
Launch of multimillion pound institute for health technology research and innovation in Manchester
(13 January 2021)

Tuesday, 12 January saw a consortium led by The University of Manchester launch a new multimillion pound research and innovation institute that will build on Manchester's academic strengths in digital health and advanced materials to discover innovative health and care solutions.
Concerning drop in the number of people with mental health problems seeking help revealed
(12 January 2021)

During April 2020, while the UK was in full lockdown, there was a drop of more than a third in the number of people seeking help for mental illness or self-harm according to research involving 14 million people registered at general practices across the four nations of the UK which was published today in The Lancet Public Health*.
COVID-19 immunity: how long does it last?
(11 January 2021)

Millions of people across the world have been infected with SARS-CoV-2, the virus that causes COVID-19. Countries are also now embarking on massive vaccination campaigns to control the virus and protect their most vulnerable citizens. One of the biggest questions remaining is whether vaccination and/or prior infection with SARS-CoV-2 offers lasting protection against this deadly virus. The good news is that immunology is at last revealing some clues.
To understand whether immunity is possible – and why this has even been questioned – it is important to consider the nature of SARS-CoV-2. It is a betacoronavirus, and several betacoronaviruses already circulate widely in humans – they are most familiar to us as a cause of the common cold. However, immunity to cold-causing viruses is not long-lasting, leading many researchers to question whether longer term immunity to SARS-CoV-2 is possible.
However, studies considering the closely related betacoronaviruses that cause the diseases Mers and Sars offer a glimmer of hope. With these viruses, immunity has proved more durable. Could this be true for immunity to SARS-CoV-2 too?
Well-trained protection
The first of the body's immune cells to respond to an infection are designed to attack the invading substances to try to control the infection's spread and limit the damage done. The immune cells that respond later that are responsible for immunity are known as lymphocytes, which include B cells and T cells. Lymphocytes need time to learn to identify the threat that they are facing, but once trained they can be rapidly deployed to seek and destroy the virus.
Our T cells and B cells work together to combat infection, but they have quite different functions that enable them to deal with a huge variety of threats. B cells make antibodies that neutralise infections. T cells are broadly divided into two types – T helper cells and cytotoxic T cells. Cytotoxic T cells directly kill viruses and cells that viruses have infected. T helper cells support the functioning of B cells and cytotoxic T cells. Collectively these are known as "effector" cells.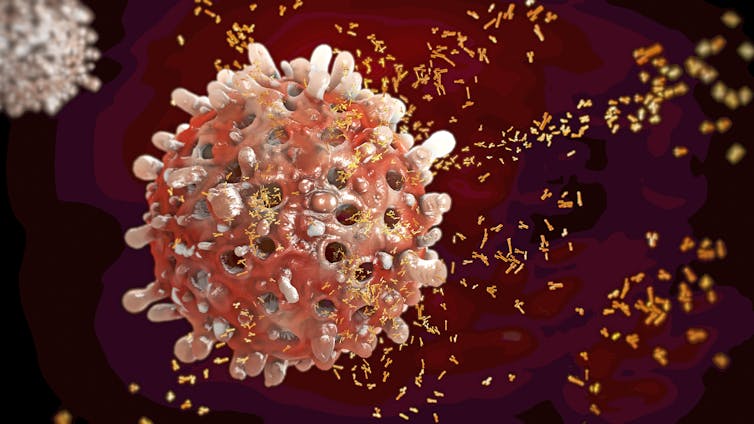 Christoph Burgstedt/Shutterstock
Studies have now demonstrated the critical role that these effector cells play in the fight against COVID-19. Once the infection is gone, these cells should then die off in order to avoid causing excessive damage in the body.
But some effector cells persist. In an early piece of research yet to be reviewed by other scientists, functional T cells have been detected six months after infection. Similarly, even patients who have had mild COVID-19 have detectable antibodies six to nine months after infection. However, antibodies do wane over time, so these antibodies against SARS-CoV-2 could eventually disappear.
Remembering the danger
Such discoveries raise real optimism about protection from reinfection. But what happens if or when effector lymphocyte levels finally drop off? Well, our immune system has another trick up its sleeve to protect us for the long term, even after people's effector cells and antibody levels have fallen. Once lymphocytes have been trained to deal with a virus, a pool of the cells remember it and are kept for the future. These "memory" cells can then be rapidly deployed if the threat is encountered again.
Memory cells are incredibly powerful tools for our immune system and can be very long-lived, with studies showing memory B cells for smallpox persisting at least 60 years after vaccination and for Spanish flu at least 90 years after the 1918 pandemic. In order to understand whether long-term immunity to SARS-CoV-2 is possible, it's therefore critical to consider not just effector cells but all types of memory cells – B, T helper and cytotoxic T memory cells.
Fortunately, memory cells can be identified by specific structures and proteins that they express on their surfaces, enabling researchers to distinguish them from effector cells. Now that COVID-19 has been with us for a year, researchers are becoming able to make great leaps in understanding about memory responses to COVID-19. Evidence is emerging of memory T cell responses lasting six to nine months after infection, and a recent preprint study (yet to be reviewed by other scientists) has also identified what appear to be memory B cell responses.
Studies have also been investigating whether prior exposure to the virus confers protection, with research showing that in the UK's second wave, previously infected health workers were either completely protected from reinfection or were asymptomatic if they picked up the virus again. Such observational studies give real hope for the durability and potential of protective immunity.
We still have much to learn about the immunology of COVID-19, but the pace of research is astounding, and the more we learn, the more we are empowered to beat this virus. Our immune system is incredibly powerful, and these studies showing persistent immune responses nine months after infection are real cause for celebration. They give us confidence that, with vaccination, we have a real chance to win the war against COVID-19.

Sheena Cruickshank, Professor in Biomedical Sciences, University of Manchester
This article is republished from The Conversation under a Creative Commons license. Read the original article.
Ultraviolet radiation causes rare type of eye cancer
(11 January 2021)

Ultraviolet radiation can cause a rare type of eye cancer, conjunctival melanoma, according to University of Manchester research funded by Cancer Research UK and others* and published** in Nature Communications today (Monday).
Putting a face to the voice: AVATAR 2 trial launched today
(11 January 2021)

A ground breaking therapy trial for auditory hallucinations called AVATAR2 has been extended to sites across the country including University of Manchester and University of Glasgow as well as King's College London and University College London.
New approach needed for newborns with hearing loss
(6 January 2021)

Parents are often struggling with hearing aid management for their newborn babies, according to research by University of Manchester and NIHR Manchester Biomedical Research Centre (BRC) experts.
2020's top news from the Faculty of Biology, Medicine and Health
(18 December 2020)

This year our stories have reached hundreds of thousands of people across the world. And in a year when the Covid-19 pandemic dominated, here's some of our most popular and interesting stories from the Faculty of Biology, Medicine and Health in 2020. Enjoy!
At number 10, Common cardiovascular disease drug could help hearts of at risk new mums A drug has shown potential to improve heart function in women diagnosed with preeclampsia during their pregnancy, research carried out by Manchester University NHS Foundation Trust (MFT) and The University of Manchester (UoM) – has found.The results of the 'Postnatal enalapril to Improve Cardiovascular fUnction following preterm Preeclampsia' (PICk-UP) feasibility trial were published in the peer-reviewed journal, Hypertension, .
At number 9, the role of bone marrow immune cells in COVID-19 is revealed. White blood cells called monocytes released into the blood from bone marrow have abnormal features in people who have COVID-19, according to a new study by University of Manchester immunologists at the Lydia Becker Institute. And the team from the Coronavirus Immune Response and Clinical Outcome (CIRCO) consortium say the abnormalities are greater in patients with severe infection. By spotting the abnormal monocytes early, doctors may be able to predict which patients are more likely to develop severe disease.
At number 8,robots are on on the march to walking like humans.A psychological theory could kickstart improvements in the way robots are able to walk, thanks to a University of Manchester study.The study - a unique collaboration between a clinical psychologist, robotics engineers and a robotics entrepreneur is published in the Journal of Intelligent and Robotic Systems .
At number 7, trials show new drug can ease symptoms of chronic cough. Two trials of a new drug have shown that at low doses, it can ease the often distressing symptoms of chronic cough with minimal side effects. Principle researcher Jacky Smith, a Professor of Respiratory Medicine at The University of Manchester and a consultant at Wythenshawe Hospital, says Gefapixant has the potential to have a significant impact on the lives of thousands of suffers. Higher doses can reduce the sense of taste, though at 50mg, the effect is much reduced, say the research team.
At number 6, early signs of hearing damage found in young clubbers and gig-goers. Hearing damage which isn't yet severe enough to be diagnosed as hearing loss is common in young adults who regularly attend loud music events, according to University of Manchester led research. Early signs of damage to hearing are associated with exposure to loud recreational noise such as clubs and concerts, says Dr Sam Couth, who carried out the study published in the journal Hearing Research. The study was funded by the Colt Foundation, which funds occupational and environmental health research, and was run in collaboration with the Royal Northern College of Music.
At number 5, COVID-19 history project is given £1million. A University of Manchester team of researchers and volunteers who have been documenting NHS voices of COVID-19 since March, are to join forces with the British Library thanks a grant of nearly £1m. Dr Stephanie Snow, who leads the influential 'NHS at 70' project, and her team have already collected over 200 COVID-19 voices, including Nick Hart, the respiratory doctor who treated Prime Minister Boris Johnson in intensive care.
At number 4, excess death toll in care homes from Covid-19 'hugely underestimated'. An early draft of a study by University of Manchester health economists and data scientists calculates that up to 10,000 more people may have died in care homes from Covid-19 than previously realised. The study is the first independent analysis of daily death notification data sent to the Care Quality Commission by 13,630 care homes in the first wave of the COVID-19 pandemic. In March 2020, there were 15,524 care homes operating in England, offering around 455,600 beds.
At numnber 3, shift workers at increased risk of asthma, research shows. An international team of scientists led by The University of Manchester and Manchester University NHS Foundation Trust has found that shift workers, especially those working permanent night shifts, showed increased risks of asthma, especially moderate or severe asthma. The study of 280,000 UK Biobank participants also revealed that irregular night shift workers who are morning people ('larks'), are at an increased risk of asthma compared to night shift workers who are evening people ('night owls').
At number 2, a significant number of patients reported a deterioration in their hearing when questioned eight weeks after discharge from a hospital admission for COVID-19, according to University of Manchester audiologists, in a study supported by the NIHR Manchester Biomedical Research Centre (BRC).One hundred and twenty one of the adults admitted to Wythenshawe Hospital, part of Manchester University NHS Foundation Trust, took part in the survey by telephone. When asked about changes to their hearing sixteen people (13.2%) reported their hearing was worse. Eight people reported deterioration in hearing and another eight reported tinnitus (hearing noises that are not caused by an outside source).
And at number 1, a new technique has been shown to reduce heart transplant rejection. University of Manchester scientists have discovered that removing immune cells from donor hearts using a new technique can reduce the risk of acute rejection after heart transplant surgery - even without the use of powerful immunosuppressant drugs.
Top 10 Image by Gerd Altmann from Pixabay
North south divide, not age, linked to hearing loss
(17 December 2020)

An increase of over 10% in the prevalence of hearing loss in the English over 50s may not be age-related, a new study by University of Manchester researchers has shown.
Study highlights neurological impact of Covid-19 on children
(17 December 2020)

A small number of previously healthy children infected with Covid-19 can have severe neurological complications, according to research by University of Manchester scientists.
The 2020 Review of the Year - Part Two
(17 December 2020)

In the past 12 months our entire University community has come together to produce the amazing stories and research that make up The Review of Year 2020…and there is much to be proud of and celebrate.
The 2020 Review of the Year - Part One
(17 December 2020)

In the past 12 months our entire University community has come together to produce the amazing stories and research that make up The Review of Year 2020…and there is much to be proud of and celebrate.
England's deprivation divide on opioid prescribing revealed
(15 December 2020)

A study by University of Manchester epidemiologists and cofunded by the National Institute for Health Research Greater Manchester Patient Safety Translational Research Centre (NIHR GM PSTRC)is the first to show stark differences in opioid prescribing by GPs in areas just a few miles apart.
Schizophrenia may be similar to immune disorders, show scientists
(14 December 2020)

A study by clinical scientists at The University of Manchester has shown that schizophrenia may - in some part - be caused by disordered functioning of the immune system.
Manchester researchers designing new face masks to overcome communication issues
(14 December 2020)

NIHR Manchester Biomedical Research Centre (BRC) and The University of Manchester are leading research to develop new face masks/coverings to tackle communication problems associated with their use.
Half a million pounds awarded to evaluate new NHS mental health and wellbeing services, 'Resilience Hubs'
(11 December 2020)

£474,380.60 has been awarded to fund a 20-month research project to evaluate new NHS staff mental health and wellbeing hubs.
Study finds paediatric cancer patients at no greater risk of severe COVID-19 infection
(11 December 2020)

Results from the first national study of children with cancer who test positive from COVID-19 has found that these patients do not appear to be at any increased risk of severe COVID-19 infection compared to healthy children.
Analysis of data collected from clinic reproduced psoriasis drug trial results
(10 December 2020)

The difference in effect of two drugs commonly used to treat psoriasis was reliably reproduced from a clinical trial by a large observational study carried out by University of Manchester and Salford Royal NHS Foundation Trust scientists.
Research could lead to step-change in NHS hearing aid provision
(7 December 2020)

Cutting-edge research being led by the NIHR Manchester Biomedical Research Centre (BRC) and University of Manchester , aimed at increasing adult hearing aid use, could make a dramatic change to people with hearing loss.
'Is it safe to have more than one type of COVID vaccine?' and other questions answered by an immunologist
(7 December 2020)

If we are ever to return to some semblance of normality, then the world's population needs to be immune to SARS-CoV-2, the virus that causes COVID-19. But with so many different vaccines in production, questions are undoubtedly going to be raised, such as can I still have a vaccine if I have been involved in a trial testing other versions? And, what if I've already had COVID – do I still need a vaccine?
A basic understanding of immunology can answer all these questions. All COVID vaccines try to generate an immune response to proteins the virus needs to enter your cells. Whether this is by using a harmless virus carrying the protein that mimics SARS-CoV-2 but doesn't replicate, or by using the genetic code for those proteins (a messenger RNA), the outcome is the same. The protein critical to stopping SARS-CoV-2 is displayed, recognised by the immune system, and the body produces antibodies and T cells that are then ready to stop future infection.
Is it OK to have a different second dose?
A booster vaccination enhances the quality of the immune response and sends a reminder about the virus. It doesn't matter if the vaccine used to prime the immune system is different from the one used to boost, as long as they both contain the critical viral protein.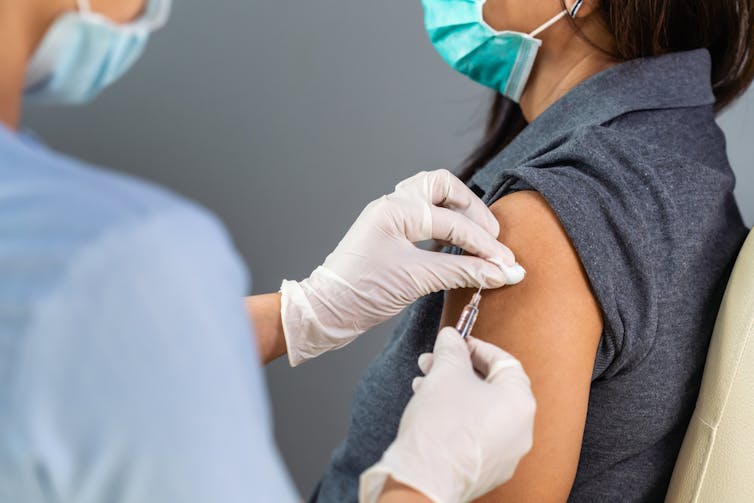 A booster shot is like a reminder to your immune system to be on the lookout for a particular bug. BaLL LunLa/Shutterstock
Booster vaccinations are common, and the time interval between them varies. For example, a booster for tetanus is advised every ten years whereas vaccines for hepatitis A or measles are one-shot wonders – a booster is not needed.
Only by studying the immune response in people who have been vaccinated, will we be able to tell when and if further booster vaccinations are needed. This will be determined by measuring SARS-CoV-2 specific antibody and T cell responses in a sample of blood. It is possible that certain groups, such as older people, might need a different booster strategy – and this will take time to work out.
What if I've already had a trial vaccine?
If you've taken part in a COVID vaccine trial, it could give you a head start on the prime/boost approach, and you could reach the required immunity threshold quicker. Alternatively, your trial vaccination may have been so effective that the non-trial version of the vaccine isn't necessary.
It is important for vaccine developers to follow up people who have had the vaccine to see how their immune system has reacted and whether or not the vaccine gave them immunity. This follow up should be conducted over a long period and encompass different sections of the population: young, old, different ethnic groups, and patients on drugs that dampen the immune system (such as chemotherapy).
What if I've had COVID?
Even if you have recovered from COVID-19, you can still benefit from vaccination. There is evidence in hospitalised patients that the infection was so overwhelming that the immune response became exhausted and so immune memory to the virus was not created efficiently. Also, if you had a very mild infection, your immune system may not have reached the point of laying down immune memory. So vaccination could be beneficial, regardless of whether you experienced severe or mild disease.
Though vaccination is a choice, don't forget that vaccines have been around a long time and have saved more lives than any other medicine. The risk of getting COVID and its awful and often long-term side-effects outweigh any theoretical risk of a vaccine.

Tracy Hussell, Professor of Inflammatory Disease, University of Manchester
This article is republished from The Conversation under a Creative Commons license. Read the original article.
Academic gets one of world's top awards in suicide prevention
(7 December 2020)

Professor Nav Kapur has been given the 2021 American Association of Suicidology Louis I. Dublin Award lifetime achievement award for outstanding services and contributions to the field of suicide prevention.
Scientists discover why the heart slows down at night
(3 December 2020)

A consensus more than 90-years-old on the mechanisms which regulate the day-night rhythm in heart rate has been fundamentally challenged by an international team of scientists from Manchester, London, Milan, Maastricht, Trondheim and Montpellier.
Information campaign to help older people keep well this winter
(2 December 2020)

A coalition of public service organisations- including the University of Manchester, charities and older people's groups is this week launching a new information campaign to support older people to keep well this winter.
Face masks leave us feeling isolated and stressed, reveals survey
(30 November 2020)

Face coverings, a key tool in our fight against Covid-19, have impeded our ability to hear, understand, engage, and connect with others according to a study by University of Manchester researchers.
New Turing AI Fellows to deliver world-class AI research
(27 November 2020)

Leading UK researchers, including Professor Christopher Yau from The University of Manchester, will develop cutting-edge Artificial Intelligence (AI) technologies through prestigious fellowships announced today.
Lockdown has been hard on teenagers, but they have shown remarkable adaptation
(24 November 2020)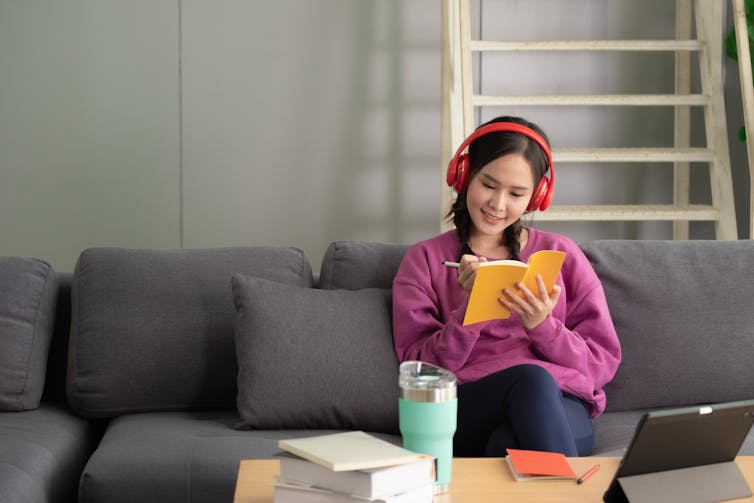 GroovyPanda/Shutterstock
The COVID-19 lockdown upturned the lives of teenagers at a time when they are usually becoming more independent and taking steps toward their future. Instead, they were confined to their homes, exams were cancelled, and their next steps looked suddenly less certain.
Our research on the TELL Study – Teenagers' Experiences of Life in Lockdown – explored how 109 UK-based 16 to 19-year-olds coped under coronavirus restrictions, with an emphasis on their wellbeing.
Our findings show that lockdown was an intense, challenging experience, raising feelings of loss and fear about the future. However, participants also described considerable effort to adapt, actively working to counter the negative personal impact of the lockdown and trying to think positively.
Coping with stress
Our participants described feeling overwhelmed and trapped, fearful about COVID-19, missing people that they couldn't see face to face, and feeling uncertain about the future. Many teenagers found that milestones they had worked towards for years, such as exams, were suddenly gone. "When it was announced that GCSEs were cancelled, I was distraught," one participant told us.
For some, being confined in family homes was distressing:
I've already got a history of mental health issues, being shoved into a house with none of my friends and any sense of normality shredded has certainly not helped.
They also expressed some mistrust and frustration with the government and media in lockdown. Some felt that the government was being vague about restrictions and easing the lockdown too soon, and this was making them feel anxious generally but also worried about the return to education:
I am unsure if I want to go back in September because I'm unsure that the government has the best supervisions.
Participants in the study reported often assessing the impact that the lockdown was having on them, and then proactively finding self-care and coping strategies to specifically counteract these negatives.
This included finding ways to distract themselves and escape, in order to avoid negative thoughts, and finding ways to relax, to counter difficult feelings and stress – such as engaging in hobbies, exercising, and spending time with (or virtually with) loved ones.
Our participants generally described working to ensure their coping strategies were in line with restrictions, although this sometimes caused conflict when household members disagreed about what was allowed and what was not.
For instance, one participant explained: "[Some days I'll] go for a walk with a friend. However, [I] come back to face confrontation with my brother as he believes that to be unsafe."
Staying positive
Teenagers told us they were attempting to stay optimistic. Many identified positive opportunities in lockdown, such as time to learn new skills and deepen relationships with their families. Some used lockdown to evaluate their lives, identifying things they appreciated and things they'd like to change.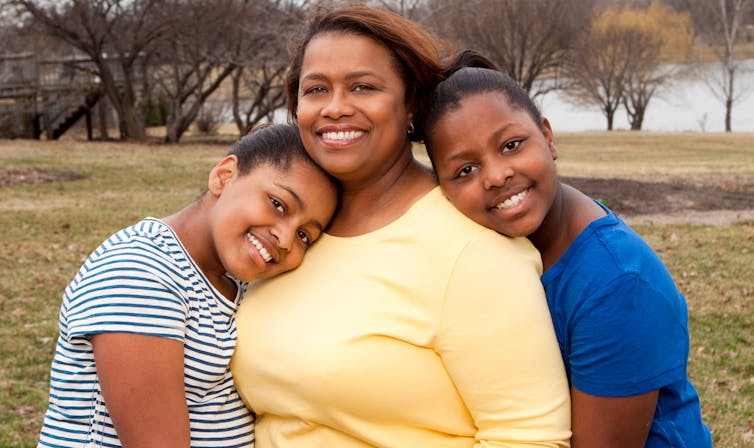 Teenagers reported that spending time with family was a positive aspect of lockdown. pixelheadphoto digitalskillet/Shutterstock
They also worked on creating routine and goals, as their days had lost structure and purpose, and being kind to themselves – with recognition that the situation was inherently stressful.
One teenager told us:
If I didn't keep myself busy with the baby [brother], films or sketching I would allow the loneliness to consume me.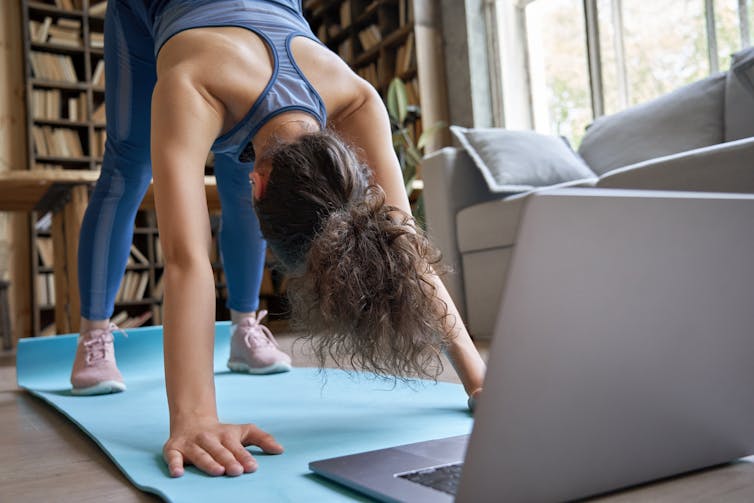 Teenagers reported taking up exercise at home. insta_photos/Shutterstock
Of course, self-care isn't always easy. Some participants felt less able to look after themselves, and others described strategies they thought were problematic, like smoking or suppressing their feelings.
Participants often expressed gratitude for their circumstances, noting they were lucky to have resources such as access to outdoor spaces or positive relationships in their household:
I am very grateful for the position I am in, I generally get along well with my family and, with mum and dad working from home, we have been able to stay safe.
Hope for the future seemed important. Participants focused on what life would be like after lockdown and the things they would do. However, some were growing less hopeful about the pandemic ending soon, and felt disheartened:
I know it can be hard during such worrying times to be optimistic or hopeful but I think that it is really important that we remind each other that this is only temporary and that the best thing to do is just keep going forward.
Supporting teenagers
Our findings highlight the capacity for adaptation among our teenagers, offering a clear demonstration of resilience in the face of the pandemic.
On the one hand, this adaptation shows we must not underestimate the resourcefulness of teenagers. Supporting their emotional wellbeing at this time should include recognising and celebrating this, encouraging teenagers to reflect and feel empowered by their adaptation to the pandemic.
However, we cannot shift ultimate responsibility for their wellbeing onto teenagers themselves. Resilience depends on wider systems, such as family life, education, recreation, and healthcare. COVID-19 has brought disruption in many ways to many of these systems.
Teenagers need to be given the tools they need to actively cope and should be supported when they are struggling. This can include having opportunities to reflect on and discuss how they are feeling, seeing those around them make use of healthy coping responses, and having time and space to relax and care for their own needs.
It will be extremely important to provide hope for the future for teenagers as the pandemic continues to unfold. Without a sense of promise for a future they can look forward to, adaptation and optimism may well become increasingly difficult.

Ola Demkowicz, Lecturer in Psychology of Education, University of Manchester; Alisha O'Neill, PhD researcher in Education and Mental Health, University of Manchester; Emma Ashworth, Lecturer in Psychology, Liverpool John Moores University; Kirsty Pert, Research assistant in Psychology and Education, University of Manchester, and Terry Hanley, Reader in Counselling Psychology, University of Manchester
This article is republished from The Conversation under a Creative Commons license. Read the original article.
New Greater Manchester health accelerator programme invites innovative companies to collaborate with NHS and research organisations
(24 November 2020)

A new accelerator programme is inviting SMEs to collaborate with Greater Manchester's research and innovation institutions to support the development of innovative health and care products.
Well-managed type 2 diabetes patients have 21% higher risk of cardiovascular disease
(23 November 2020)

Well managed adults with type 2 diabetes have a 21% higher risk of developing cardiovascular disease (CVD) compared to the general population, according to new research.